This post is part of A Winter's Tale, an event running through December for which we invited eight of our favorite bloggers to talk about their favorite books, authors etc. or share an interesting discussion. They have gone all out and gave us even better, more professional content than we expected, which is to say something. If you're here, don't forget to enter our month-long international giveaway here.
Today, we are happy to welcome:
CW from

The Quiet Pond!
I discovered CW's blog a while ago, back when she was blogging at Read, Think, Ponder. Sadly, I could only follow her for a couple of months before she quit blogging, but I've remained a follower of her twitter, and found quite a few amazing books thanks to her recommendations. There's just something so convincing and genuine in her voice and her recs are always top notch. So, of course, I couldn't be happier that she 1) started her new blog, The Quiet Pond, and 2) agreed to guest-post at The Regal Critiques. I'm so excited for y'all to see what the two of us did here, and can't wait to hear your feedback! -
Vera 💙
Hello friends! Vera here, introducing the last 'A Winter's Tale' guest post of the year - do look out for our recap coming next week, though! Instead of writing a post on her own, CW from
The Quiet Pond
had the idea to collab with me on an epic recommendations post. Both of us thought of 3-3 prompts - genres and topics we want to read about - and the other recommended a book following the guidelines. Enjoy!
CW wants to hear about...
a science fiction that makes you think
I feel a tad weird about recommending a book I found thanks to CW who has been praising it for a quite a while, but I simply cannot pick anything other than Want by Cindy Pon. Want tells the story of a darkly realistic future where people have to wear special suits that make the heavily contaminated air breathable. Sadly, it is only the rich who can afford such "luxuries"

(you know, like the luxury of living)

and thus poor people tend to die relatively young due to respiratory diseases. Want hits hard because it isn't hard to imagine a heavily contaminated world where corporations rule, where wealth decides who lives and who dies. The novel has other things to offer besides its spectacular world building, including a diverse group of friends, a fast-paced plot and cute otps.
a book that changed your perspective of something
I thought so hard about what to include here, and I decided I'll have to cheat a bit here. (Sorry!) I've always loved romance novels - they have made me smile and, better yet, they have a guaranteed happy ending so there's not much to stress about. But, up until around two years ago, I kept hiding my enjoyment for these books, not just in real life, but on the blog as well. Or, when I did mention a romance novel to someone, I would make excuses for liking it, like "oh, that!? I'm only reading that because I'm too tired for something else." It was the authors and readers of Romancelandia, their novels and their presence on the internet that made me realize I should never be ashamed of what I enjoy - so, massive thanks to Courtney Milan, Talia Hibbert, Nalini Singh, Tessa Dare and many others whose books have been a massive part of my life in the past couple of years.
the most unique book you have read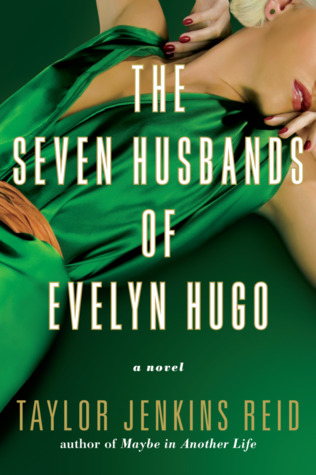 This was possibly the hardest prompt to answer, because, to an extent, each and every book I love feels so unique to me; but alas, I had to make a decision and I picked The Seven Husbands of Evelyn Hugo by Taylor Jenkins Reid. Telling the life story of old Hollywood starlet Evelyn Hugo, the novel features two fierce heroines: Monique, the journalist recording Evelyn's story, and Evelyn herself. Honestly, I'm struggling for words that could describe my love for this beautiful, extraordinary and complex novel, so this is a messy, but genuine description, which should be appreciated haha. Evelyn's story, hand in hand with Monique's development, took me on an emotional journey like few - if any! - books have ever done so. I smiled, I frowned, I cheered, I disapproved and understood - and, yes, I was very near tears at multiple times, even though I can count on one hand how many books have made me tear up.

trigger warnings: biphobia, homophobia, domestic abuse
Vera wants to hear about...
a fantasy with an anti-heroine/villain where the focus is not on the romance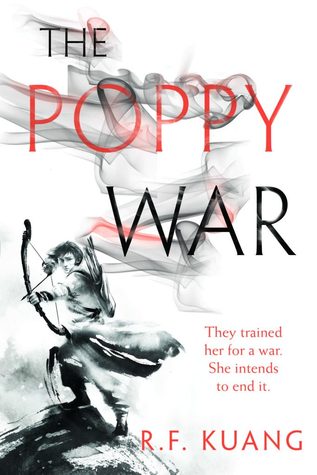 For this prompt, I definitely have to recommend The Poppy War by R.F. Kuang. The Poppy War is a blend of fantasy and historical fiction, based on the Sino-Japanese War. It follows Rin, who by the end of the book I would certainly call an anti-heroine, a war orphan who is admitted into the most elite military school in the Empire and discovers that she has an affinity with shamanism, a lethal and mysterious power where she can commune with the gods. Though The Poppy War has some romance elements, the focus is far from it - rather, The Poppy War is a brilliant and compelling story about war, justice, revenge, and power. It's gritty, gory, bloody, and absolutely soul-crushing - but also one of the most incredible debuts I have read.

trigger warnings: racism and colourism; ableism; genocide; self-harm; suicide; graphic violence; decapitation; graphic description of mutilation, rape, infanticide, dismemberment, torture; drug use and drug addiction
a fantasy with a strong friend group at its center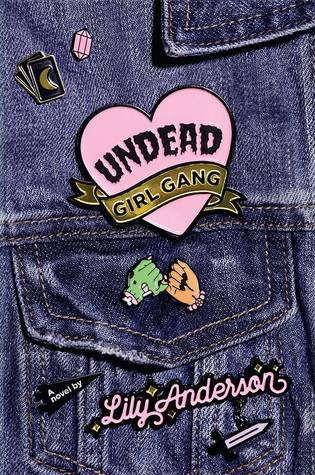 Though not quite high fantasy, an urban fantasy with a strong friend group is Undead Girl Gang by Lily Anderson. This book was such a delight, and I wish more people knew about it. Undead Girl Gang follows Mila, a Mexican teen who has just lost her best friend in seemingly mysterious circumstances. As a budding witch and stricken with grief, Mila does the one thing she shouldn't do but feels like she absolutely must: bring back her best friend from the dead. After resurrecting her best friend but also accidentally resurrecting two other girls, the four form an unexpected and powerful friendship. This book is a little spooky, a little mysterious, but a heck lot of fun and charming comedy as they try and figure out who the dead girls' killer is.
trigger warnings:
fatphobia, racism, mild body horror, death by hanging, drowning, death, murder
an excellent underrated title you wish more people would know about
I'll sing this books praises now and until the ends of the earth, but I absolutely adore Seven Tears at High Tide by C.B. Lee (author of the Not Your Sidekick series), a fantasy romance with a big, big heart. Seven Tears at High Tide is about a boy who wishes for happiness and love, and the ocean grants his wish by sending him a boy (who is actually a selkie.) The book is an adorable, sweet, and soft book about their growing relationship and their romance with a slice of drama as well. It currently only has 350 ratings on Goodreads, despite being out on 2015. It's one of the most relaxing books I have read, and is a guaranteed fluffy read. I cannot recommend this lovely book enough.
Let's chat!
Do you have any recommendations for our prompts? Please, tell us, we'd love to read more like these! Have you read any of these books?