Kacey is the new girl in Broken Falls. When she moved in with her father, she stepped into a brand-new life. A life with a stepbrother, a stepmother, and strangest of all, an adoring younger half sister.

Kacey's new life is eerily charming compared with the wild highs and lows of the old one she lived with her volatile mother. And everyone is so nice in Broken Falls—she's even been welcomed into a tight new circle of friends. Bailey and Jade invite her to do everything with them.

Which is why it's so odd when they start acting distant. And when they don't invite her to the biggest party of the year, it doesn't exactly feel like an accident.

But Kacey will never be able to ask, because Bailey never makes it home from that party. Suddenly, Broken Falls doesn't seem so welcoming after all—especially once everyone starts looking to the new girl for answers.

Kacey is about to learn some very important lessons: Sometimes appearances can be deceiving. Sometimes when you're the new girl, you shouldn't trust anyone.
Four Reasons To Read Little Monsters:
(1) The plot is filled with twists and shocking reveals, to the point where I was literally gasping for air at various parts, particularly in the last approx. 50 pages. Even if I kinda-sorta saw some things coming, I definitely was NOT expecting the events to unfold this way.
(2)
We had a spectacular as heck cast - from Kacey, Bailey and Jade, to Kacey's family, I was completely invested in everyone's story. I adored seeing how their relationship with each other slowly unfolded in front of our eyes.
(3) There's no romance here, folks!! Kacey, our main character and narrator, does not have a love interests, thus her (personal) story arc concentrates a lot on her new-found family, friends and herself.
(4)
On that note, the author perfectly balanced out all the stress of the mystery with meaningful and lovely scenes between Kacey and her family. My heart was breaking for Kacey every time she feared being sent away *cries* Her reflections on how she became part of the family gave so much depth to the story.
Overall, Little Monsters is the mystery-thriller I've been looking for - deliciously fucked up (yes, that IS a think, shh) and twisty, it is certainly a book I could not put down. 5 stars!
rating: 5 stars
Anna is everything her identical twin is not. Outgoing and athletic, she is the opposite of quiet introvert Jess. The same on the outside, yet so completely different inside--it's hard to believe the girls are sisters, let alone twins. But they are. And they tell each other everything.

Or so Jess thought.

After Anna falls to her death while sneaking out her bedroom window, Jess's life begins to unravel. Everyone says it was an accident, but to Jess, that doesn't add up. Where was Anna going? Who was she meeting? And how long had Anna been lying to her?

Jess is compelled to learn everything she can about the sister she thought she knew. At first it's a way to stay busy and find closure . . . but Jess soon discovers that her twin kept a lot of secrets. And as she digs deeper, she learns that the answers she's looking for may be truths that no one wants her to uncover.

Because Anna wasn't the only one with secrets.
Short thoughts on The Window:
The Window was one compelling story that got really, and I mean really, dark at parts. The author did a fantastic job of showcasing how carelessly and horribly people can treat each other, without caring about the consequences. Between Jess's investigation, we were treated to little snippets of what her and Anna's relationship was like, and I have to say, those were definitely my favorite parts. It was lovely to see two such different girls getting on so darn well. #twinpower
One thing I was missing from the story was a heart - it was hard to care for these characters when even in their saddest, most broken moments they didn't feel real to me. Moreover, I wish we were given more scenes with the girls' parents - one would expect that after loosing a daughter they may spend a lot of time with the other and try to get over this tragedy together.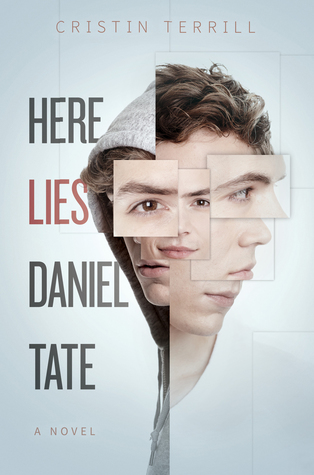 When ten-year-old Daniel Tate went missing from one of California's most elite communities, he left no trace. He simply vanished.
Six years later, when he resurfaces on a snowy street in Vancouver, he's no longer the same boy. His sandy hair is darker, the freckles are gone, and he's initially too traumatized to speak, but he's alive. His overjoyed family brings him home to a world of luxury and comfort he can barely remember. In time, they assure him, he'll recover his memories; all that matters now is they're together again.
It's perfect. A miracle. Except for one thing.
He isn't Daniel Tate.
He's a petty con artist who accidentally stumbled into the scam of a lifetime, and he soon learns he's not the only one in the Tate household with something to hide. The family has as many secrets as they have millions in the bank, and one of them might be ready to kill to keep the worst one buried.
Thoughts on Here Lies Daniel Tate:
I purchased Here Lies Daniel Tate shortly after its publication, but then my dumb ass proceeded to put it aside for MORE THAN A YEAR, which yes makes me want to slap myself with the book. But softly because we don't damage books here. As you might have guessed by now, this novel is bloody excellent, and I'm so mad we collectively let it flop after its publication, because I want MORE like this by Terril. I can't/won't tell you much about the story, because I believe it is best to go into this with as little info as possible, BUT I'll do my best to sell this dark yet emotional novel to you.
Our narrator, whose name we never actually learn, so I'll just call him Daniel, was delightful to read about. Not in the "haha, that's so fun and lovely" kind of delightful, rather that he was an absolute delight to meet with, as he was so unique and excellently written. Seriously, I desperately want another book narrated by him please and thank you. This is the guy who is conning a whole damn family, telling them he is the kid they lost, BUT at the same time he is quite lovely and he just WANTS TO BE ACCEPTED AND LOVED, OK.
ASKJFKSJSE adore him.
The family con-Daniel gets to live with was bloody intriguing to read about - if you enjoy weird or downright fucked up family dynamics I *highly* recommend this novel. But also, most of the family tries SO HARD to be nice and supportive, and they grew on my so quickly, so if you like that thing? ALSO READ THIS. Basically, just read this no matter what.
rating: 5 stars
Question time!


Have you read any of these novels? Maybe something else by the authors? Do you want to? What are some of your favorite YA psychological thrillers or mysteries?