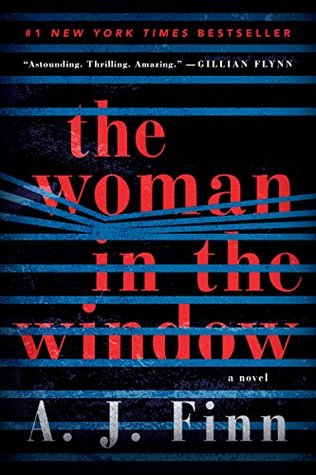 Anna Fox lives alone—a recluse in her New York City home, unable to venture outside. She spends her day drinking wine (maybe too much), watching old movies, recalling happier times . . . and spying on her neighbors.

Then the Russells move into the house across the way: a father, a mother, their teenage son. The perfect family. But when Anna, gazing out her window one night, sees something she shouldn't, her world begins to crumble—and its shocking secrets are laid bare.

What is real? What is imagined? Who is in danger? Who is in control? In this diabolically gripping thriller, no one—and nothing—is what it seems.
Oh The Woman in the Window, thy name is disappointment, written with capital letters. This right here, this is a fantastic example of why I shouldn't listen to the hype when I'm only mildly interested in a title. But you all, the hype was very convincing, I swear! Psychological-thriller fans were all over it, and so were readers who don't read as much of the genre, so I honest to god thought nothing could go wrong. Boy, was I wrong!
The Woman in the Window wasn't bad, but it was mindbogglingly mediocre (look at that alliteration, though). I swear to you, there is nothing overly wrong with this novel, it's a solid(ish) read actually, buuut (at least in my modest opinion) there really isn't any reason to shower it with praise. It's OKAY, but reviews made me believe it was FANTASTIC, and that is so so so SO far from the truth.
I'll admit that I was surprised by one twist
(yeah
one
in the whole fucking novel)
but I wasn't shocked nor blown away, at any time. I'd say the build-up was pretty nicely written, the author is good at building up the suspense and making me dread what the heroine will do next because Jesus. But sadly, the last 1/4 of the novel, WHICH SHOULD BE THE BEST PART, felt the most predictable and anti-climatic out of the whole book. I'm just.. WHEN will authors get that making a character overly suspicious will make the readers know they are not the true bad guy.
Like I said, this is in no way a horrible read, even if I found some of the tropes and characters tired. BUT HEY, MAYBE I READ TOO MUCH OF THE GENRE!? The r
eason why it's such a let down for me is the gap between the ridiculous HYPE, and between how fucking mediocre I found every.single.part. of this story.
I feel so bad, because it seems like I'm dragging this to hell, but I swear it's not bad - it's an okay read, but nothing SPECTACULAR like reviewers had me believe. All considered, I got some enjoyment out of it, but a voice in my brain kept screaming "THIS IS NOT WHAT I WAS PROMISED", and that bloody voice is damn right, this ain't it.
Libby Day was just seven years old when her older brother massacred her family while she hid in a cupboard. Her evidence helped put him away. Ever since then she has been drifting, surviving for over 20 years on the proceeds of the 'Libby Day fund'. But now the money is running out and Libby is desperate. When she is offered $500 to do a guest appearance, she feels she has to accept. But this is no ordinary gathering. The Kill Club is a group of true-crime obsessives who share information on notorious murders, and they think her brother Ben is innocent.

Ben was a social misfit, ground down by the small-town farming community in which he lived. But he did have a girlfriend - a brooding heavy metal fan called Diondra. Through her, Ben became involved with drugs and the dark arts. When the town suddenly turned against him, his thoughts turned black. But was he capable of murder? Libby must delve into her family's past to uncover the truth - no matter how painful...
Gone Girl is one of my all time favorite novels, one I've been recommending to everyone for years. So I'm positively ashamed I waited so long to pick up another novel by Flynn, especially as
Dark Places ended up exceeding all my expectations.
With that said, I don't think
Dark Places
is quite as good as
Gone Girl
, but it is hard to compare the two, as they are very different.
Like Gone Girl (I swear I'll stop with the comparison after this sentence!) Dark Places's strongest feature is its cast. Each and every character was engaging, Libby swiftly pulled me into her life, at parts it truly felt as though I was right there with her. I loved how despite having a bigger cast, I was never lost, never had to stop and think "who the fuck is that!?", because everyone was well-crafted.
Besides that, I believe the reason why Dark Places stands out from other novels of the genre is that it has the kind of heart that makes it impossible not to be invested in the story. The plot revolves around Libby trying to figure out if her brother is the murderer she had thought him to be for decades. The same brother who was put behind bars with the help of her testimony. Even though she is a pretty cool customer, there are a lot of emotions (re)surfacing as she does her best to figure out what happened.
The mix of genuine emotions, great story-telling and frequent twists is what makes Dark Places perfect for those who are looking for a new favorite thriller.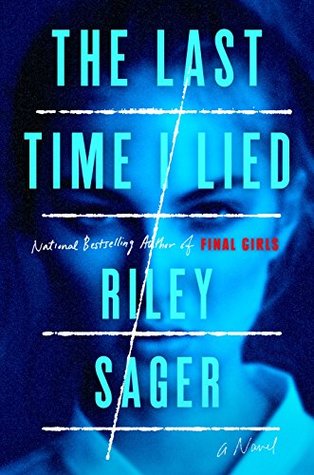 Two Truths and a Lie. The girls played it all the time in their tiny cabin at Camp Nightingale. Vivian, Natalie, Allison, and first-time camper Emma Davis, the youngest of the group. The games ended when Emma sleepily watched the others sneak out of the cabin in the dead of night. The last she--or anyone--saw of them was Vivian closing the cabin door behind her, hushing Emma with a finger pressed to her lips.

Now a rising star in the New York art scene, Emma turns her past into paintings--massive canvases filled with dark leaves and gnarled branches that cover ghostly shapes in white dresses. The paintings catch the attention of Francesca Harris-White, the socialite and wealthy owner of Camp Nightingale. When Francesca implores her to return to the newly reopened camp as a painting instructor, Emma sees an opportunity to try to find out what really happened to her friends.

Yet it's immediately clear that all is not right at Camp Nightingale. Already haunted by memories from fifteen years ago, Emma discovers a security camera pointed directly at her cabin, mounting mistrust from Francesca and, most disturbing of all, cryptic clues Vivian left behind about the camp's twisted origins. As she digs deeper, Emma finds herself sorting through lies from the past while facing threats from both man and nature in the present.

And the closer she gets to the truth about Camp Nightingale, the more she realizes it may come at a deadly price.
If you've been following us for a while, you might know that Ruzi and I wrote a discussion review of Final Girls, Sager's debut, you can see it here. I was a massive fan of that so, of course, I had major expectations for The Last Time I Lied, especially given how fascinating the blurb sounded.
My expectations weren't met, or rather... weren't just met, they were far exceeded by this thrilling as hell novel. Seriously, I am SO IMPRESSED by The Last Time I Lied, and it took me on one wild as fuck ride that I won't forget for a while.
I'm being hella repetitive in these reviews, but again, I have to praise the characters first and foremost. Emma was a convincing and likable heroine who genuinely wanted to do good, the latter can be annoying (for me at least lol) in psychological thrillers, but here it worked. I'm not sure what it was about Emma, but even when I could have screamed at her "girl, that's a TERRIBLE idea" I was rooting for her, and loved her.
I was happy for the inclusion of mental health rep, specifically by the therapy positive attitude the characters had. I'll say that the prejudice some had against people with mental health issues should have been addressed better - as in, it was in no way encouraged, but there was also no point made about how wrong it was.
As for the plot, woah, it was such a wild fucking ride, I was tearing those damned pages I was turning them so fast. (Indeed, my heart also broke with each tear.) I'm so impressed by the way Sager crafts his stories, and fully believe he's one of those writers who'll continue to blow my mind more and more with each book. I mean, come on, he even managed NOT pissing me off by playing the "the MC knows this thing, hints at it multiple times, BUT won't share it for a good while" trick. Now that's an accomplishment, my friends.
Overall, I was obviously VERY into this story, to the point where no psychological thriller has lived up to this one since I finished it, and I've read a couple since then. After reading two fantastic and massively different thrillers by Sager, I'm quite convinced he can do no wrong, so I'm eagerly awaiting what he comes up with next.
RATING
★★★★
★
Have you read any of these novels? Do you plan to?? What are some of your favorite AND least favorite psychological thrillers? ALSO, when was the last time a hyped novel disappointed you & what was it? (Doesn't have to be psychological thriller!)
DON'T FORGET TO VISIT OUR SPOOKY OCTOBER OPENING POST & ENTER OUR GIVEAWAY.