I am so darn excited to put out today's post, because this is our first official Spooky October post, and damn, Clare and I have been working hard on these, and it's NICE to finally put something out!!
Well, okay, originally, this is a Top Ten Tuesday (hosted by That Artsy Reader Girl) topic, but we've put our own little spin on it, so it feels like its ours too. At least on some level. Maybe.
ALSO, if you're wondering what Spooky October is?? Fantastic - here's a link to our opening post where you can (1) learn more about the event, (2) enter our INT giveaway! ISN'T THAT AMAZING!?
Khm, but now, we should finally get to today's post where we've shared 5-5 authors we'd love to plot a creepy novel with. There are authors from multiple genres here, so even if you don't like horror this list might be something you enjoy.
CLARE
Shirley Jackson
author of The Haunting of Hill House and We Have Always Lived in the Castle
I only recently discovered Shirley Jackson but oh boy do I wish I could write a book with her. Full of morally ambiguous (or straight up bad) characters and creepy things round every corner. This is definitely for anyone who loves psychological horror (which I obviously do).
Kendare Blake
author of Anna Dressed in Blood
Ok so I actually read this a fairly long time ago back when everything scared me, but even so I remember Anna being absolutely terrifying. I have a lot of love for someone willing to make even their main characters so horror inducing.
Amy Lukavics
author of Daughters Unto Devils
Another author who was fully capable of scaring me out of my mind. I feel like this would wind up being a super gruesome book but still with that psychological touch I enjoy so very much. She is excellent at making sure you don't trust anyone.
Katie Alender
author of The Dead Girls of Hysteria Hall
Finally throwing in one that isn't so scary! OK so its a little scary. But mostly this was sort of sad. I've read so few books that are from the perspective of the scary thing - and I love the idea of writing from the ghosts viewpoint. I feel like I could have a lot of fun with that.
Courtney Alameda
author of Pitch Dark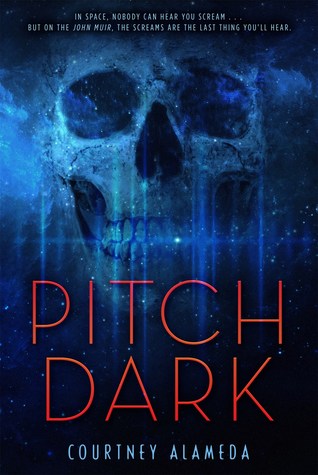 I recently read Pitch Dark and fell instantly in love. It has a certain cinematic aspect to its horror, the characters were all incredible and there were so many gaming references! Of all the authors on the list I feel like Courtney is the one I would most click with!
VERONIKA
Gillian Flynn
Gone Girl is one of those novels I've been recommending to everyone since I read it, and I don't see myself stopping. It was more or less my introduction into psychological thriller, and it made me obsessed with this genre... and forever dissatisfied, because I can't seem to find a novel that FULLY lives up to Gone Girl. Dark Places was cool and all, totally deserved five stars, but it wasn't quite there yet, and I haven't gotten to Sharp Objects.
Flynn is one of the most talented
writers
when it comes to creating fleshed out and complex characters, and
that
is what makes her the queen of psychological thriller, and would it make it fun to write a novel with her. (To avoid misunderstanding - there is no king here, folks, she is the sole ruler of the genre.)
author of Final Girls and The Last Time I Lied
Like I said, no king in the psychological thriller genre, but Sager could easily be the prince of it, in my opinion. What I love the most about him is how he is able to grab a trope (=final girls and summer camp mysteries) and elevate it completely, creating something unique and fascinating to read. His mysteries have kept me guessing until the very end, and I cannot wait for the next adventure he has planned for us.
Honestly, I'm not a writer, and it shows here, because instead of writing with Flynn or Sager, I would much rather push them together to co-write a novel. Thing is, they are both excellent at every aspect of their stories, but still, seeing them working together would be mesmerizing. Especially because what grabs me the most in Flynn are the characters, while in Sager it is the plot and story that keeps me truly occupied.
author of In the Shadow of Blackbirds and Yesternight
It feels a little repetitive calling everyone on this list the best in their genre, but IT IS TRUE, I swear!
Cat Winters is the absolute queen of historical fiction - specifically of the paranormal/ghost kind, although not all her novels fall under that category.
Her atmospheric writing and vivid descriptions of past eras will make you SHIVER, because boy, is she good at being mysterious and spooky! I mean, take a look at Yesternight - a story about reincarnation. It's not exactly a scary topic, is it? Yet, I found myself switching on the lights in the whole damn house while I was reading it.
author of Not Even Bones
The fact that Schaeffer is the only 2018 debut author on my list who only has one (!) book out, goes to show how incredibly impressed I was after reading Not Even Bones, a book that has EVERYTHING my dark heart could desire. Gore! Villains! Murder! IT IS ALL THERE.
The reason why writing a creepy book with her is so desirable is that she is not afraid to go there and be dark. I mean, read her goodreads review of her book, and tell me you don't want to work with her:
author of Rebecca and My Cousin Rachel
Daphne du Maurier is the only author on my list who it would be impossible to even meet with, because, well, she is dead. But let us be honest - the chances of working with any of these authors is roughly the same as working with Maurier, so I okay-ed the addition of her to my list.

Now that that's out of the way, here is what she excels at - she is tremendously talented at creating Gothic mysteries that won't leave you alone even after you put down a book. It's not even that they have unclosed endings - Rebecca surely doesn't - but there are so many aspects of these that can be discussed.

Let's chat!
Do you plan to read creepy books for October? Will you be joining us for Spooky October? Not to sound like I'm ordering you, BUT YOU TOTALLY SHOULD OK. Have you read anything by the authors we mentioned?