Recently, I've read quite a few spectacular novels - and knowing that I'll never have time to talk about each and every one individually, I have brought you a couple of mini reviews today. This time, I'm here with four diverse contemporary novels, all of which I adored a whole lot.
This post includes books with characters of color and lgbtq+ characters, as well as a romance novel with an autistic heroine. Hope you find your next favorite here, or we can fangirl about these novels in the comments!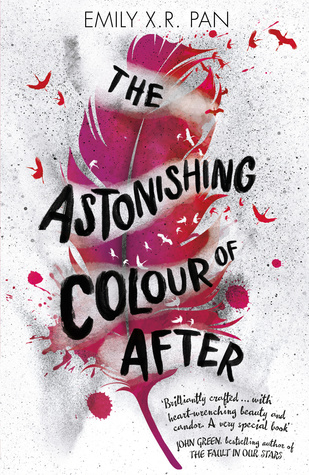 PLOT:
The Astonishing Color of After
is the story of Leigh, who, following her mother's suicide, goes on a trip to meet her Taiwanese grandparents for the first time. Besides hoping to find out more about her family's history, she also plans to track down her mom, who has turned into a bird.
REVIEW:

Friends, this was spectacular. Like, yes, I expected it to be amazing, but even so I finished it being so darn impressed and satisfied.
First of all, the writing is gorgeous, and Leigh's voice is lovable and complex.
On that note, Leigh is the type of character I could read 10+ books about, because yes, she was that fleshed out and well-crafted. From her struggles as a biracial teen, through her heartbreak over her mother's death, to her art and love for Axel... every single part of Leigh shined bright.
The main setting was Taiwan, and it is obvious Emily X.R. Pan put a lot of thought and love into the descriptions of the country and all the places Leigh visited while being there. I could go on and on about how great this is, but I'd much rather you read it yourself.
OVERALL:

Heart-wrenching, beautifully written, with well-developed characters, The Astonishing Color of After will take you on a wild journey.
TRIGGER WARNINGS:

depression, suicide
PLOT:
Every summer Sebastian and the rest of the football (for American = soccer) team spend weeks at summer training camp getting ready for the upcoming season and having the best time. The unexpected arrival of Emir Shah, Sebastian's ex-best friend, puts a damper on their mood, not only because he is far from being a great player, but also because he seemingly wants nothing to do with them. When Bastian begins to train Emir, he has to realize that the prickly boy is quite different from what he thought.
Friendship is definitely in the making, but dare Sebastian hope for romance, as well?
REVIEW:

Running With Lions is THE book you need to read if you're into summer and/or sport romances. It is incredibly diverse, with various characters of color, as well as lgbtq+ characters, and a Muslim love interest.
Oh, and Bastian is the softest, most precious main character ever!! I swear to you, he is too lovely for this world. *cries* At first, he is not at all into the idea of spending more time with Emir, but he wants to help so badly that he can't stop himself from reaching out to him. IF THAT ISN'T PEAK KIND, IDK WHAT IS.
Another fantastic thing was to see the team function very much like a family. Because of their different personalities and flaws they sometimes disagreed or even argued, but ultimately, they cared too deeply for each other to stay mad.
OVERALL:

Running With Lions is the perfect read for those looking for a character driven contemporary romance with a diverse as heck cast. Bonus: who doesn't want that gorgeous cover on their shelf!?
TRIGGER WARNINGS:

memories of body-shaming and bullying, mention of Islamophobia + at the end, there's a scene where the characters face homophobia from another team
PLOT:
Mara's world turns upside down when her twin brother, Owen, is accused of rape by his girlfriend, Hannah. Mara doesn't want to believe that Owen would be capable of something so horrendous, but she knows that Hannah would never lie about that. Mara is forced to take a side, all the while she is also battling her own demons.
REVIEW:

Girls Made of Stars is the story of a girl who was sexually assaulted by one of her teachers... a girl who now has to face a world where her twin, the person she loves the most in the world, has raped a girl. It is one emotional book to say the least.
One of the best things in the story for me was Empower, a club/journal started by Mara, that's goal is to fight sexism and discrimination in their school. It was amazing to see that these massively different girls (and a guy) could work together so well. Obviously, what I truly appreciated was how quick the group was to help Hannah in any way they could. I mean, yes, that should be the norm, but it was still lovely to see.
"We need to help Hannah. We're her family at this school, some of her only supporters."
I also highly loved the romance between Mara (bi) and Charlie (nonbinary, using she/they pronouns), who were best friends before becoming a couple. Now, after their recent break up, they are trying to navigate their way back to being best friends.
OVERALL:

Girl Made of Stars pulls no punches when it calls out rape culture, specifically the way victims are often doubted and silenced. Besides that, it is also a novel about friendship, discovering who you are, and supporting the hell out of your friends.
TRIGGER WARNINGS:
rape, sexual assault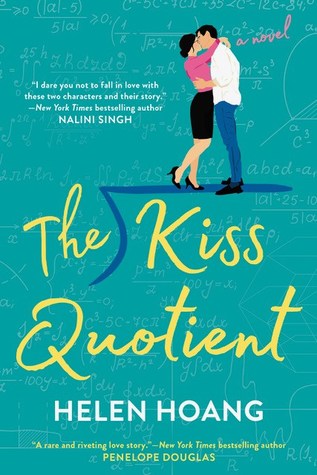 PLOT:

Feeling like a failure in the dating department, Stella hires Michael, an escort, to help her get better at relationships - both in and out of the bedroom. What neither of them counted on was that they won't be able to stay professional...
REVIEW:
With #ownvoices autism representation (Stella), and a Vietnamese-American hero (Michael), The Kiss Quotient was not only cute and fun as heck, but also diverse. I'm genuinely hoping that novels like this will prove to be game-changers in the romance genre.
The characters were BRILLIANT - so vividly portrayed that it was easy to get lost in their story. It was impossible not to root for them, both as individuals trying to get on in life, and as a couple. I JUST LOVED THEM SO MUCH, OKAY?
And wow, the story was also refreshing - unlike in many romances we actually get deeply into the characters' minds, we see them develop and we learn about their aspiration in life. Moreover, their families also appear - Michael's more than Stella's - and are amazing additions to the story.
OVERALL:

The Kiss Quotient didn't just meet my expectations, it far exceeded them - it is a beautiful and funny love story, with two of the loveliest and most unique characters I've ever read about. Easily one of my favorites of the year.
Let's chat!
Have you read any of these novels? Do you plan to? What are some of your favorite diverse contemporaries, released in 2018?