Book series are simultaneously one of the best and worst things in my life. Why, you may wonder. Well, here's why.
On the positive, more of my favorite characters and worlds (etc.) is always a blessing. However, series can go downhill so fast your head will be spinning like so: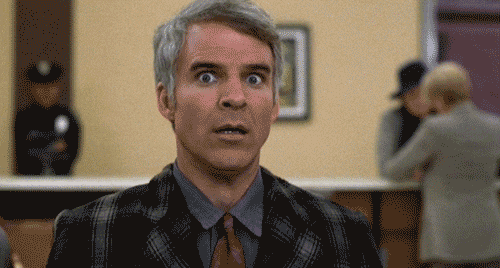 ... and that ain't a good feeling, my friends. I'd know, this post is all about being conflicted over series, and wow, did putting these contradictory feelings down made dizzy.
For ease of reading, you'll find 'the bad' and 'the good' of each series divided from each other - may you have fun embarking on this ridiculous journey with me.
THE BAD.
This is exactly like your typical, Twilight era YA Fantasy novel in many aspects; for fuck's sake, Obsidian reads like a lowkey copy of Twilight. I'm also conflicted about the way Daemon treats Katy in the first book - on the one hand, I do understand that he has to at least try to scare her away from his sister, but the whole hot-and-cold attitude and disrespectful behavior is meh, no matter the reason. With that being said, it's not like Katy lets him get away with that ,nor does she forgive him easily, which is quite nice.
Lux is the epitome of mindless fun! The easy writing, the charming characters and the rather well-paced plot all add up to a super enjoyable read that I've gone back to revisit multiple times, especially when I was feeling blue. The banter and snark, as well as the weird, but endearing group of characters have made me laugh out loud various times. Despite the fact that JLA undoubtedly uses similar character-types in her novels, there are a bunch of iconic ones to find here, e.g. Luc. WHO, BTW, IS GETTING HIS OWN BOOK, titled The Darkest Star. I mean, how cool is that?
We have a love triangle here, friends, one that's quite, quite cringy to watch unfold, especially because Sophie's love interests happen to be brothers... The plot is highly, no I mean, HIGHLY unrealistic and quite rushed at parts. I barely felt any of the emotional effects of the traumas Sophie faced (okay, I'm rather cold-hearted, but still), partly because the (rather large) supporting cast was far from being top-notch.
The trilogy was highly enjoyable and easy to get lost in. Actually, I was so interested that despite my misgivings I eagerly awaited each novel's release. Sophie was an intriguing heroine: she was a normal teen girl - finally someone who made mistakes and wasn't perfect, which, yes, I totally dag - thrown into this whole mafia business and danger. On that note, her friendship with Millie was EPIC to say the least - these girls could count on each other no matter what. Also, about that love triangle - it wasn't even that bad! In book 1, Sophie was mostly interested in Nic, and then later fell for Luca, and yes, she was cute with the latter.
The twists were more often than not easy to guess - it was only in the third book when the author managed to surprise me with some things. However, the 'big twist' of book 3 seemed to come out of nowhere, and it wasn't one I could fully get behind, especially considering that it made me disappointed in a character I liked before (I know, I know, this is highly subjective, but shh). The romance was... not the best. I couldn't help but feel like Eleanor deserved SO MUCH BETTER than Daniel, and that feeling didn't go away AT ALL.
The premise is so cool!! Eleanor joins forces with the Spirit Hunters, who are killing zombies with the combination of technology (yay, steampunk!) and magic. Following Eleanor on her journey of discovering who she wanted to be was fantastic - I loved seeing her grow and change, and was so proud of all she's accomplished. Also, she had her morally gray moments, so that was super-cool. That brings me to one of the supporting characters, Oliver, who appears in the second novel first, and is SUCH AN ADORABLE PERSON.
I actually have an extensive, but spoiler-free review for the series here.
Okay, so first thing first - Yelena is A WOMAN OF COLOR, and the fact that she's viciously white-washed on the covers makes me go into a RAGE. *takes calming breaths* This series is HARD for me to talk about, especially with the bad-good parts divided like this, but watch me try my best.
The biggest problem here is how inconsistent the quality of the six novels is. Poison Study (book 1) and Shadow Study (book 4) were 5 star reads, while Fire Study (book 3) and Dawn Study (book 6) only received 3 stars from me. That's... a big difference in the same series. So, what was wrong in these? I was bored by the plot, thought it was repetitive and messy. Moreover, the pacing felt uneven. IDEK, man, this is one of the few series where my opinion varies so drastically between the novels, and I just really don't know how to feel about it.
I adored Yelena - she was such a fierce, independent young woman who went through so much shit, but survived. She was a protective friend and someone who deeply cared about what happens to others. Valek was another intriguing character, being an assassin and all, and the romance between him and Yelena was EVERYTHING. I also loved that after they became a couple, they had their individual lives instead of becoming one and the same. Ah, and the supporting cast was marvelous - the Commander was one confusing as fuck character, meanwhile Ari and Janco were so! darn! precious!
The first 3 books were fantastic, I loved each better than the previous. After that though the series went downhill real fast. The romance (which I so shipped & adored originally!!) felt too cheesy, while I felt like Adrian's POV was boring. Sydney's voice changed A LOT, and by the last book the supporting cast was barely - if at all - included.
Like I said, I truly loved Sydney and Adrian - it was only later when their relationship started to annoy me, and even so, they remain one of my OTPs. Also, the plot was always intriguing and (more or less) fast-paced... up until the 5th book that is. The supporting cast was fantastic - full of unique characters who were leaving their own lives, and weren't just secondary people in Sydney and Adrian's story.
In the first two books it was hella easy to guess who the culprit was, which is... disappointing, to say the least, in a mystery novel. The author's attempts to make the readers suspicious of other characters are so damned obvious. Also, the supporting cast feels incredibly two-dimensional; which is a damn shame when they all sound very interesting, especially, say, Thomas's sister in book 2.
THE GOOD.
The main characters are incredibly lovable, fleshed out and they form one epic pair - romantically and as detective partners both. Their hate-to-love romance has been fantastic to watch blossom, and I honestly love them so darn much. The writing is very engaging and the historical descriptions are easy to imagine. Moreover, the books have a very feminist overtone, with Audrey working in a field mostly reserved for men, and fighting for her right to build a career and the life SHE wants.
Have you read or started any of these series? What series have made YOU conflicted? Share, share!