I'm an avid reader of Roberta's blog, Offbeat YA, which is where I first heard about Tell Me Something Tuesday, a weekly discussion hosted by Rainy Day Ramblings. Each week Heidi, RDR's owner, writes about a new topic, and anyone can join in with their own posts.
I absolutely love what Roberta does with these discussions, and I've been meaning to write one myself, and guess what!? The time has come for me to actually do it.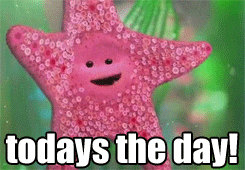 This week's topic has all to do with popular series - particularly popular series I have no interest in reading. I tried to take this topic into various directions, and I hope you'll enjoy!
First of all,
let's get this out of the way - many times I do actually end up buying series I'm unsure about, or outright uninterested in. Thus
I own multiple first-in-a-series novels that originally didn't catch my eyes, but for whatever reason [let's be honest, it was either a) a massive discount, or b) the cover] I still bought.
I could slap myself sometimes ahahaha...
No, but seriously, why on earth do I keep doing this?
One word: the hype. I follow a ton of book blogs, bookstagram accounts and I (mostly) keep up with book twitter. When people on all three - and goodreads! - keep screaming about the same book, I usually end up being convinced that it must. be. good.
Which, no, doesn't truly work that. *sad face*
Now, the hype convincing me to pick up a series is NOT always a bad thing - actually, I have discovered many a favorite this way. Such as:
On the other hand, I know my style, I know what type of books I like, so when I am totally uninterested in a book/series, it usually signifies that I won't like it. To sum it up - I can be pleasantly surprised, but more often than not, I'm just not.
Just as in these cases:
The one thing I'm super-happy about, and just now realized while working on this post is that most of the books in this category are ones I read a while ago, so it looks like my self-control has become better!?
With that all being said, t
here definitely are series that are super-hyped, but do not interest me at all
.
The weird thing about these is that I can't always pinpoint why I'm so indifferent to them.
When they contain a pet peeve of min, or when key elements of a series are spoiled for me it makes sense that I'm uninterested.
But generally speaking, there are a lot of series where I have nothing against the story or the author, yet, I can't seem to conjure even a tiny bit of excitement for them.
Now, let's talk about you!
What are some popular series you don't care about? Have you read any of the novels mentioned here?