Hello friends, today's post is a little bit ranty, a little bit negative, but ALL kinds of relatable (I hope?) if you also dislike some of these things. So go ahead, continue reading if you're up for a good moan about cringe-worthy slash annoying tropes in books.
TEACHER + STUDENT RELATIONSHIP
To be fair - I was a huge fan of the first couple of seasons of Pretty Little Liars, and a massive Ezria shipper*. I thought they were adorable together, and nothing and no one had the right to stand in the way of their love. I was positively outraged Aria's parents were not in support of their relationship. I mean, why wouldn't you support your under-aged daughter dating her ex-teacher?? STILL A MYSTERY.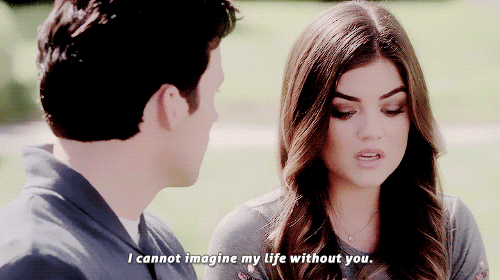 But for real, I used to think that teacher-student relationships were cute. Which, tbh, is mildly disturbing at best. Now that I'm older and wiser (lol, for sure, I'm both those things), the only thought I have of such relationships is ew. I mean, THE POWER-DYNAMICS are all off!! A teacher student relationship is the farthest thing I can imagine from equal, and triple yikes if the student is a minor. So any book that romanticizes this gets a big fat no from me.
*For those of you who don't know - Aria is a high school student, while Ezra teacher literature there. They hook up before he is revealed to be a teacher, and their relationship is kind of on and off after the reveal.
OVER-DESCRIBED FIGHT-SCENES IN FIRST PERSON
First of all, I'm not one to over-analyze the writing, I might comment on it if it is other-worldly good, OR totally horrid, otherwise, chances are, I won't even mention it. BUT illogically written scenes drive me up the freaking wall. I'm also not trying to be a dick here. I do understand that writing is hard, I'm not even going to mention any examples by name, but here is what I mean:
Imagine that you are reading a book that is in first person point of view, narrated by the main character. However, they are not on their own, they have a loyal and lovely group of friends with them at all times. WHICH IS SO COOL, RIGHT? But then their merry group is attacked!! They are all fighting!! Yet, the narrator is magically able to not only fight for their own life, but also give us a totally freaking accurate and detailed account of what is happening with the others. Hahaha, nope, that is NOT a thing.
Come on, don't tell me that someone literally fighting off various enemies is able to also pay attention to what is going on with like, five other friends, and be like, "Friend A was hit in the head, but instead of going down, they are fighting on! Friend B is not so lucky, they were just stabbed! ALSO, I AM FIGHTING, TOO!" Like, no. That's unbelievable and so very annoying, and I had massively good books doing this. I'm unable to take these fight scenes seriously, and there are few things worse than laughing at a life-or-death fight scene.
GIRL ON GIRL HATE
No, I don't believe that all girls HAVE TO be friends and love each other, BUT casual slut-shaming, body-shaming and the likes should freaking die out. And don't even get me started on the whole "let the female characters hate on each other for the sake of drama" thing, because it is so very tiring to read about. Obviously, there are likely people you dislike for valid reasons, and some of them are girls, but that is entirely different story altogether.
CHARACTERS FIGHTING TO SAVE THE WORLD JUST BECAUSE
THIS TROPE MAKES NO SENSE WHATSOEVER!! Imagine that, as a teenager, you wake up one day, and then sometime in the day you learn that you have to save the world because of a prophecy/special ability you have/other silly shit. I'm just... no. Give me characters who are fighting to save their friends, their family, THEMSELVES (because that is so rare, as well??? I just want a character passionate about saving their own ass), and leave the "whole world" out of it. Eh.
MALE CHARACTERS CONSTANTLY SAVING THE FEMALE CHARACTERS, BUT NOT VICE VERSA
OBVIOUSLY, it is totally fine to have the characters saving each other, that's lovely! But, there are two variations of this that I just cannot with: (1) w
here it is always the male character saving the female, (2) where a male character gets all frustrated, because a! woman! saved! him! what! happens! now! I mean, give me an effing break (and throw him back into the situation which he was saved from).
QUESTION TIME
Do these tropes make you angry, as well? No? THAT'S FINE! Tell me why you enjoy them! What other tropes do you hate? SHARE, SHARE, SHARE!