"There are no lessons in it. There's just this harsh, horrible world touched with beautiful magic, where shitty things happen."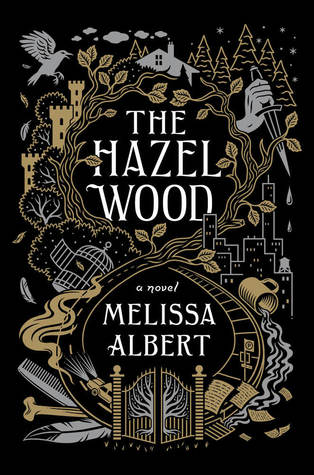 Seventeen-year-old Alice and her mother have spent most of Alice's life on the road, always a step ahead of the uncanny bad luck biting at their heels. But when Alice's grandmother, the reclusive author of a cult-classic book of pitch-dark fairy tales, dies alone on her estate, the Hazel Wood, Alice learns how bad her luck can really get: her mother is stolen away―by a figure who claims to come from the Hinterland, the cruel supernatural world where her grandmother's stories are set. Alice's only lead is the message her mother left behind: "Stay away from the Hazel Wood."

Alice has long steered clear of her grandmother's cultish fans. But now she has no choice but to ally with classmate Ellery Finch, a Hinterland superfan who may have his own reasons for wanting to help her. To retrieve her mother, Alice must venture first to the Hazel Wood, then into the world where her grandmother's tales began―and where she might find out how her own story went so wrong.
Disclaimer: This is an ARC review! Quotes are not from the final copy, I have no way of knowing if anything at all was changed in the final version.
4/5 for the characters
Here's the thing - I loooved reading about the characters, and found them incredibly complex people. Alice was a bit of a mess, full of flaws and imperfections, but that was what made her so very real. There were times when I was dissatisfied with how she acted or treated people, but I never ceased to root for her, which goes to show how well-written she was. The same can be said about Finch, who was such a great addition to the story. He was a much lighter character than Alice, but as the story progressed we were shown some of his flaws, all of which just made me like him even more. He and Alice were super-different in many ways, yet, they worked together so well, and formed a truly dynamic duo.
That said, there were some problems that I would like to bring up:
(1)
I only ever got invested in Finch and Alice, meanwhile neither the mother, nor the grandmother was of any interest to me. Any other character that appeared - like fans of Alice's grandmother, or Alice's stepsister and stepfather - were barely described, and I forgot them right after their '
purpose' in the story was completed.
(2)
There are some... less than acceptable things Alice pulls.
At one part, she gets all feisty with a police officer, which makes Finch, who is black, scared and angry. He calls her out on her privilege,
Alice, however, does not want to ponder over what Finch is saying, despite understanding his meaning perfectly well. Her reaction to the shame she feels over being ignorant is to drive the car off the road, and nearly kill the both of them. This was just... so baffling to me, especially considering that this was handled
at no part of the novel
. We got an explanation for why Alice had anger management issues, but it was too little, too late.
"I did get it, I did. And the shame of it boiled into something darker. Before my brain could catch up, I jerked the wheel and turned the car off the road, sending us rattling toward the trees."
5/5 for the romance

Why? Because there was basically none. I love romance novels... actually, I love romance in any genre, however, the books that have no romantic plot can feel like a breath of fresh air. At first I believed Finch and Alice would end up together, it was kind of like a "will they, won't they" situation for awhile there, but I was very happy with how things ended for them. Aaand, that is all I can say without spoilers! Sorry, friends, you'll have to read this if you're interested in learning more.
5/5 for creativity

The magical world Melissa Albert created was so so SO gorgeous. The Hazel Wood was filled with unique tales and characters, who managed to be intriguing and frightening at the same time. Twice Killed Katherine, anyone? All through the novel I kept on wanting to read the short stories Alice's grandma created, so imagine how pumped I was to learn that the author is going to publish them in a collection, albeit we will have to wait until 2020 for that. *cries*
5/5 for the prose
I rarely mention the writing, because it has never been a big concern of mine, however, I - like the writing expert I obviously am - have to give praise where praise is earned. Melissa Albert has a way with words, which goes beyond writing beautiful prose. I mean, sure, she does that too, but what is even more remarkable about her skills is that she is able to pull you into the story completely, and only let you go when you finish the book. However, even then, you will not be free - if you're at all like me, the story will remain with you for a long time, and you'll frequently ponder over the ending.
"Usually when I looked at people too long I started seeing them as component parts: Bony noses. Eyeballs in sockets. Odd cartilage curve of ears and fingers so strange and overevolved and makeup floating just over the skin and what the hell was with pants, and knees, and how did we walk around like all of this was normal?"
4/5 overall

See, I wish I could give this 5 stars, wish it with all my heart. But the car incident made me so angry - and the more I think about it, the less satisfied I am with how it was handled, or, in this case, not handled- that I simply cannot. That, however, doesn't take away from how magical and gorgeous this book was, and how utterly dark it got at certain parts. 1000% recommended.