Hello everyone!! This is my second official recap in the blog, and, first of all - thank you all for the great feedback on my September Recap! I love doing these, so the fact that y'all seem to enjoy them makes me super-happy.
Anyhow, October was a rather disappointing month, to tell you the truth. I don't think I did a lot of stuff, to be honest. Partly, because I've been trying to concentrate on my studies with more or less success. Also, with the weather turning colder and colder each week, I've had very little desire to leave the house and meet people. I just cannot stand the cold at all, AND IT IS ONLY THE BEGINNING OF NOVEMBER. *shivers* Speaking of November - THAT IS MY BIRTHDAY MONTH, so, obviously, I am pumped to start the new month.
With that, let us jump into this massive post about the books I read, the shows I watched, the music I listened to & lots of other things I did or heard about this past month.
HUNTING PRINCE DRACULA: Welp, IDK how to feel about this one. I was just a bit let down by it, and felt like many parts of it were hella unrealistic. Also, the mystery, aka the most important part, was really obvious, thus I guessed the killer incredibly early on. :( That said the atmosphere Maniscalco creates is spot on, the characters are interesting and I SHIP THE ROMANCE SO MUCH. Would recommend to those who enjoyed the first book.
★★★★
THE BLACK CAT: REREAD! This is one of my all time favorite short stories. It's from the perspective of a man who's on the death row, and is basically telling the crimes he committed to get there. AND IT IS DARK. Like, honestly, so so so dark. Edgar Allan Poe at his best.
★★★★
★
A SEMI-DEFINITIVE LIST OF WORST NIGHTMARES: By far the weirdest book I've read this year, and I'm still confused about some parts of it. That said, that was obviously intentional, so it is NOT a complaint, even though I personally like when everything is clean and clear. In any case, this was still a pretty cool book, with truly well-written characters. Trigger warning for

self-harm, suicide and anxiety

.
★★★
★
THE COUNTRY WIFE: Honestly, the fuck was this!? I legit couldn't finish it, because it was THAT bad. To be honest, I'm not a fan of reading plays - WHEN THEY WERE OBVIOUSLY MEANT TO BE WATCHED IN THE THEATER - but the whole plot was just ridiculous. I mean, I know it's a comedy (another thing I don't necessarily like), but it was just so bad.
★
THE RAPE OF THE LOCK: 18th and 19th century British Lit has been kicking me in the butt, this one was another horrid story. I'm just... I don't get why this is praised!? I'm not saying it's not creative, or that Pope sucks, but yeah, I was not very impressed. *shrugs*
★
BLACK BIRD OF THE GALLOWS: Disappointment. *sad face* It was a fine story, and I enjoyed it quite well, but, at the same time, I didn't feel like it was truly captivating or exciting. Plus the characters and the romance were a bit meh.
★
★
★
MOLL FLANDERS: Again, British Lit seminar, why do you keep hurting me this way?? Having a very unconventional woman telling her life story sounded pretty cool to me at first, but the writing annoyed me from the get go, and Moll was getting on my nerves, as well. I appreciate all the different topics one could discuss after reading Moll Flanders, but I still didn't like this.
★
★
ALL THE CROOKED SAINTS: Honest to god, one of my least favorite books of the month. I'll have a review of it up on the blog soon, so do look out for that, but until then: bad latinx representation, boring plot, cringy romance and under-developed characters sum up my thoughts of this pretty well.
★
★
THE DIVINERS: Buddy-read with Clare from Dual Reads! One can always count on a reread of an old favorite to cheer her up, and cheer me up The Diviners did!
It took me a looong time to finish this, BUT NOT BECAUSE I DIDN'T ENJOY THIS, I SWEAR. It's just, I wasn't in "physical book" reading mood?? If that makes ANY SENSE whatsoever. Anyhow, The Diviners has been one of my ALL TIME FAVORITE novels ever since I first read it, and this reread only made me love the book even more.
★
★
★
★
★
PLAY ON: So, this was yet another disappointment. IDEK what was up with October, but it was filled with let downs. *sad face* In any case, this was an okay-ish romance, but not very original. Also, it didn't help that the freaking blurb literally spoiled the whole story. Stuff that only happened after more than halfway into the book WAS OUTRIGHT MENTIONED IN THE BLURB. I mean, stop with that blurb-writers, just stop.
★
★
★
WE HAVE ALWAYS LIVED IN THE CASTLE: I've wanted to read this FOR YEARS, but kept on postponing it, because I was never really in the mood for it. However, this year, I finally picked this up, and IT WAS SO GOOD. Incredibly dark, disturbing and twisted. Perfect for Halloween.
★
★
★
★
★
THE LOTTERY: I actually read this for the first time more than a year ago, because I kept hearing awesome things about it, but after finishing We Have Always Lived in the Castle I wanted to revisit this tension-filled short story. I did not regret rereading it, just as good and, well, twisted as it was the first time.
★
★
★
★
THE KIND WORTH KILLING: I've had this for a while now, and was really excited, but also scared, because whenever a book is said to be the next Gone Girl, it fails me completely... khm, The Girl on the Train, anyone? BUT THIS WAS SO GOOD! Full of surprises, reveals and a truly fascinating heroine, Lily, who I couldn't help but root for. I do wish the author had gone deeper into the character's psyche, but otherwise, this was perfect.
★
★
★
★
Where I share 5 of my favorite songs of October.
DYNASTY
Fun fact: I only started this, because the trailer looked bad, and I thought it'd be a show to laugh at and then quickly abandon. HOWEVER, it is actually really good! I've actually been surprised by a few twists so far (three episodes are out as of when I'm writing this post), and the show itself is very addictive.
HOW TO GET AWAY WITH MURDER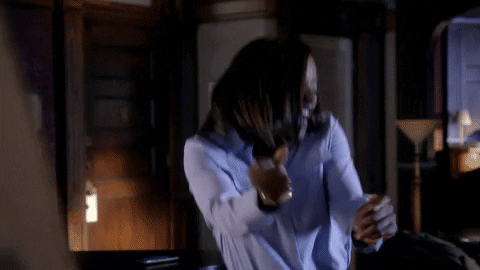 I started the fourth season of How To Get Away With Murder, watched three episodes so far, and while the very beginning was a bit lukewarm, the plot seems to be getting better, and I just love seeing these fantastic characters again.
AMERICAN HORROR STORY: CULT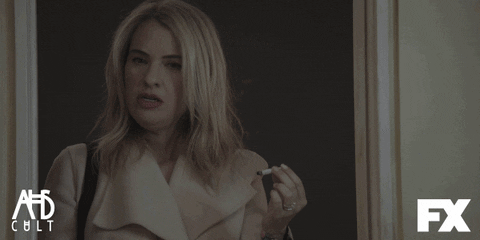 I FINALLY started the new season of American Horror Story, and I'm sort of into it, but at the same time have VERY ambivalent feelings? I'd be really interested in your thoughts, because I'm struggling with making up my mind about this.
THE SIXTH SENSE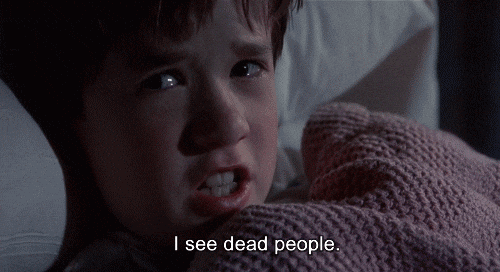 Okay, yes, I am one of those weird people who somehow haven't yet seen The Sixth Sense, but I watched it finally, and it was pretty awesome. I managed to survive to this age without the twist being spoiled to me, too, so yay, I was actually surprised at the end! 8/10
THE OTHERS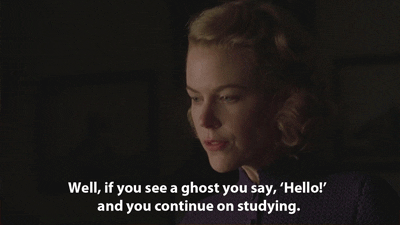 Ah, this was SO GOOD. It had like, two scary moments altogether, so not exactly the movie that will make you scream. BUT THE ATMOSPHERE was so well-done, and the plot was really intriguing and fantastic, with some shocking reveals on the way. LOVED IT. 9/10
How was your October? Any exciting - or dreadful - books you've read? How about movies or shows? What are some of the tv shows you are up-to-date with? Also, did any bookish news released in October made you INCREDIBLY excited? LET'S CHAT!