"And I didn't realize it then, as Sarah and I left the parking lot and sped down the road in her little four-door, but I think that by the end of that very first school day I'd already fallen a bit in love with her."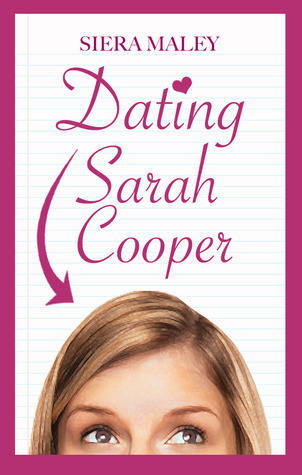 Katie Hammontree and Sarah Cooper have been best friends since the 2nd grade. Katie's welcoming, tight-knit family is a convenient substitute for Sarah when her distant parents aren't around, and Sarah's abrasive, goal-oriented personality gels well with Katie's more laid-back approach to life.

But when a misunderstanding leads to the two of them being mistaken for a couple and Sarah uses the situation to her advantage, Katie finds herself on a roller coaster ride of ambiguous sexuality and confusing feelings. How far will Sarah go to keep up the charade, and why does kissing her make Katie feel more alive than kissing her ex-boyfriend Austin ever did? And how will their new circle of gay friends react when the truth comes out?


WHY CLARE MADE ME READ IT:
CLARE SAYS: Dating Sarah Cooper is one of my favourite books of all time. So when Vera suggested this collaboration to me it didn't take me long to settle on this as the book I wanted her to read! This is an LGBT read with amazing friendships, an incredible fake-to-more romance and a story that is at once humorous and touching. I'm so glad I was able to share this book I love so much with Vera!
MY OPINION:
So, first of all, I'll honestly will be forever thankful to Clare for doing this collaboration with me and appointing Dating Sarah Cooper as my book for it. I mean, sure, sure she has recommended it to me before, it IS one of her faves after all, but I was only ever mildly interested in it, because a) I strongly dislike the cover, it looks cheesy and boring, and b) I thought the story would be drama-filled, and y'all know how much I hate drama.
Fortunately, though, this collab happened, and so I was "forced to" read Dating Sarah Cooper, and, you guys, ALL my negative expectations were proven wrong! *cheers* I mean, the cover did not magically become prettier, but it has no bearing on the story itself, and I did get used to its 'boringness', so yay. Also, this should teach me to never judge a book by its cover, which is a lesson I still haven't fully understood apparently.
Now, onto all the bright and great things Dating Sarah Cooper has to offer:
IT IS A FAKE RELATIONSHIP DONE RIGHT
The plot of the book, as you probably have seen in the blurb, is that two straight best friends pretend that they are a couple, so one of them could 'be more interesting' for the guy she is into. I know, sounds hella problematic, but bear with me. First of all, this IS an #ownvoices novel, so the author really went above and beyond with the representation of the F/F romance. The way the characters were slowly realizing they had feelings for each other was written SO WELL, I shipped these two girls from the get go.
Moreover, it is made 10000% clear that pretending to be part of the lgbtq+ community for whatever reason is NEVER okay. AND THE MAIN CHARACTERS ADMIT THIS AND KNOW THIS. They are, however, young, and Sarah at least is incredibly impulsive, which is how they got into this situation in the first place. Also, I loved how it is clearly stated that the fact that they ultimately do fall in love with each other absolutely doesn't make the lying right. *applause*
THE CHARACTERS ARE AMAZING
Katie, our narrator, was definitely my favorite. She was a kind-hearted, nice and PURE girl, who might have been having problems standing up against forceful people - khm Sarah - but she was also the person who'd stop and face down bullies hurting a teen she didn't even know. She was also a loyal, supporting best friend, who would have had her friends' back through literally everything.
Then we also had Sarah who was decidedly less likable than Katie, at least in my opinion, but still a character I was totally rooting for throughout the book. My heart ached for her knowing how hard it hit her to grow up in such a neglectful family.
And, ah, I loved Katie's family! Her mom and dad were amazing, and I was a sucker for all the heart-warming family scenes between them all. It was great to see how Sarah, who came from a not-so-great family, was so welcomed by Katie's parents, and was, basically, the Hammontrees second daughter.
"You can be gay, or bisexual, or even straight, and we'll love you as long as you're being who you are, okay?"


I feel like my only complaint is that we didn't get to see more of the supporting cast, aka Sarah and Katie's friends. Everyone at their table seemed so interesting, fun and kind, and I loved that despite their differences they made one cool squad. The teens at the lgbtq+ club were also fantastic, and, to be honest, they were the ones I *really* would have loved to know more of, because besides a few of them, we got very little info on them.

THE ROMANCE WAS SUPER-SHIPPY
IT WAS SO LOVELY TO SEE THE GIRLS DEVELOP FEELINGS FOR EACH OTHER. Or, more likely, realize what have always been there. But like, y'all, they were CUTE. As the reader it was totally obvious that both of them were into the other but too scared to say anything, so reading from Katie's POV about how unsure she felt was just ADORABLE.
OVERALL
Dating Sarah Cooper was a lovely book that made me beam super-wide from start to finish. I absolutely adored the characters, Katie and Sarah were a total #OTP, and, all in all, this is one of my favorite contemporaries of ever. It breaks my heart that this is so darn underrated, so let me say this: if you liked Simon vs. the Homo Sapiens Agenda, I'm totes sure you'll like this! It has a similar light-ish, fun atmosphere even if there're some bad things happening throughout the story.
Cover: 3/5
I ALSO MADE CLARE READ SOMETHING
Devoted by Jennifer Mathieu - see her post HERE.