"This is the way of our work: We cannot help but color it with the paint of our feelings, both good and bad."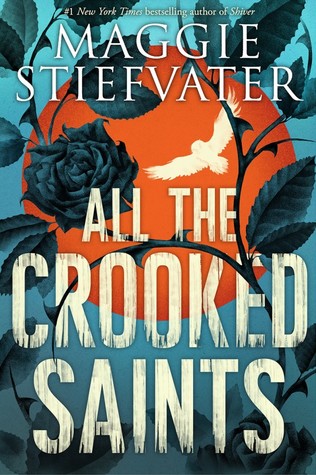 Here is a thing everyone wants: a miracle.
Here is a thing everyone fears: what it takes to get one.

Any visitor to Bicho Raro, Colorado is likely to find a landscape of dark saints, forbidden love, scientific dreams, miracle-mad owls, estranged affections, one or two orphans, and a sky full of watchful desert stars.

At the heart of this place you will find the Soria family, who all have the ability to perform unusual miracles. And at the heart of this family are three cousins longing to change its future: Beatriz, the girl without feelings, who wants only to be free to examine her thoughts; Daniel, the Saint of Bicho Raro, who performs miracles for everyone but himself; and Joaquin, who spends his nights running a renegade radio station under the name Diablo Diablo.

They are all looking for a miracle. But the miracles of Bicho Raro are never quite what you expect.
First thing first – it has to be mentioned that the latinx representation was questioned even before the publication.
As a non-latinx person, I highly doubt I picked up on everything, or even half of what could be hurtful for latinx people, but I did feel like the representation was superficial. #OwnVoices reviewers and authors have pointed out countless times that throwing in food + words from a language will not make the representation strong, and that seemed to be pretty much all Maggie did with the latinx characters in All the Crooked Saints.
We had the strange town name Bicho Raro criticized early on by #OwnVoices reviewers for its meaning having a lot more to do with dicks than "rare bird", like Maggie seemed to think so. The Spanish in general wasn't top notch either, to say the least. My "favorite" example is Joaquin's DJ name: Diablo Diablo (Devil Devil), which was supposed to sound rebellious, I guess?? BUT IT DID NOT. On the contrary, it very much seemed like a non-latinx person's idea of a cool name. I studied Spanish, and it is an incredibly rich and beautiful language, so the fact that this was the best Maggie could do, or cared to do, is a disgrace. ESPECIALLY for a writer who seems to pride herself on her flowery and metaphor-filled writing... but, I guess, that only applies as far as writing in English.
One more thing about the cultural rep - the food scenes, because, obviously, you have to have latinx people cooking. Don't get me wrong, I love food descriptions as much as the next person, and Mexican food is awesome, but I'd have appreciated a backstory on why Marisita liked to cook, how she learnt it, from whom she learnt it in her family, or really, any info. Random latinx character cooking various times throughout the book just felt so so superficial.
I could talk about the plot, I guess, but it would be rather pointless, because there was very little of it. The romance, though, now that dominated the book, and not in a good way. Nearly everyone was in love with someone, or desperately hoping to find love in the future. It was ridiculous, especially because there was zero reason to even include romance.
I mean, read the book, and then tell me Beatriz needed a love interest, or the drama between the parents was necessary, or that Daniel's character required someone to be in love with to want to help a pilgrim. I feel like the messages, which were rather obvious and just not as deep as they were made to look like, could have been a lot stronger if it was only the Soria family concentrating on THEMSELVES mostly.
As for the characters - the frequently changing perspective and little time spent building-up the characters made them hard to like. It is true that Beatriz was smart, cool-headed and tech-savvy, Joaquin was a DJ with a grand list of favorite musicians and huge plans for his future, and Daniel was a kind-hearted and great person. All that sounds interesting, huh? But that interest fades when those details are not showed us, but rather told us.
I'd have loved to see more of Joaquin getting lost in music, Beatriz doing her thing with electronics and Daniel being all pure and lovely, but, alas, there was little to no real character build-up. Back to Joaquin for a moment - it was hard to believe for me that characters with Mexican heritage didn't like/know any Hispanic songs, and only played English ones on the radio. (At least as far as I can recall, correct me if I am wrong!)
I like Maggie's writing style, I really do, but in All the Crooked Saints it was just too much for me. When there's so little plot or character complexity, using such flowery language will only make the book worse.
Also, and maybe I am over-reacting here, because I hate this freaking expression, but here's a direct quote, after two of the pilgrims saw Joaquin looking at them:
Tony narrowed his eyes. "Why is he spying around?"
"Boys will be boys." Padre Jiminez said carelessly.
I'm just... why the hell was that necessary here, and what the fuck does it mean?? I'm so so so tired of "boys will be boys" being thrown around, so while I know this is NOT the context it's truly tragic in, I still find it really bad.
And then:
"Many women would have been crushed under this newfound responsibility, but Maria Lopez became an enraged lioness in the face of bad luck."
YOU! DON'T! HAVE! TO! BRING! OTHER! WOMEN! DOWN! TO! PRAISE! ONE!
Again, I know this is possibly me over-reacting, but if you absolutely MUST compare a person to others to show how great they are then for fuck's sake, have the decency to say "many people", not "many women".
Overall, I was not a fan of All the Crooked Saints. The story dragged, the writing was over-done and the characters didn't live up to their potential. But more than that, I'm disappointed in Maggie Stiefvater for not giving latinx people the representation they deserve. All the Crooked Saints is a striking example of why novels with #OwnVoices representation should always come before those with non #OwnVoices rep.
The story idea: 2/5
The realization of the story: 1/5
The characters: 1/5
The cover: 3/5
Enjoy factor: 1/5
Some latinx authors you should check out after this mess:
*links lead to authors' Goodreads page*