"It was at the toy room window first," she said. "Then it went away from there and then it was suddenly in the dormitory window and then your bedroom window, miss. It's running around up there, I think, peering out from all the different rooms."
"Estella," I said in my gentles voice. "Dolls don't move around on their own."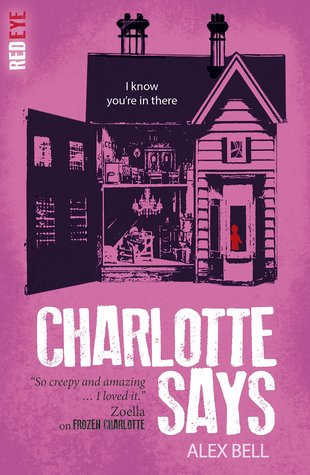 The much-anticipated prequel to the bestselling FROZEN CHARLOTTE, a Zoella Book Club title in Autumn 2016.

Following the death of her mother in a terrible fire, Jemima flees to the remote Isle of Skye, to take up a job at a school for girls. There she finds herself tormented by the mystery of what really happened that night.

Then Jemima receives a box of Frozen Charlotte dolls from a mystery sender and she begins to remember – a séance with the dolls, a violent argument with her step-father and the inferno that destroyed their home. And when it seems that the dolls are triggering a series of accidents at the school, Jemima realizes she must stop the demonic spirits possessing the dolls – whatever it takes.
Oh, but Charlotte Says was amazing! More so than I expected, to be honest. See, I was incredibly excited for this one, but also scared, because Frozen Charlotte, the book Charlotte Says is the prequel of, was fantastic. Hands down one of the best horror novels I've ever read, with fleshed out characters, a chilling mystery and creepy-creepy dolls. Sounds hard to live up to, but Charlotte Says did that and more.
The story captivated me from start to finish with its many dark moments and shocking revelations. It is safe to say that I loved every minute of reading this book. It being a prequel to Charlotte Says, I feared the author would create a similarly structured plot, but I don't think that was the case. Sure, the frozen Charlotte dolls were just as creepy as before, they totally gave me the chills, but Charlotte Says focused more on the utterly malicious nature of some humans, and that was fascinating to read about even more so than the paranormal can be.
"The scream was the most terrible sound I've ever heard. I was out of bed, my bare feet smarting on the freezing boards, before I even understood what was happening. It was not just one girl screaming now, but several of them."
I grew to love novels with flashbacks throughout my years reading mystery and thriller novels, and the switches between past and present were really well-done in Charlotte Says. I honestly couldn't tell you which had me more interested, Jemima's past or present, because both were fleshed out and important for the sake of the plot.
This is one of those young adult novels where the characters' age fits the category perfectly and there's nothing out of place that would make me shake my head at whoever decided the age group, but the book certainly had an older feel to it. WHICH IS NOT A BAD THING!! Just something worth noting. (I also saw people say this seems to be for younger ago groups than Frozen Charlotte, so maybe I'm just being weird here.)
In any case, Jemima, very much had to be an adult, with adult decisions to make and huge responsibilities. I know that's MANY young adults, but what truly made me feel like she was a full grown adult, better at #adulting than I'll ever be, was that she had a job as a sort of helper of a schoolmistress of a boarding school. I mean, scary. Having to take care of your own kids seems creepy enough to me, but if you are working at a boarding school alongside a horrifying schoolmistress, no less, you have so much of my respect that I have nothing left to give to other people. #truestory
Jemima was an excellent heroine. She went through terrible things and didn't have anyone in her life who she could fully rely on, but instead of whining or feeling sorry for herself, she was brave, strong and very resourceful. Honestly, I loved her and I loved the way she grew to care about the little girls, even though I'm not sure she ever imagined herself with such a responsibility. A
lso, she was rather morally gray which I, of course, highly approved of and appreciated.
"Henry, thank you for everything, but now I really must go." I stood up.
Henry moved past me to open the front door. As I walked by he said, "Just remember I'm here. If you ever want to tell me about it."
The romance was super-cute, in my opinion, and while it didn't add tons to the story, the romance-y scenes were a welcomed changed from the overall gloomy and scary vibe Charlotte Says had going on. Henry and Jemima's moms used to be best friends, so these two were incredibly close as kids and remained friends (who are totally into each other) throughout the years. They didn't live close to each other for a long time, but they had the chance to get close to each other again throughout the novel. Honestly, I shipped them a lot, though I do wish Henry was more complex than the loyal, positive and all around lovely guy he was showed to be.
The story idea: 5/5
The realization of the story: 5/5
The characters: 5/5
The cover: 4/5
Enjoy factor: 5/5
TELL ME ABOUT YOUR HALLOWEEN-READS!
What have you/are you planning to read for this Halloween? What is your favorite spooky novel? Have you read Frozen Charlotte and/or Charlotte Says? LET'S CHAT!