"But really, aren't there bits of magic everywhere we look? We've just stopped seeing it that way."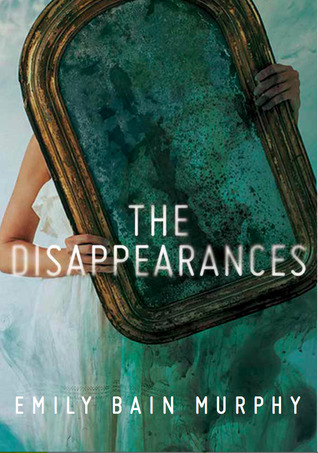 What if the ordinary things in life suddenly…disappeared?

Aila Quinn's mother, Juliet, has always been a mystery: vibrant yet guarded, she keeps her secrets beyond Aila's reach. When Juliet dies, Aila and her younger brother Miles are sent to live in Sterling, a rural town far from home--and the place where Juliet grew up.

Sterling is a place with mysteries of its own. A place where the experiences that weave life together--scents of flowers and food, reflections from mirrors and lakes, even the ability to dream--vanish every seven years.

No one knows what caused these "Disappearances," or what will slip away next. But Sterling always suspected that Juliet Quinn was somehow responsible--and Aila must bear the brunt of their blame while she follows the chain of literary clues her mother left behind.

As the next Disappearance nears, Aila begins to unravel the dual mystery of why the Disappearances happen and who her mother truly was. One thing is clear: Sterling isn't going to hold on to anyone's secrets for long before it starts giving them up.
Thank you to the publisher & Netgalley for giving me a free copy in exchange of an honest review!
I received The Disappearances months ago on Netgalley, but I kept putting it off, because, even though it sounded exactly like my kind of book, I was scared it won't live up to my expectations.
Now I feel like the biggest idiot in the world, because it didn't only live up to my expectations, but far exceeded them. It was one fantastic book, to say the least.
I loved it so much that I've been having trouble putting together a coherent review, so I'm going to make a list of all the awesome-sauce things in this one.
Reasons Why The Disappearances is PERFECT
- The writing was
gorgeous without being too flowery or over-descriptive and it grabbed my attention from the very first page. I was so surprised when I realized that Emily Bain Murphy is a debut author?? HOW??? She is so good?? What is this sorcery??
- But seriously, Murphy's story-telling skill is off the charts, The Disappearances is essentially a slower-flowing story, but that doesn't mean that I wasn't 100% into it from start to finish. Actually, as soon as I finished the novel I wanted - still do - more like this. Alas, I think The Disappearances is one of its kind.
- The Disappearances definitely had many elements that screamed magical realism, but, interestingly, and this is a combination I've never seen before, it also had an aspect that was centered around science. It was super-cool to see these rather different elements flourish together in this story, something I would have thought close to impossible prior to picking this book up.
- The pacing of the story was also fantastic, which might sound like it's a minor thing, but I'm not sure I've ever read a novel that's pacing was so right up my alley. The Disappearances had the perfect build-up to the mystery, with the characters actively seeking answers and working together whilst several shocking/devastating things were happening.
- Shakespeare was a huge part of the book - I'm not going to go into detail, because #spoilers, but let's just say, I've never before read a book that included a classical author and their works quite this creatively.
- Reading about Sterling was really intriguing, because it very much had the normal small-town vibe, but it was, of course, a lot more than a simple small town. It was essential for the people of Sterling and the sister towns to get on well with each other, because they only had the people of these towns to get them through the hardships of the Disappearances.
- Each and every character was well-crafted, unique and interesting to read about. I loved that Murphy cared about further developing all of them, not just the main characters, thus the "mean girl" was a lot more than a simple mean girl, while Aila's two new friends were having their unique set of problems, completely unrelated to Aila.
Here's a small list of the superb cast:
Aila, the main character and narrator, was so freaking complex. On one hand, she definitely felt somewhat shy to me, maybe more on the introverted side, but she was always ready for an adventure and she never let anyone trample all over her or anyone she cared about. She was also kind - even to those who don't necessarily deserved it.

Miles, Aila's little brother, was so very adorable omg. He was a tad bit mischievous and didn't always make the best decisions (I mean, he was a child, so that's totally realistic), but like Aila he loved his family fiercely. There were tons of scenes when I wanted to reach into the book and give him a huge hug, because he was just too precious and he didn't deserve anything bad to happen to him.

Will, the love interest, was so lovely and thoughtful and kind of a soft boy, to be honest, Aila had no chance but to fall in love with him. He went out of his way to help and include Aila and Miles in everything, and ah, he was just all around wonderful.
"Then he leans down and kisses me. His mouth is warm and soft, and my heart leaps up to graze my breastbone, and everything inside of me begins to bloom and glow and hum, and I kiss him back (...)"
- The family and friendship goals were strong in this one!
Aila and Miles's parents weren't featured in the story a lot, because their dad was serving in the army, while their mom passed away. However, it was 1000% obvious from flashbacks about their mom and letters from their dad that there was so much love in that family.

Aila and Miles didn't have the "perfect" relationship, but I don't suppose any siblings do. They argued and weren't always honest with or nice to each other, but at the end of the day they genuinely loved each other.

The Clifftons, the family Aila and Miles lived with, were wonderful people, as well. I found it so touching the way they did everything in their power to make Aila and Miles feel loved and part of their family.
"This is who I am finding the Clifftons to be. Eyes open, watching for the need around them, and quietly meeting it."
Overall, The Disappearances is an outstanding Historical novel, filled with magic, mystery and strong bonds between the characters. It's incredibly underrated at the moment, but believe me, it is well-worth reading.
The realization of the story: 5/5