Hello you beautiful people! Today's Top Ten Tuesday (weekly meme hosted by The Broke and the Bookish) - and I'm dreading writing this yikes - is a school freebie, because school is starting very soon. *cries all the tears* I am HEARTBROKEN, you all.
BUT, I do want to make this list as fun as possible to cheer everyone on who a) has to go back to school/uni soon, b) already had to go back to school, in which case, I'm sorry, that sucks, c) those who work all year around, because y'all rock and it's ALWAYS about school, which you might not be able to relate to all that much anymore.
So, obviously, I'm going to make a list of characters I would not want to be friends, because, hey, who doesn't love to see their faves being dragged!? I'm kidding, there'll be no dragging, only some #real reasons why these characters would make horrible friends. Let's get right onto them.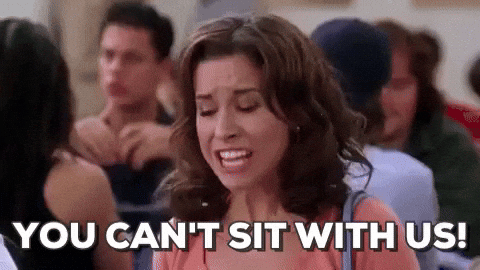 Harper from Girlhood:

Okay, here's the thing, I liked Harper as a character, she was struggling with some pretty heavy stuff, so her decisions made some sense. BUT would I want to be her friend? Nah. No. Never. She abandoned her best friends quicker than they could have asked 'what the fuck is wrong with you', and it just pissed me off so much how she was ready to believe bad things about them, INSTEAD OF DISCUSSING IT WITH THEM. Gah, Harper, why be so dense?
Catherine from Geekerella

, aka one of the step-sisters: This girl was EXACTLY like her mother, she was so mean and horrible to Elle that I just wanted to slap her. I do wish we'd have gotten to know more about her, you know, to understand her motives and choices more, but the way she was in the book? Nah, she is no friend of mine.
Hailey from The Hate U Give:

She wasn't only a horrible friend, because that is one thing, but she just loved to make racist jokes to her black and Asian best friends' faces, and then said she was not a racist, because of course. Gah, she was a horrible person all around.
Lila from Shades of Magic:

I know she is a huge favorite among the fans of the series, but here's the thing, I'm no fan of the series, much less of Lila. I found her so damn annoying and boring and just meh. I'M SORRY. I'm glad y'all like her, but I just can't with her.
Kilorn from Red Queen

(& Glass Sword, which I've been reading for months, because it's so fucking boring): THE most uninteresting and useless character I've ever read about, to be honest. He has no skills to add to the team WHATSOEVER, but instead of trying to improve himself, what does he do?? WHAT DOES HE DO?? Whines all fucking day long about how he doesn't really belong in their team, because he's useless. DAMN RIGHT YOU ARE. If Kilorn were to sit at our table, everyone would eat super-fast to be rid of him quickly.
Jared from Bully

: He makes it onto ALL my negative character lists, because I hate him THAT much. He is plain awful, he bullied Tate for years, and that shit wasn't name-calling or anything like that, but so fucking serious that Tate didn't feel safe ANYWHERE, basically, but at home. This guy is fucked up and the fact that he is the LOVE INTEREST in the book makes me cringe. I'll, however, allow him to sit with us AND THEN VICIOUSLY MURDER HIM WHEN HE DOESN'T EXPECT ME TO. *evil laugh*
Nic from Blood for Blood

: He was a mild annoyance in Vendetta, I wasn't even bothered by him?? Like, he wasn't my favorite character, but he was okay. BUT THEN came the sequels, and by the third and final, book I wanted to strangle him. He wasn't only an idiot, but also an asshole who, for some reason, thought that Sophie was his property?? HELL NO.
Martin from Simon vs. the Homo Sapiens Agenda

: He threatens Simon with outing him as gay if Simon refuses to help him in getting a girl he's into. Nuff said. Fucking asshole.
Tella from Caraval

: There are so many things I could list that Scarlet (Tella's sister) went through because of Tella, but I don't want to spoil the plot. Let's just mention the only non-spoilery part - Tella, along with Julian, kidnapped Scarlet, because Tella knows so well what would be best for Scarlet, so when she refuses to go, LET'S KIDNAP HER!! What even is this nonsense!?
Wes from The DUFF

: He irritated me so much, I can't even tell you. But again, I disliked Bianca, as well, so they deserved each other as far as I can see.
Which of these characters do you know? Which of them do you like/dislike & why? Who are some of your most disliked characters? Rant away!
Let's finish your comments on a school-positive note, though!
What's one thing you're actually excited for that has to do with school? For me, that'd be meeting up with friends from uni and getting a few new school supplies.