"We are not broken things, neither of us. We are cracked pottery mended with lacquer and flakes of gold, whole as we are, complete unto each other. Complete and worthy and so very loved."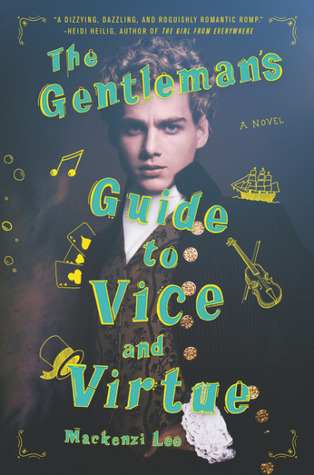 Henry "Monty" Montague was born and bred to be a gentleman, but he was never one to be tamed. The finest boarding schools in England and the constant disapproval of his father haven't been able to curb any of his roguish passions—not for gambling halls, late nights spent with a bottle of spirits, or waking up in the arms of women or men.

But as Monty embarks on his Grand Tour of Europe, his quest for a life filled with pleasure and vice is in danger of coming to an end. Not only does his father expect him to take over the family's estate upon his return, but Monty is also nursing an impossible crush on his best friend and traveling companion, Percy.

Still it isn't in Monty's nature to give up. Even with his younger sister, Felicity, in tow, he vows to make this yearlong escapade one last hedonistic hurrah and flirt with Percy from Paris to Rome. But when one of Monty's reckless decisions turns their trip abroad into a harrowing manhunt that spans across Europe, it calls into question everything he knows, including his relationship with the boy he adores.
The romance was so darn lovely, people, SO.DARN.LOVELY. The best friends to lovers trope is one of my favorites because it can be utilized in the cutest ways, and, let me tell you, Percy and Monty's relationship is one of the best takes on this trope.
"I slide his hand around my arm and lead him out of the hall, the truth about the Robleses taking second place to Percy. Everything will always be second place to Percy."
I think it's preeeetty obvious from the blurb, reviews and everything circling the internet about this masterpiece that they are, in fact, really-really, no, like, REALLY into each other. But at the same time they both were kind of like, "nah, no way HE feels the same way about ME". THEY WERE SO INSECURE AND AWKWARD WITH EACH OTHER AT FIRST. My heart burst when they finally realized how much they were both into each other and cleaned up all the misunderstanding... I just... god, I was shipping them SO HARD, so them being happy made me incredibly happy in turn.
FELICITY THE FIERCE
Omg, this girl, this girl will be one heck of a doctor one day (yeah, you guessed it right, I am super-duper excited for her book). She was so smart and confident and just knew what she wanted in life. To be honest my aspiration in life is to be at least half self-assured as Felicity was, because, damn, she was a force to be reckoned with.
"Dead God, Felicity Montague, are you sewing yourself shut?"
Felicity looks up, innocent as a schoolgirl. She's got a bloody cravat unwrapped from her arm, sleeve pushed up, and that wicked needle buried in her own arm around the gash left by the splinter - already sewn half shut while Percy and I were distracted.
"What? It needs to be done and neither of you knows how."
One thing I wish was addressed is her way of thinking about same sex relationships. She was young and she obviously lived in an era where that was considered 'a sin', buuuut there could have been just ONE paragraph about her accepting Monty & Percy, and thus same sex couples in the end.
MONTY'S DEVELOPMENT
"There's really nothing to do but pretend I'm fully clothed and in control of the situation. So I walk up to Percy and say, "There you are. I think we should be going."
Monty's character was so complex that no amount of explanation could get you to have the full picture of who he was, so you'll just have to read the book. I just loved how he wasn't this perfect character, rather he could be... well, kind of an asshole, BUT NOT INTENTIONALLY. He just didn't always realize how privileged he was in many aspects, and he rarely stopped to think through what was about to come out of his mouth.
BUT he developed so much by the ending - he obviously wasn't perfect, no one is really, however, he was trying his best to pay more attention to other people and to consider things from their perspective. He was willing to listen and learn and consider how privileged he was as a wealthy, white male.
He could be freaking hilarious and I loved how despite being just a tad bit - hahaha joking, there's no "tad bit" there - arrogant he never took himself too seriously. THAT WAS FANTASTIC, I LOVED THAT.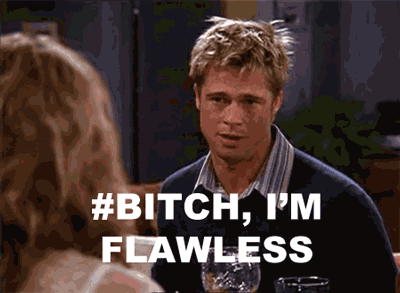 BREAKS YOUR HEART THAN PUTS IT BACK TOGETHER
I'm not lying when I say that I nearly cried at a few scenes, which is HUGE coming from me, because I can be heartless as fuck, to put it mildly. But these characters felt so real that I couldn't not feel for them. Every time Monty flinched back from someone, or wasn't able to fight back due to his PTSD caused by his father's abuse my heart broke a little more. Every time Percy was made to feel different and unwanted for being black or for being epileptic I wanted to weep, because he's the loveliest character and deserves all the love and puppies in the world. Oh, and Felicity... with her want, no, need for knowledge and education that was out of her reach simply because she was female also had her battles.
"I wish I could be better for you." She looks over at me, and I duck my head, shame sinking its teeth in. "I'm older and I know I'm supposed to be... an example, I don't know. At least someone you aren't embarrassed of."
"You do fine."
"I don't"
"You're right, you don't. But you're getting better. And that isn't nothing."
But... neither of them gave up. They fought on against society's expectations and ended up forming a group that was so damn supportive towards each other, and had all the love for each other. I seriously, seriously love these characters from the bottom of my heart.
A+ HISTORICAL DESCRIPTION


It's obvious that Mackenzie Lee really knows what she's talking about and did a lot of research, because the way she described the different places our main characters visited was fantastic. I felt like I was right there alongside Monty, Percy and Felicity as they were adventuring through Europe, hunting for answer while being hunted themselves.
Another thing I really enjoyed was that Lee had a few pages long section at the end of the book where she explained just how realistic certain aspects of the novel are
. History has never been my best subject, so I've always appreciated when HF authors took their time to give some pointers about the reality of the era their novel took place in.
OVERALL
The Gentleman's Guide to Vice and Virtue is without doubt one of my favorite books of 2017. It was a heartfelt, diverse and meaningful novel full of fun adventures and cute but totally strong characters. 100000000% recommended, of course.
The story idea: 5/5
The realization of the story: 4.5/5
The characters: 5/5
The cover: 4.5/5
Enjoy factor: 5/5