"A girl turns onto our hall, eyes red and sad, and as she passes, Adam sends her a smile. Her whole face brightens and she sends him a smile back. Hate ricochets, but kindness does too."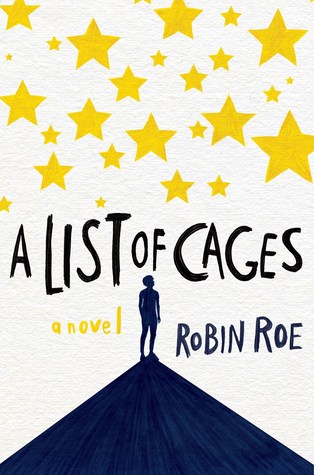 When Adam Blake lands the best elective ever in his senior year, serving as an aide to the school psychologist, he thinks he's got it made. Sure, it means a lot of sitting around, which isn't easy for a guy with ADHD, but he can't complain, since he gets to spend the period texting all his friends. Then the doctor asks him to track down the troubled freshman who keeps dodging her, and Adam discovers that the boy is Julian—the foster brother he hasn't seen in five years.
Adam is ecstatic to be reunited. At first, Julian seems like the boy he once knew. He's still kindhearted. He still writes stories and loves picture books meant for little kids. But as they spend more time together, Adam realizes that Julian is keeping secrets, like where he hides during the middle of the day, and what's really going on inside his house. Adam is determined to help him, but his involvement could cost
I can't remember the last time I was so in love with a Contemporary novel as I am with A List of Cages by Robin Roe. This book was both heartbreaking AND heartwarming, which is likely the rarest, yet one of the best combinations out there.
It's written in alternating point of views, giving us a chance to get to know the two main characters, Adam and Julian at the same time. I'm honestly in awe of how well the different POVs were crafted. Adam and Julian's distinct personas came through so well that from just one sentence I could have easily guessed whose chapter I was reading at any given moment.
Robin Roe has some serious story telling skills, I tell you. I was completely engrossed in the story and the characters' life from the very first page, and putting the book down even for a couple of minutes was damn hard. I needed to know more, needed to see more of these characters and, most of all, needed everyone to be happy forever, because all these characters? Fucking precious cinnamon rolls.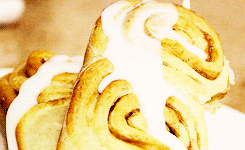 Yes, I've just added a gif of an actual cinnamon roll. Problem?
Adam and Julian were my favorite characters (duh), but all the others were wonderfully written additions, as well. Adam was honestly the loveliest, friendliest, most cheerful person ever who also happened to be a loyal friend and brother. I decided that everyone needs an Adam in their lives. Maybe two. Depends.

With his natural confidence he could teach so much to all the damned adult alpha heroes and shit male leads whose egos are freakishly fragile. That said, he was also truly clueless many times, totally oblivious to subtle hints, which I LOVED about him. To be honest, I adored everything about Adam. He was simply too pure.
And Julian, oh Julian, my heart broke for him. He didn't only lose his parents, but also had to endure the worst kind of abuse from the person who was supposed to protect him at all costs. Robin Roe's portrayal of Julian's story and life was incredibly heartfelt - his pain, his shame, his hopelessness came through perfectly, but so did his positive feelings. O
ne of the best parts of the story was the way Julian
- this boy who used to be all chatty when he was younger, but was hurt so much that he started to believe he was worthless -
not only started to open up to Adam and his friends but was trying his wings, as well.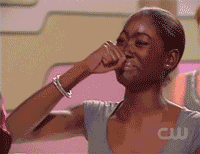 My most favorite aspect of A List of Cages was the brother-like relationship between Julian and Adam. It was the kind of supportive and healthy sibling relationships I want to see more of in YA titles. They first met when they were both much younger and Adam - being part of a group that was helping younger kids to read - was assigned to Julian. Their relationship wasn't constant since then, but they never forgot about each other.
The mental health and disability parts of A List of Cages - at least as far as I can tell - were well-handled, as well. I especially liked that even with everything going on the author took the time to include many scenes that gave us a glimpse into what it was like for Adam to grow up with ADHD. Julian's dyslexia was another topic that wasn't just brushed under the table- on the contrary, Robin Roe showcased how kids with disabilities or mental health issues can be treated unfairly in the education system. Instead of getting tutoring or some other form of help, Julian was made to feel incompetent for being dyslexic, while Adam's teachers never really had any idea about how to handle a kid with ADHD.
Another, shall I say, refreshing part of A List of Cages was Adam's mom. Besides being actually involved in the story - which, to be honest, is a small miracle in itself in YA - she was a huge champion, always looking out for Adam (and Julian), fighting for his rights at all turns. We need more moms like this in YA, because guess what, oftentimes moms and/or dads actually give a shit about their kids.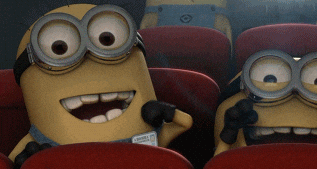 What I also appreciated is that she was a fully capable single mom - another rare spectacle in YA novels. Most single mothers in fiction aren't at the top of their games, which annoys me to no ends when my mom brought me up with little to no help from my dad, and she never complained, never failed to be there for me. It makes my blood boil when I frequently see single moms portrayed as if they were incapable. Sure, I get that I'm lucky, but I also know that I'm not the only one with a great mom, and I want that to be represented in YA.
All in all, A List of Cages was a wonderfully-written, emotional novel, filled with complex, realistic and perfectly crafted characters. Recommended to anyone and everyone who's in the mood for a heartbreaking, but hopeful read about two completely different, but equally precious teenager boys.
The realization of the story: 5/5
— Veronika ✨ (@VVeronika96) February 22, 2017