Hello sweeties. Today's Top Ten Tuesday (weekly meme hosted by The Broke and the Bookish) topic is all about highlighting debut novels I'm super-duper excited for. Unfortunately - in this case - I have tons of 2017 debuts on my list I can't wait for, so writing this post will be tough. WISH ME LUCK, PEOPLE. (IDK why, though, because by the time you see this, I've obviously finished it. Whatever, just #fucklogic & wish me luck anyway.)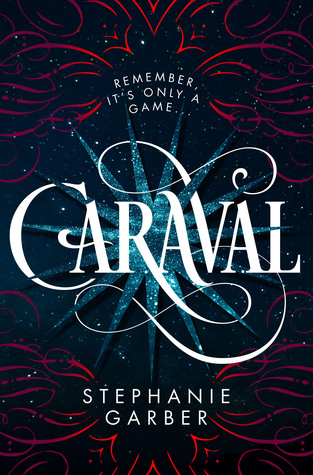 Before you enter the world of Caraval, you must remember that it's all a game . . .
Scarlett has never left the tiny island where she and her beloved sister, Tella, live with their ruthless father. Now Scarlett's father has arranged a marriage for her, and Scarlett thinks her dreams of seeing Caraval, the legendary, once-a-year performance where the audience participates in the show, are over.

Then, Scarlett's long-dreamt of invitation to Caraval finally arrives. So, Tella enlists a mysterious sailor's help to whisk Scarlett away to this year's show. But as soon as the trio arrives, Tella is kidnapped by Caraval's mastermind organizer, Legend.

Scarlett has been told that everything that happens during Caraval is only an elaborate performance. But she nonetheless soon becomes enmeshed in a game of love, heartbreak, and magic with her sister, with Legend, and with the other players in the game. And whether Caraval is real or not, she must find Tella before the five nights of the game are over, a dangerous domino effect of consequences is set off, and her sister disappears forever.
Expected publication:

January 31
Goodreads
Tess da Costa is a saint—a hand-to-god, miracle-producing saint. At least that's what the people in her hometown of New Avon, Massachusetts, seem to believe. And when Tess suddenly and tragically passes away, her small city begins feverishly petitioning the Pope to make Tess's sainthood official. Tess's mother is ecstatic over the fervor, while her sister Callie, the one who knew Tess best, is disgusted—overcome with the feeling that her sister is being stolen from her all over again.

The fervor for Tess's sainthood only grows when Ana Langone, a local girl who's been missing for six months, is found alive at the foot of one of Tess's shrines. It's the final straw for Callie. With the help of Tess's secret boyfriend Danny, Callie's determined to prove that Tess was something far more important than a saint; she was her sister, her best friend and a girl in love with a boy. But Callie's investigation uncovers much more than she bargained for—a hidden diary, old family secrets, and even the disturbing truth behind Ana's kidnapping.
Expected publication:
March 14th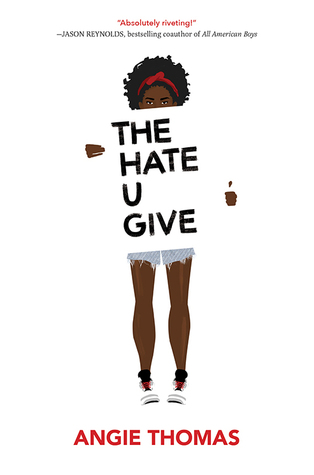 Sixteen-year-old Starr Carter moves between two worlds: the poor neighborhood where she lives and the fancy suburban prep school she attends. The uneasy balance between these worlds is shattered when Starr witnesses the fatal shooting of her childhood best friend Khalil at the hands of a police officer. Khalil was unarmed.

Soon afterward, his death is a national headline. Some are calling him a thug, maybe even a drug dealer and a gangbanger. Protesters are taking to the streets in Khalil's name. Some cops and the local drug lord try to intimidate Starr and her family. What everyone wants to know is: what really went down that night? And the only person alive who can answer that is Starr.

But what Starr does—or does not—say could upend her community. It could also endanger her life.
Expected publication:
February 28
Goodreads
💙💙💙💙💙
In this modern-day love story, Girl likes Boy, Girl takes photo of Boy and posts it online, Boy becomes accidentally insta-famous. And what starts out as an innocent joke spirals into a whirlwind adventure that could change both their lives—and their hearts—forever. But are fame and love worth the price?

Told in alternating points of view, #famous captures the out-of-control thrill ride of falling for someone in front of everyone.
Expected publication:
February 14
Mary B. Addison killed a baby.

Allegedly. She didn't say much in that first interview with detectives, and the media filled in the only blanks that mattered: A white baby had died while under the care of a church-going black woman and her nine-year-old daughter. The public convicted Mary and the jury made it official. But did she do it? She wouldn't say.

Mary survived six years in baby jail before being dumped in a group home. The house isn't really "home"—no place where you fear for your life can be considered a home. Home is Ted, who she meets on assignment at a nursing home.

There wasn't a point to setting the record straight before, but now she's got Ted—and their unborn child—to think about. When the state threatens to take her baby, Mary must find the voice to fight her past. And her fate lies in the hands of the one person she distrusts the most: her Momma. No one knows the real Momma. But who really knows the real Mary?
Expected publication:
January 24
Pay close attention and you might solve this.
On Monday afternoon, five students at Bayview High walk into detention.
Bronwyn, the brain, is Yale-bound and never breaks a rule.
Addy, the beauty, is the picture-perfect homecoming princess.
Nate, the criminal, is already on probation for dealing.
Cooper, the athlete, is the all-star baseball pitcher.
And Simon, the outcast, is the creator of Bayview High's notorious gossip app.

Only, Simon never makes it out of that classroom alive. And according to investigators, his death wasn't an accident. He died on a Monday. But that Tuesday, he'd planned to post juicy reveals about all four of his high-profile classmates. Now, all four of them are suspects in his murder. Are they guilty? Or are they the perfect patsies for a killer who's still on the loose?

They all have a motive. They all have something to hide. They all have a history with Simon. And one of them is definitely lying.
Expected publication:
May 30
Goodreads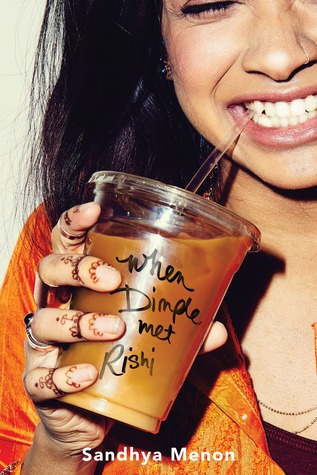 Dimple Shah has it all figured out. With graduation behind her, she's more than ready for a break from her family, from Mamma's inexplicable obsession with her finding the "Ideal Indian Husband." Ugh. Dimple knows they must respect her principles on some level, though. If they truly believed she needed a husband right now, they wouldn't have paid for her to attend a summer program for aspiring web developers…right?

Rishi Patel is a hopeless romantic. So when his parents tell him that his future wife will be attending the same summer program as him—wherein he'll have to woo her—he's totally on board. Because as silly as it sounds to most people in his life, Rishi wants to be arranged, believes in the power of tradition, stability, and being a part of something much bigger than himself.

The Shahs and Patels didn't mean to start turning the wheels on this "suggested arrangement" so early in their children's lives, but when they noticed them both gravitate toward the same summer program, they figured, Why not?

Dimple and Rishi may think they have each other figured out. But when opposites clash, love works hard to prove itself in the most unexpected ways.
Expected publication:
May 30
Beware the goblin men and the wares they sell.
All her life, nineteen-year-old Liesl has heard tales of the beautiful, mysterious Goblin King. He is the Lord of Mischief, the Ruler Underground, and the muse around which her music is composed. Yet, as Liesl helps shoulder the burden of running her family's inn, her dreams of composition and childish fancies about the Goblin King must be set aside in favor of more practical concerns.

But when her sister Käthe is taken by the goblins, Liesl journeys to their realm to rescue her sister and return her to the world above. The Goblin King agrees to let Käthe go—for a price. The life of a maiden must be given to the land, in accordance with the old laws. A life for a life, he says. Without sacrifice, nothing good can grow. Without death, there can be no rebirth. In exchange for her sister's freedom, Liesl offers her hand in marriage to the Goblin King. He accepts.

Down in the Underground, Liesl discovers that the Goblin King still inspires her—musically, physically, emotionally. Yet even as her talent blossoms, Liesl's life is slowly fading away, the price she paid for becoming the Goblin King's bride. As the two of them grow closer, they must learn just what it is they are each willing to sacrifice: her life, her music, or the end of the world.
Expected publication:

February 7
Goodreads
When sixteen-year-old Macie O'Sullivan and her masterfully manipulative mother Aubra arrive at the gates of Witchtown—the most famous and mysterious witch-only haven in the world—they have one goal in mind: to rob it for all it's worth.

But that plan derails when Macie and Aubra start to dig deeper into Witchtown's history and uncover that there is more to the quirky haven than meets the eye.

Exploring the haven by herself, Macie finds that secrets are worth more than money in Witchtown.
Secrets have their own power.
Expected publication:
July 18
Goodreads
Emilie Day believes in playing it safe: she's homeschooled, her best friend is her seizure dog, and she's probably the only girl on the Outer Banks of North Carolina who can't swim.

Then Emilie's mom enrolls her in public school, and Emilie goes from studying at home in her pj's to halls full of strangers. To make matters worse, Emilie is paired with starting point guard Chatham York for a major research project on Emily Dickinson. She should be ecstatic when Chatham shows interest, but she has a problem. She hasn't told anyone about her epilepsy.

Emilie lives in fear her recently adjusted meds will fail and she'll seize at school. Eventually, the worst happens, and she must decide whether to withdraw to safety or follow a dead poet's advice and "dwell in possibility."
Expected publication:
September 5
Goodreads
Sixteen-year-old Anna Arden is barred from society by a defect of blood. Though her family is part of the Luminate, powerful users of magic, she is Barren, unable to perform the simplest spells. Anna would do anything to belong. But her fate takes another course when, after inadvertently breaking her sister's debutante spell—an important chance for a highborn young woman to show her prowess with magic—Anna finds herself exiled to her family's once powerful but now crumbling native Hungary.

Her life might well be over.

In Hungary, Anna discovers that nothing is quite as it seems. Not the people around her, from her aloof cousin Noémi to the fierce and handsome Romani Gábor. Not the society she's known all her life, for discontent with the Luminate is sweeping the land. And not her lack of magic. Isolated from the only world she cares about, Anna still can't seem to stop herself from breaking spells.

As rebellion spreads across the region, Anna's unique ability becomes the catalyst everyone is seeking. In the company of nobles, revolutionaries, and Romanies, Anna must choose: deny her unique power and cling to the life she's always wanted, or embrace her ability and change that world forever.
Expected publication:
March 28
What debuts are you super-excited about for in 2017?
Have you had the chance to read any of these gorgeous novels as ARCs?