Graphics from Freepik
Firstly, thank you so much to Veronika and Ruzaika for including me in this year's Spooky October,
I'm incredible honoured and ridiculously excited!
I'm Rachel, a.k.a. Ms4Tune from Paein-and- Ms4Tune's book blog which I share with Kerr a.k.a.
Paein. We've been a blogging duo for just over 3 years. We've shared our views and vented our
feelings on a huge number of books in that time and it doesn't look like we'll be running out of
material anytime soon thanks to all the amazing recommendations we get every day. That is why I'm
going to share some of my favourite recommendations with you today.
5 Must Read Supernatural Mysteries, Perfect for Halloween
Now that the weather's getting colder, the night's darker and Halloween is fast approaching, I can't
think of anything better than curling up under a warm blanket and getting stuck into a book with the
ability to scare my socks off!
While Horror may be the first choice for many people, I personally prefer a Supernatural Mystery.
For me, a Supernatural Mystery is the perfect balance of scare and intrigue and always has me on
the edge of my seat. With this in mind, it is my pleasure to share with you 5 of my favourite
Supernatural Mysteries, perfect for Halloween as part of this year's Spooky October here on Regal
Critique!
1. Labyrinth Lost – Zoraida Cordova
Labyrinth Lost was only released last month but I predict great things for this Latin American
Alice in Wonderland. It's quite dark and full of deception. It's beautifully written in a way that
feels familiar and the storyline is packed full of magic. Be prepared to second guess yourself
constantly!
2. The Jackaby Series – William Ritter
With its Victorian inspired setting and Sherlock Holmes meets Dr Who vibe, it's easy to tell why
this series made my list. Jackaby is a quirky, slightly eccentric but total adorable detective with a
keen eye for the supernatural and with the help of his assistant Miss Abigail Rook he gets into
numerous sticky situations. It's fun, it's fast paced and it's one that will make you laugh out loud,
when you're not freaking out that is.
3. The Diviners Series – Libba Bray
Now some of you may be put off by the page count of The Diviners because let's face it, it is a bit
of a tombstone, but please give this a try. It's full of atmosphere and suspense and perfectly
captures the characteristics of 1920's New York. There are bone chilling moments that will have
you clutching your duvet but it also has many heart-warming moments too. You are bound to
find a connection with at least one of the myriad of characters that all play a part in this creepy
supernatural mystery.
4. The Lie Tree – Frances Hardinge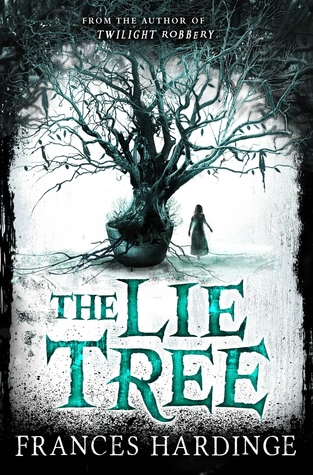 The Lie Tree is a wonderfully dark, oppressive and gothic supernatural mystery set in the
Victorian era. It's eerie atmosphere and cleverly spun storyline make this a wonderful read for a
dark evening.
5. The Casquette Girls – Alys Arden
This is a completely underrated book in my opinion. It's set in New Orleans just after Hurricane
Katrina so we see New Orleans stripped back to nothing. Those that return find that everything
they knew is gone and life will never be the same again. It's a wonderful story full magical history
but it's also scary as hell with death and dark mysterious creatures lurking in the ruins of this
once bright and vibrant city. Definitely worth picking up!
If you have any Halloween recommendations you'd like to share please
comment below. We'd love to hear them.
Thank you again to Vera and Ruz!
Rachel is a twenty something book reviewer and full time book hoarder. She loves

anything book related and is unashamed of her massive TBR pile. As well as reading, she

enjoys baking and long naps with her lazy greyhound.





Don't forget to check out our other Spooky October posts- and enter our giveaway while you're at it!