"She pulled the pot of apple balm from her pocket. [...] Eli snatched it from her palm and hurled it into the darkness, into the lake. 'Hey!' Gracie protested. 'Why would you do that?' He took a deep breath. His shoulders lifted, fell. 'Because I've spent nine months thinking of apples.'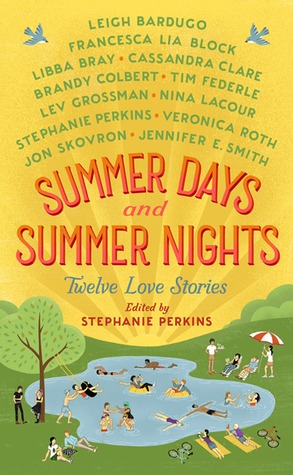 Maybe it's the long, lazy days, or maybe it's the heat making everyone a little bit crazy. Whatever the reason, summer is the perfect time for love to bloom. Summer Days & Summer Nights: Twelve Love Stories, written by twelve bestselling young adult writers and edited by the international bestselling author Stephanie Perkins, will have you dreaming of sunset strolls by the lake. So set out your beach chair and grab your sunglasses. You have twelve reasons this summer to soak up the sun and fall in love.
Featuring stories by Leigh Bardugo, Francesca Lia Block, Libba Bray, Cassandra Clare, Brandy Colbert, Tim Federle, Lev Grossman, Nina LaCour, Stephanie Perkins, Veronica Roth, Jon Skovron, and Jennifer E. Smith.
A lot of times I have a hard time pairing an author's name to their book(s), and so - as I know some of you have this problem too - I added at least one work of every author.
Head, Scales, Tongue, Tail by Leigh Bardugo:
(The Grisha trilogy, Six of Crows)
Hands down, one of the best - if not the best - story from the collection. While reading this fantastic story about river spirits, I was incredibly mad at myself
for not having picked up anything by Leigh Bardugo to this day, because she's clearly an incredibly talented writer. I honestly can't find one thing that I didn't enjoy in Head, Scales, Tongue, Tail.
My rating - 5/5
The End of Love by Nina LaCour:
(Everything Leads to You)
I wasn't a fan of this one, though I really appreciated the diversity, especially, because
I feel like even when there are LGBT stories in a collection, they mostly stick to the male/male romance - however, The End of Love was about two lesbian girls. I liked the romance and the friendship between the characters, but I wasn't a fan of how the issues with the mother were brought up, without any thought to trying to solve them.
My rating - 2.5/5
Last Stand at the Cinegore by Libba Bray:
(The Diviners, Gemma Doyle trilogy)
After the first two adorable short-stories this one had a darker, not-so-cutesy atmosphere, spiced up with (kinda silly) humour that didn't exactly work for me... but I still don't think that means it was bad???
Let's just say that Last Stand at the Cinegore didn't live up to the level of awesomeness I've come to expect from Libba Bray.
My rating - 3/5
Sick Pleasure by Francesca Lia Block:
(Weetzie Bat)
CONFLICTED FEELINGS EVERYWHERE. On one hand, this was an utterly unique story and the ending really fucked with my feelings, for lack of better wording. I also liked the way the author called every character by a letter, instead of a name - it added to the mysterious atmosphere and also showcased that what went down in the main character's life could very well happen to anyone else. That said, I felt disconnected from the characters, thus had a hard time caring about them most of the time.
My rating - 2.5/5
In Ninety Minutes, Turn North by Stephanie Perkins:
(Anna and the French Kiss)
And the cutest story award goes to... In Ninety Minutes Turn North! This novella is a continuation to It's a Yulitude Miracle, Charlie Brown, Perkins's story in My True Love Gave To Me. While I wasn't a huge fan of that Christmas story, this one blew me away and made me so freaking emotional! On a side note, it bothers me a bit that this is kinda-sorta a sequel... it makes me feel like a way to connect the two books and make the readers buy both.
My rating - 5/5
Souvenirs by Tim Federle:
(Better Nate Than Ever)
Again, a story I have very conflicted feelings about. The main character, Matty, was adorable and lovely, meanwhile his boyfriend was such a freaking asshole... except, sometimes he was not??? And then I shipped them, but I also knew I shouldn't because the bf was just horrible. What I really loved was Matty's relationship with his mother, just read this next quote to understand it:
"Mom... do you think I'll, like, meet somebody legitimately amazing someday?"
"Of course you will! You're so handsome and smart. You're so young."
"You're just saying that because you're my mom."
"Well, yeah, but it's true. I know I can't prove it to you, but it's true."
My rating - 4/5
Inertia by Veronica Roth:
(Divergent)
I went into this story fearing I'll hate it, because of my previous encounters with the author's works. You see, I loved Divergent, did not care for Insurgent and hated Allegiant. However, Inertia ended up being one of my favorite stories in the collection. I don't want to say much, so let's just say that the story took place in a futuristic world and had all THE FEELS I could ever ask for.
My rating - 4.5/5
Love is the Last Resort by Jon Skovron:
(Misfit)
And here come my conflicted feelings again! At first I was really into the story - the summery atmosphere and all the potential romances were great - but, page by page, the over-exaggerated writing style annoyed me more and more. Next to that, there were too many characters for a short story - thankfully, I didn't mix them up or anything like that, but I sure as hell thought they weren't fleshed out enough. Lena, for example, was one of the most important characters, yet she seemed like a robot. It was as if nothing mattered about the characters besides their love interests. Also, everything worked out very conveniently and easily.
My rating - 3.5/5
Good Luck and Farewell by Brandy Colbert:
(Pointe)
This one was very cute - kudos to the author for the diversity! - but overall didn't really stand out. That said, it was a worthy summer read and some parts of it were incredibly emotional and beautiful.
4/5
Brand New Attraction by Cassandra Clare:
(The Mortal Instruments)
This is the second short-story I've read by Cassandra Clare and I loved it even more than the first one - thus, this is a favorite in this book. I wish that
she would write something else than Shadowhunter novels, because I think she's really creative and I would love to read more by her, but I'm over those. Back to this novella - i
t was very unique, took place at a carnival and I just found the whole story to be a fun and intriguing ride. Is it just me or does Clare love to bring family members-who-are-not-blood-related together?
My rating - 4.5/5
A Thousand Ways This Could All Go Wrong by Jennifer E. Smith:
(The Statistical Probability of Love at First Sight)
Jennifer E. Smith is the uncrowned queen of long ass titles... but that's just fine because she can also write damn cute romances, and that is what she did here. Yep, you guessed that right, another favorite of mine here! It seemed like a totally normal romance at first, but soon we got a - as far as I can tell - realistic portrayal of autism.
My rating - 5/5
The Map of Tiny Perfect Things by Lev Grossman:
(The Magician)
I was really excited about this novella, because I'm planning on reading The Magician soon - and it did not disappoint. The writing was fun, easy to read and made me intrigued from the first paragraph. Unfortunately, I lost some of the awe I had upon starting the story - in part, due to the unexpected melancholy and the romance didn't exactly sweep me off my feet - but it was still a great short story.
My rating: 3.5/5
Overall feelings:
Everything considered, this short-story collection left me with a happy feeling, despite the few not-so-good novellas. Loved the diversity: there were POC and LGBT characters, and important topics, such as mental illness, cancer and autism, were also written about and in a very touching and realistic way. Definitely worth a read - even more so than My True Love Gave To Me, if you ask me.
Actual rating: 3.91