"You should try not to talk so much, friend. You'll sound far less stupid that way."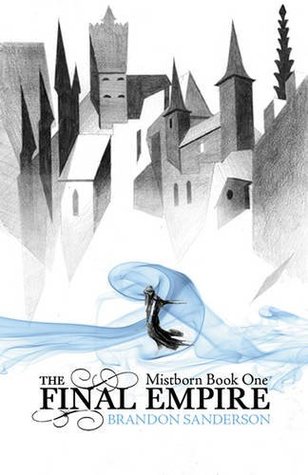 In a world where ash falls from the sky, and mist dominates the night, an evil cloaks the land and stifles all life. The future of the empire rests on the shoulders of a troublemaker and his young apprentice. Together, can they fill the world with color once more?
In Brandon Sanderson's intriguing tale of love, loss, despair and hope, a new kind of magic enters the stage — Allomancy, a magic of the metals.
"My name is Magnus Chase. I'm sixteen years old. This is the story of how my life went downhill after I got myself killed."
Magnus Chase has always been a troubled kid. Since his mother's mysterious death, he's lived alone on the streets of Boston, surviving by his wits, keeping one step ahead of the police and the truant officers.

One day, he's tracked down by a man he's never met—a man his mother claimed was dangerous. The man tells him an impossible secret: Magnus is the son of a Norse god.

The Viking myths are true. The gods of Asgard are preparing for war. Trolls, giants and worse monsters are stirring for doomsday. To prevent Ragnarok, Magnus must search the Nine Worlds for a weapon that has been lost for thousands of years.

When an attack by fire giants forces him to choose between his own safety and the lives of hundreds of innocents, Magnus makes a fatal decision.

Sometimes, the only way to start a new life is to die . . .
"My behavior is nonetheless, deplorable. Unfortunately, I'm quite prone to such bouts of deplorability--take for instance, my fondness for reading books at the dinner table."
🔥 The world building and the magic system are fucking epic and make complete sense. Yeah, you might need time to get used to the magic system, (maybe take notes, if you get confused?) but it's incredibly well-thought-out and logical.

🔥 The plot is full of unexpected twists and turns - the closer we get to the end, the more exciting the plot gets. Seriously, there were SO MANY SURPRISES, and, not all of them were negative (which seems to be the norm for some reason??).

🔥 The characters are all epic creatures that I loved tremendously. Vin, our lovely heroine, went through one of the most gorgeous character developments I've ever seen. She went from being this awfully mistrusting girl to an unstoppable, yet super-caring warrior. LOVE. Oh, and Kelsier? Possibly one of the best characters ever. He was no way perfect, - more gray than white - but he was such a delightful trouble-maker. Plus, who can blame him from loving all the attention? For thriving in people treating him as something more than a normal human? Who wouldn't want these things?

Or is that just me?
"What? Is that boy crazy?"
"Most young men his age are somewhat crazy, I think," Sazed said with a smile. "However, this is hardly unexpected. Haven't you noticed how he stares at you when you enter a room?"
"I thought he was just creepy."
🔥 The banter between the characters is crazy good, and reason enough in itself to pick up the novel, to tell you the truth.
"I've found you can ignore half of what Dox tells you and not miss much-except for maybe they occasional complaint that you're spending too much."
🔥
The writing fits the story perfectly
- it's not beautiful, in a way some other novels are, but I was actually really glad about that. We already had tons of important characters, a totally unique magic system and world to get used to and a super-intriguing plot with edge-of-your-seat fight scenes. In this case, a simpler - albeit quite wordy (600+ pages, damn!) - writing was
exactly
what we needed.
The story idea: 5/5
The realization of the story: 4/5
The characters: 5/5
The cover: 5/5
Enjoy factor: 5/5
"They're not dead," I told the goat. "They both have pulses."
"Oh." The goat sighed. "Well, give them a few more hours and they'll probably be dead."
"What is wrong with you?"
"Everything," said the goat."
🔥
The plot is super-duper exciting, so much so that I was pissed when I had to put down the book even for a minute, because I needed to know what happened next! There are (quirky) Viking gods, kickass fights and tons of unique, well-constructed scenes.
🔥 Fun, fun, fun is what you'll have if you pick up The Sword of Summer, because Magnus's narrative is truly HILARIOUS. Similar to Percy Jackson's voice - definitely not a carbon-copy, though - so if you loved him, you'll most likely adore Magnus, too.
"It was an annoying name to have. People tended to spell it Mangus, rhymes with Angus. I always corrected them: No, it's Magnus, rhymes with swagness. At which point they would stare at me blankly."
🔥 The supporting cast is positively incredible. Blitzen and Hearthstone - a deaf character in a Fantasy novel? Yes, please! - were, basically, Magnus's protectors slash friends and I adored seeing them working together and cheering each other on. Samirah - a badass Muslim girl - was also a wonderful addition to their little crew and it gave me extreme joy to see her slowly warming up to Magnus...
"Don't worry, kid." Blitz brought out the silken cord. "This rope can't be weakened. And Hearthstone's right. We might as well tie it to one another for safety."
"That way if we fall," Sam said, "We'll fall together."
"Sold," I said, trying to tamp down my anxiety. "I love dying with friends."
🔥 ... but NOT romantically. Yep, you heard that right - no romance here! Actually, Samirah likes another guy, and I'm going to be so, so, SO happy if the relationship between her and Magnus strictly remains friendly, not romantic. We need more positive examples of male/female friendships in YA.
🔥 Magnus is Annabeth's cousin - am I the only one who went into TSoS unsuspecting? #cluelessasfuck - so there's a cameo. (I have a love/hate relationship with this particular part of the novel, thus it's only the 5th reason. Do tell me in the comments what do you think about this!)
The story idea: 4/5
The realization of the story: 4/5
The characters: 5/5
The cover: 3.5/5
Enjoy factor: 4/5
What do you think about this type of post?
Does it seem too lackluster, or does my love for these novels come through perfectly?
Have you read/do you plan on reading any of these books?