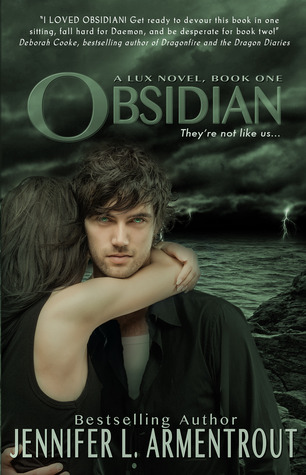 "Your mail could've waited." Daemon followed me into the kitchen. "What is it? Just books?"
Grabbing the OJ from the fridge, I sighed. People who didn't heart books didn't understand."




Starting over sucks.

When we moved to West Virginia right before my senior year, I'd pretty much resigned myself to thick accents, dodgy internet access, and a whole lot of boring… until I spotted my hot neighbor, with his looming height and eerie green eyes. Things were looking up.

And then he opened his mouth.

Daemon is infuriating. Arrogant. Stab-worthy. We do not get along. At all. But when a stranger attacks me and Daemon literally freezes time with a wave of his hand, well, something… unexpected happens.

The hot alien living next door marks me.

You heard me. Alien. Turns out Daemon and his sister have a galaxy of enemies wanting to steal their abilities, and Daemon's touch has me lit up like the Vegas Strip. The only way I'm getting out of this alive is by sticking close to Daemon until my alien mojo fades.

If I don't kill him first, that is.
Sequels:
Highlight for spoilers.
I'm sure you guys know this, but just in case - Lux is about hot as hell, quite kickass and powerful aliens, and that includes the male protagonist, with whom you may or may not fall in love with in the course of the series. Hint - you most likely will.

The writing is not what most people would call beautiful, but it was fun, easy to read and Jennifer L. Armentrout can surely create some of the best dialogues. The exchanges between the characters were mostly sassy, snarky and sarcastic, making me laugh out loud more times than I could count. Reading this series was what I'd describe as pure entertainment.





"We could really use the Avengers right about now."

"Screw that. We need Loki," Daemon retorted.

This might be just ME - because I had the same issue in Bloodlines and 0% of the people whose opinion I've read/heard shared it - but I wasn't satisfied with the alternating point of views. Katy and Daemon, when not actually talking to people, rather only wondering about stuff, sounded

a lot

alike. Even when that wasn't an issue, I was not 1000% happy with Daemon's inner monologues - like, they were romantic and all, but... they didn't resemble enough to his snarky dialogues.

It introduced me to one of the most well-written group of characters I've ever read about, and had me screaming #squadgoals every other page, because these guys, man, they definitely formed a unique circle that I'd like to join.

Katy and Daemon, our main characters, unsurprisingly, stole the show, but the supporting characters, including the villains, were all epic creatures that basically came off the pages.

Katy was literally #bestfriendgoals. She was not only an unapologetic bookworm, but also a blogger and vlogger, and awaited new books just as excitedly and impatiently as we do, plus she had her house covered in books, all of which she furiously protected. She also turned out to be incredibly badass, never afraid to speak her mind or to send Daemon to hell when he was being an ass.

Speaking of Daemon... he'll quickly join-in your list of book boyfriends if you like guys who'd go to any length to protect their loved ones. Surely, I could mention other characteristics of his, but none of them matter quite as much as Daemon's devotion to her family, friends and Katy.



"Daemon Black could be as prickly as a hedgehog having a really bad day, but underneath all that spindly armor, he was sweet, protective, and incredibly selfless."

When we have two awesome protagonists, it's no surprise that the romance was epic - total otp material. Daemon and Katy had sizzling hot chemistry right from the beginning - their make out scenes were HOT - They developed tons - both as individuals and as a couple - by the end of the series, and so formed such a strong union that was practically impossible to defeat. They learnt to discuss stuff, instead of keeping secrets, and they also learnt how to make compromises and meet halfway.

About those villains? They were really, really well-developed, so I loathed them all, yet I saw actual reasons behind their actions. Why they became despicable wasn't just brushed under the table, rather acknowledged, and thus, they weren't painted fully in black, rather in shades of gray.

The supporting characters added the little something extra the books needed - some of them, like Katy's school friends, were forgettable, but others definitely compensated for them. Dee, Daemon's sister, also known as one of my favorite characters, was this cute little ray of sunshine at the beginning, but, due to an event that drastically transformed her life and the way she viewed the world, ended up going through a huge change. I have to admit that I wasn't fully happy with how little page-time she got later in the series, though.



"I can't help it," Archer replied from where he sat on the couch. You're broadcasting your thoughts so damn loudly I feel like I need to go sit in the corner and start rocking, whispering Daemon's name over and over again."

The relationship between Katy and her mother was very well-portrayed, despite how the book kinda-sorta suffered from the Disappearing Parent Syndrome, as Katy's mom had to work tons. Despite the DPS, I was satisfied with their relationship - it wasn't a tell-all one, but their love for each other was clear.

Such a sweet, sweet ending that felt about 0% realistic. I GET IT, WE ALL WANT EVERYONE TO BE HAPPY... but shouldn't an ending feel natural, instead of too unrealistic to bear? Now, I'm not complaining about

all the important characters staying alive

, okay? But what about

the Thompsons? I'm sorry but they had no actual role besides hating on Katy (Andrew and Ash) and dying, so someone dies, but not the main characters.

The last book ended up being considerably less epic than what I'd been expecting after reading the previous books. Everything went a tad bit too easily and predictably, and I did feel like the ending could have given us more information about the world after all the changes.

This is something I've seen people complain about, so I decided to bring it up - Obsidian

does

resemble Twilight on some level, but the books become better and better, and thus, more and more unique and different from what I've read before. Surely, you'll see some YA Fantasy and even Dystopian tropes, BUT overall, Lux deserves to be one of the most popular series.

With the exception of Obsidian (1) and Opposition (5), I rated each book four stars, while these two received 4 stars from me. Considering that, I'd rate the series a strong 4.5 stars, definitely leaning toward 5.
Basically, the Lux novels are a delightfully perfect combination of badassery and humor, spiced up with sassy characters.
100% recommended!