Hi everyone! It's been incredibly long since I've last written a Top Ten Tuesday post and, as I adore making lists (especially bookish ones), I MISSED IT SO MUCH. What makes me even happier than being back to creating these lists is that this week there's no theme - it's a FREEBIE.
If you've been reading The Regal Critiques for awhile, you must know that negative/worst lists are my favorites and, one way or another, I always end up creating one when it's a freebie week. Today is going to be different, though. *shocked gasp*
Healthy portrayal of friendship is something that is very important for me in books, especially in young adult novels, as I do think it's good for teens (and people in general) - even if they do have the bestest best friend in the world - to see great examples of friendship in literature. Because of this I'm dedicating today's Top Ten Tuesday post to books with awesome best friends - but because I do love a good negative lists I'm also going to mention a couple of bookish friends who rubbed me the wrong way.
Click on the covers for Goodreads!

In case of series, I only added the cover of the first book to the post, but I always mean the whole series, except when stated otherwise.
I'm going to start off with

2 friendship that I consider negative examples

: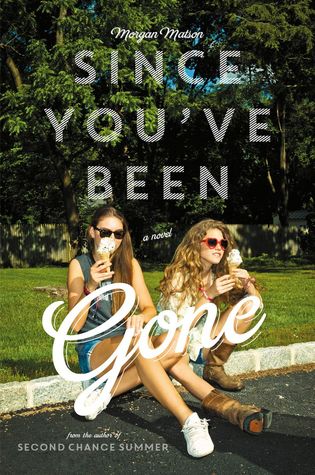 I know that lots of people find Sloane and Emily's friendship GREAT in Since You've Been Gone
, but it rubbed me the wrong way, especially because I felt like Emily was overshadowed by Sloane too much. I do understand that Emily was very shy, but I felt like the way Sloane almost always was "the leader" - for lack of a better word - didn't help Emily find HERSELF. Meanwhile, the friends she met throughout the novel had a much better influence on her.
Bully suffers from the typical bad friend syndrome - K. C. upon breaking up with her boyfriend finds comfort in Jared's arms... the same guy who's been mercilessly bullying Tate (the MC and K. C. best friend) for years. The plot thickens when Tate tries to convince K. C. that Jared is only with her to cause Tate even more pain... K. C. goes and DEFENDS Jared and acts as though Tate is the one who makes a big deal out of nothing.
And now onto all the amazing friendships that I've had the chance to read about, a.k.a.
1
0 bookish friendships that are goals af:
Agnieszka and Kasia from Uprooted had an incredibly powerful friendship going on! The best thing about them is how the
author wasn't afraid to showcase the negative emotions that can appear in a friendship, like jealousy, yet these no way took away from their love for each other. On the contrary, talking about these things allowed them to become stronger than ever before.
Rachel and Lauren
from Devoted, because of how different they were, disagreed in a lot of stuff, thus argued with each other and saw MAJOR things differently - but this was what made their friendship SO REAL. They stood next to each other through everything and became the kind of family to each other that they hadn't have before.
Check out my review of this fan-freaking-tastic novel here.
Both these series have incredible group of friends, but in Vampire Academy, Rose and Lissa definitely took the cake. These two girls were like yin and yang, always having each others' back and just being their usual powerful, supportive selves.
In Bloodlines it was more the whole group that I LOVED together - Sydney, Adrian, Eddie, Jill, Trey and Angeline were the ultimate #squadgoals and I could not get enough of them. All of them rocked the most different personalities, yet they made PERFECT sense together.
I'm currently OBSESSED with the Psy-Changeling series (have only read 12 of the books so far), so it was quite obvious that I was going to include it on my list. Given that this is Paranormal Romance it is kind of a given that (most of) the ships are superb in it, but this series also offers us WONDERFUL friendships - literally every character who's had a novel found (or has always had) amazing friends.
On Dublin Street, while being a very romance-driven series, has some of the greatest friendships I've ever read about. All the main characters - and some of the supporting ones - not only were great friends, but also formed one big family that was just beautiful to read about.
What these two novels have in common is how much more they delivered than I'd expected prior to picking them up.
In
All Fall Down
, despite not trying AT ALL, Grace scored herself some pretty fantastic friends, starting with Noah who decides to be Grace's new best friend and that was that. He is also a damn adorable guy (AND THEY ARE JUST FRIENDS, PEOPLE) who'd stood up for his friends no matter what. Later on, Megan, a computer genius and Rosie, a 12-year-old who excels at stalking, joined them too.
Check out my review of All Fall Down here.
The Sacred Lies of Minnow Bly had one hell of an unexpected friendship that formed between Minnow and her roommate in juvie, Angel. I don't want to say much, because I hate spoiling the best parts of a novel, but do believe me when I say that Angel, despite how scary she seemed at first, really helped Minnow embrace the real her. Time and time again Angel helped Minnow, despite knowing she will benefit exactly nada from it, and that, my friends, was the most kickass part of the novel.
If you guys know me, you must have been waiting for these two series since the very beginning, as I've said various times before that these two are my absolute-favorites. In
The Lunar Chronicles
Marissa Meyer made sure to introduce some of the BESTEST friendships since the very first book in the series. First, it was just Iko and Cinder, but by the final novel we had one of the largest and most awesome group of friends in the history of books. Iko, Cinder, Kai, Scarlet, Wolf, Cress, Thorne, Winter and Jacin, when they fight together, are one badass team that could take on any villaine.
Raven Cycle is one of the most outstanding series I've ever read and one reason for that is definitely the friendship between the characters. The Raven Boys + Blue make for a totally weird but also über-cool group that literally doesn't know how to give up. They are SO different from each other, yet, together, they are one of the most powerful group of friends ever.
And finally, here are

some honorable mentions:
Most of these are no 'worse' than my actual picks, just weren't the ones that came to my mind first and I did not want to bore you by describing why I love all these friendships. *shrugs*
//Karou & Zuzana//Suze & Cee-Cee & Adam//Bones & Spade & Ian//
//Gwen & Leslie//Harry & Hermione & Ron//Hanalee & Joe//
//the whole group of friends in all three series//
Do you agree or disagree with my picks?
Do you know any books with AWESOME friendships that I haven't mentioned?
What about friendships that weren't so good in your opinion?