Hi sweeties. It's Tuesday, which means that I'm here with a new TTT post (hosted by The Broke and the Bookish). Today's topic is: Top Ten Books I Recently Added To My TBR. First thing first, I'll give a chance to read the blurb of each book, and then write a few sentences under each of them, in which I'll tell you why I added these books.
All the Feels by Danika Stone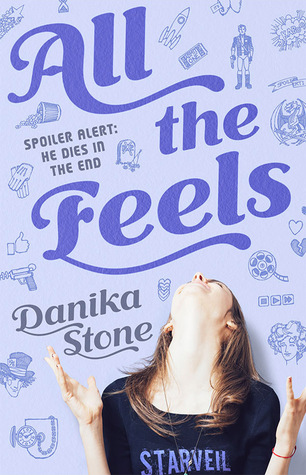 College freshman Liv is more than just a fangirl: The Starveil movies are her life… So, when her favorite character, Captain Matt Spartan, is killed off at the end of the last movie, Liv Just. Can't. Deal.

Tired of sitting in her room sobbing, Liv decides to launch an online campaign to bring her beloved hero back to life. With the help of her best friend, Xander, actor and steampunk cosplayer extraordinaire, she creates #SpartanSurvived, a campaign to ignite the fandom. But as her online life succeeds beyond her wildest dreams, Liv is forced to balance that with the pressures of school, her mother's disapproval, and her (mostly nonexistent and entirely traumatic) romantic life. A trip to DragonCon with Xander might be exactly what she needs to figure out what she really wants.
Notes:

I'm excited and scared of this novel - excited, because while I'm not as involved in my favorite characters' lives as Liv seems to be, I'm hoping I'll be able to relate to her pain over losing a beloved character. Also, this novel sounds like it can be SO MUCH FUN. And scared, because I expected the same from Fangirl and it thoroughly let me down. So much so that I still didn't manage to convince myself to pick up another Rainbow Rowell novel.
The Glittering Court by Richelle Mead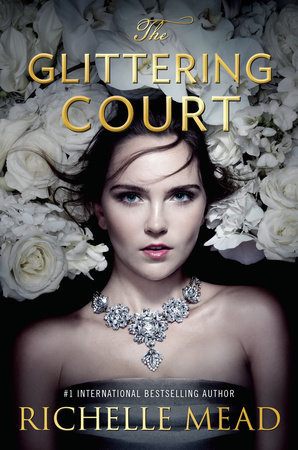 Big and sweeping, spanning the refined palaces of Osfrid to the gold dust and untamed forests of Adoria, The Glittering Court tells the story of Adelaide, an Osfridian countess who poses as her servant to escape an arranged marriage and start a new life in Adoria, the New World. But to do that, she must join the Glittering Court.

Both a school and a business venture, the Glittering Court is designed to transform impoverished girls into upper-class ladies capable of arranging powerful and wealthy marriages in the New World. Adelaide naturally excels in her training and even makes a few friends: the fiery former laundress Tamsin and the beautiful Sirminican refugee Mira. She manages to keep her true identity hidden from all but one: the intriguing Cedric Thorn, son of the wealthy proprietor of the Glittering Court.

When Adelaide discovers that Cedric is hiding a dangerous secret of his own, together, they hatch a scheme to make the best of Adelaide's deception. Complications soon arise—first, as they cross the treacherous seas from Osfrid to Adoria, and later, when Adelaide catches the attention of a powerful governor.

But no complication will prove quite as daunting as the potent attraction simmering between Adelaide and Cedric. An attraction that, if acted on, would scandalize the Glittering Court and make them both outcasts in wild, vastly uncharted lands. . .
Notes:
So far, everything seems to be utterly perfect about this novel.
First of all, it is written by one of my all time favorite authors, Richelle Mead. It has a pretty cover. The blurb and title sound fascinating - The Glittering Court... doesn't that title make you want to grab the book right now?
Also, any book that has glitter in the title has to be AWESOME. I rest my case.
Return to the Isle of the Lost
There's no place like home. Especially if home is the infamous Isle of the Lost. Mal, Evie, Carlos, and Jay haven't exactly turned their villainous noses up at the comforts of Auradon after spending their childhoods banished on the Isle. After all, meeting princes and starring on the Tourney team aren't nearly as terrible as Mal and her friends once thought they would be.

But when they receive a mysterious invitation to return to the Isle, Mal, Evie, Carlos, and Jay can't help feeling comfortable in their old hood—and their old ways. Not everything is how they left it, though, and when they discover a dark mystery at the Isle's core, they'll have to combine all of their talents in order to save the kingdom.
Notes:
I really, really enjoyed both The Isle of the Lost, and the Descendants Disney movie, and I have no shame over this. Both the book and the movie were light and fun, but contained a not-so-hidden moral message, as well. I'm hoping the same from Return to the Isle of the Lost.
The Book of Tomorrow by Cecilia Ahren
Born into the lap of luxury and comfortable in the here and now, spoiled, tempestuous Tamara Goodwin has never had to look to the future--until the abrupt death of her father leaves her and her mother a mountain of debt and forces them to move in with Tamara's peculiar aunt and uncle in a tiny countryside village.
Tamara is lonely and bored, with a traveling library as her only diversion. There she finds a large leather-bound book with a gold clasp and padlock, but no author name or title. Intrigued, she pries open the lock, and what she finds takes her breath away.


Tamara sees entries written in her own handwriting, and dated for the following day. When the next day unfolds exactly as recorded, Tamara realizes she may have found a solution to her problems. But in her quest to find answers, Tamara soon learns that some pages are better left unturned and that, try as she may, she mustn't interfere with fate.
Notes:
Maybe the biggest reason I added this book was to make Ruzaika stop nagging me about it, but I still like the sound of it. Also, that cover is so cute. Plus, Ruzi loved it, so it can't be bad.
The Gilded Cage by Lucinda Gray
A historical psychological suspense and murder mystery for teens, with all the trappings of Downton Abbey.
After growing up on a farm in Virginia, Walthingham Hall in England seems like another world to sixteen-year-old Katherine Randolph. Her new life, filled with the splendor of upper-class England in the 1820s, is shattered when her brother mysteriously drowns. Katherine is expected to observe the mourning customs and get on with her life, but she can't accept that her brother's death was an accident.

A bitter poacher prowls the estate, and strange visitors threaten the occupants of the house. There's a rumor, too, that a wild animal stalks the woods of Walthingham. Can Katherine retain her sanity long enough to find out the truth? Or will her brother's killer claim her life, too?
Notes:
Is comparing books to Downton Abbey the new trend? Because I've already seen it in the blurb of various 2016 releases. Anyhow, why am I excited? First off, THAT COVER WAS MADE FOR ME. It has blue and gold, a beautiful font, a gorgeous dress and that fancy AF gate - basically, the only thing that could make it look better if there was a cemetery lying behind those gates. Oh well, it's still PERFECT without that, but one can dream, right? On a side note, the story sounds good, too.
Broken Dolls by Tyrolin Puxty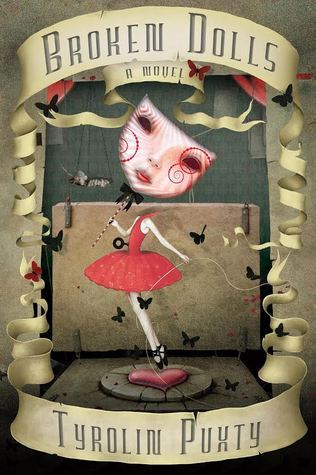 Ella doesn't remember what it's like to be human; after all, she's lived as a doll for thirty years. She forgets what it's like to taste, to breathe...to love.

She watches the professor create other dolls, but they don't seem to hang around for long. His most recent creation is Lisa, a sly goth. Ella doesn't like Lisa. How could she, when Lisa keeps trying to destroy her?

Ella likes the professor's granddaughter though, even if she is dying. It's too bad the professor wants to turn Gabby into a doll, depriving her of an education...depriving her of life.

With time running out and mad dolls on the rampage, Ella questions her very existence as she unearths the secrets buried in her past; secrets that will decide whether Gabby will befall the same fate...
Notes:
This novel doesn't only sound super-intriguing, but also totally different from everything I've ever read. Also, creepy sounding dolls? Sign me up!
The Strange and Beautiful Sorrows of Ava Lavender by Leslye Walton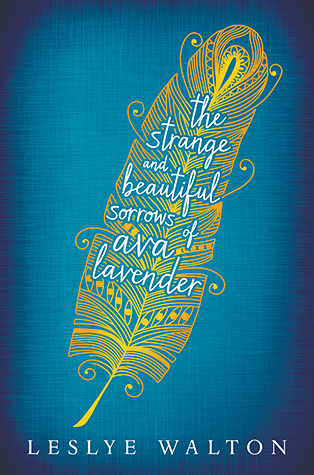 Magical realism, lyrical prose, and the pain and passion of human love haunt this hypnotic generational saga.

Foolish love appears to be the Roux family birthright, an ominous forecast for its most recent progeny, Ava Lavender. Ava—in all other ways a normal girl—is born with the wings of a bird.

In a quest to understand her peculiar disposition and a growing desire to fit in with her peers, sixteen-year old Ava ventures into the wider world, ill-prepared for what she might discover and naïve to the twisted motives of others. Others like the pious Nathaniel Sorrows, who mistakes Ava for an angel and whose obsession with her grows until the night of the Summer Solstice celebration.

That night, the skies open up, rain and feathers fill the air, and Ava's quest and her family's saga build to a devastating crescendo.
Notes:
In a big part I added this novel to my tbr because of the hype. I've seen it on quite a few favorite lists and it has a 4.13 average on GR at the moment, with more than 13000 ratings, which is kind of impressive. Especially, for such a strange sounding novel. I'm not going to lie, the beautiful cover also helped me to secure my decision.
The Merciless II: The Exorcism of Sofia Flores by Danielle Vega
Sofia is still processing the horrific truth of what happened when she and three friends performed an exorcism that spiraled horribly out of control. Ever since that night, Sofia has been haunted by bloody and demonic visions. Her therapist says they're all in her head, but to Sofia they feel chillingly real. She just wants to get out of town, start fresh someplace else . . . until her mother dies suddenly, and Sofia gets her wish.

Sofia is sent to St. Mary's, a creepy Catholic boarding school in Mississippi. There, seemingly everyone is doing penance for something, most of all the mysterious Jude, for whom Sofia can't help feeling an unshakeable attraction. But when Sofia and Jude confide in each other about their pasts, something flips in him. He becomes convinced that Sofia is possessed by the devil. . . . Is an exorcism the only way to save her eternal soul?
Notes:
The Merciless is, without doubt, one of my favorite horror novels of all time. It was exciting, it was gory and it had decently made characters. When I saw that it's getting a sequel I was OUT OF MY FREAKING MIND. It sounds just as sick as the previous novel, and I CAN'T KEEP CALM ABOUT THIS.
The City of the Lost by Kelley Armstrong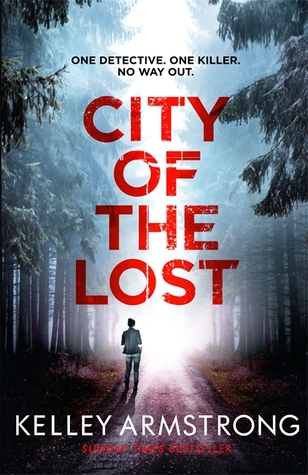 Casey Duncan once killed a man and got away with it. Since then she's become a talented police detective, tethered only to her job, her best friend, Diana, and the occasional evening with her sexy, no-strings-attached ex-con lover, Kurt.


But then Diana's abusive ex finds her again, despite all Casey has done to help her disappear. And Casey's own dark past begins to catch up with her. The two women need to run—and Diana's heard of a place where they won't be found, a town especially for people like them…
Notes:
So many of Kelley Armstrong's books are on my tbr, but I've only managed to read her Darkest Power trilogy. I'm not sure why I have not picked up anything else by her, but I'm hoping this novel will change that. I love how badass the MC sounds and I'm hoping for great female friendship here.
Darkmere by Helen Maslin
A castle. A curse. A dangerous summer.

Leo has invited Kate and a few friends to spend the summer at his inheritance, Darkmere Castle: as wild and remote as it is beautiful. Kate thinks it will be the perfect place for her and Leo to get together - but instead, she's drawn into the dark story of a young nineteenth-century bride who haunts the tunnels and towers of the house. And whose curse now hangs over them all.
Notes:
This one sounds so unbelievably good, and it seems to have everything I love: romance, mystery, summer and a bit of history. GIMME.