"It was so strange, the way that life moved forward: the twists and the dead ends, the sudden opportunities. She supposed if you could predict or foresee everything that was going to happen, you'd lose the motivation to go through it all. The promise was always in the possibility."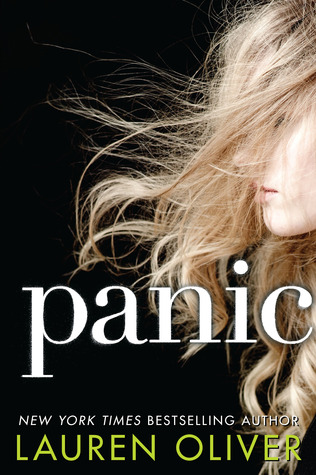 Panic began as so many things do in Carp, a dead-end town of 12,000 people in the middle of nowhere: because it was summer, and there was nothing else to do.

Heather never thought she would compete in Panic, a legendary game played by graduating seniors, where the stakes are high and the payoff is even higher. She'd never thought of herself as fearless, the kind of person who would fight to stand out. But when she finds something, and someone, to fight for, she will discover that she is braver than she ever thought.

Dodge has never been afraid of Panic. His secret will fuel him, and get him all the way through the game, he's sure of it. But what he doesn't know is that he's not the only one with a secret. Everyone has something to play for.

For Heather and Dodge, the game will bring new alliances, unexpected revelations, and the possibility of first love for each of them—and the knowledge that sometimes the very things we fear are those we need the most.
Panic, while not as good as the other novels I've read by Lauren Oliver, was definitely one heck of a ride. It made me think about how easily the want or need for money can change even the best of people for the worse. To be honest, at first it seemed to me that Panic is unrealistic in a way that I doubted teenagers would participate in such a dangerous game. However, as I started to think about it, I realized that most people would probably do a lot of things for that kind of money - especially, if they have something in particular they need the money for.
"She thought all you needed to do - all any of them needed - was to get out. But maybe you carried your demons with you everywhere, the way you carried your shadow."
Heather's
never
wanted to compete in the game, she was always against it and thought it was stupid, just like her best friend,
Bishop
. However, on a whim she decides to compete, and soon becomes a dangerous participant when, due to some worrisome circumstances, she absolutely needs to win.
Nat
, being someone who's afraid of most things, is your most unlikely competitor. Yet, she wants that money badly to start living her dreams, and she's not afraid to use every source she can to get it, even if they include lying and manipulation. Last but not least, Dodge is a social outcast who has a much more important reason for wanting to win than the money - revenge.
"This was what true fear was--that you could never know other people, not completely. That you were always just guessing blind."
Panic is written in third person with Heather and Dodge being the most significant characters, though, Nat and Bishop had quite important roles, as well. At first, all of them were hard to understand, but page by page they grew on me and I ended up really loving them. Their struggle to somewhat stay true to themselves and each other while fighting against their own schoolmates and friends was portrayed in a very emotional way.
"How do I know I can trust you?' she said finally.
'That's the thing about trust.' He crunched an ice cube between his teeth. 'You don't know."
Unfortunately, not everything was perfect about this novel. First of all, while I do believe that many people would willingly compete in a game like Panic, more so if it is a tradition you grew up with, I found the police's efforts to stop the game lacking. Moreover, I felt like after a while they just... stopped and let the game go on. The way the parents weren't concerned was very unrealistic, as well.

Remember, Nat's parents actually learnt that their daughter is competing in Panic, but I didn't see them trying to stop her too hard.

Also, I don't buy that no one would give out the information to the police, especially after the game took a turn to very dangerous territories.
Another problem I have with Panic is that I think many readers - including myself - have been mislead into thinking that this is more of a mystery/thriller than a contemporary novel, which is not true. At all. The "big mystery" of the novel is ridiculously easy to solve, though that didn't ruin the story for me. Rather, intensified
my excitement and made me feel like nothing was secure in
Panic
.
All considered, Panic was a rather enjoyable novel that was exciting to read, but not too hard to put aside. Recommended for those who like Contemporary mixed with Thriller.
The realization of the story: 3/5