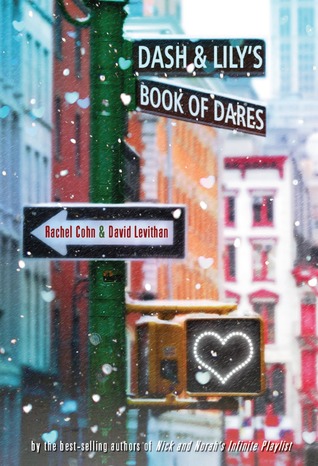 "I've left some clues for you.
If you want them, turn the page.
If you don't, put the book back on the shelf, please."

So begins the latest whirlwind romance from the bestselling authors of Nick & Norah's Infinite Playlist. Lily has left a red notebook full of challenges on a favorite bookstore shelf, waiting for just the right guy to come along and accept its dares. But is Dash that right guy? Or are Dash and Lily only destined to trade dares, dreams, and desires in the notebook they pass back and forth at locations across New York? Could their in-person selves possibly connect as well as their notebook versions? Or will they be a comic mismatch of disastrous proportions?
"You think fairy tales are only for girls? Here's a hint - ask yourself who wrote them. I assure you, it wasn't just the women. It's the great male fantasy - all it takes is one dance to know that she's the one. All it takes is the sound of her song from the tower, or a look at her sleeping face. And right away you know - this is the girl in your head, sleeping or dancing or singing in front of you. Yes, girls want their princes, but boys want their princesses just as much. And they don't want a very long courtships. They want to know immediately."
Dash & Lily's Book of Dares sounded exactly like my type of book with the promise of a cutesy romance, unique characters and a funny story - unfortunately it was anything but that. As it is, the thing I liked the most about it was its shortness.
My main problem with the novel was how freaking unrealistic everything was, from the characters to the plot. I mean, I get that people want to believe in Christmas miracles - for fuck's sake, even I want to believe in them - but I don't think anyone would possibly think that all these coincidences were even a *tad bit* realistic. Screw the coincidences and let's focus on how the notebook was never taken no matter where they left it for the other one to find.
Even if we choose to ignore all that, we still have a whole cast of characters, that's majority I found alien and a unrealistic. In a way, they were similar to John Green's protagonists, so if those worked for you, it is likely Dash, Lily and the rest will, too.
Although, I have to admit, unrealisticness wasn't even the biggest problem here, the biggest problem was that a truly terrible person like Dash was
romanticized. He was spoilt, whiny, thought way too highly of himself and,
above all, was the most judgemental character ever. Unlike Green's characters he had no redeeming qualities either, which was a total disappointment because he could have been so complex.
Lily was also not my favorite character - and I could not understand her way of thinking at least half the time - but, at least, she was likable, if not a bit too naive for a teenager. Frankly, I had no idea why she never sent Dash to hell after judging her so fast and without any hesitation.
"I've always resented Hermione, because I wanted to be her so badly and she never seemed to appreciate as much as I thought she should that she got be her. She got to live at Hogwarts and be friends with Harry and kiss Ron, which was supposed to happen to me."
Speaking of Dash and Lily, their romance was, perhaps, the worst thing in the novel, and I wish with all my heart that the authors sticked to them being friends, instead of love interests. For one, they had absolutely no chemistry, and they also didn't seem to be ready for a relationship, much less a serious one like most of us want to see in Contemporary novels.
Despite what a fun ride Dash & Lily's Book of Dares promised to be, it ended up being quite boring and monotone. I felt like we were running around the same circle with mild changes, and that disappointed me. The amount of book quotes thrown in were also super-annoying, especially because they screamed that the authors were desperate for us to believe that both protagonists were smart AF.
The story idea: 4/5
The realization of the story: 2/5
The characters: 3/5
The cover: 3/5
Enjoy factor: 2/5