"We're here, and then we're gone, and it's not about the time we're here, but what we do with the time."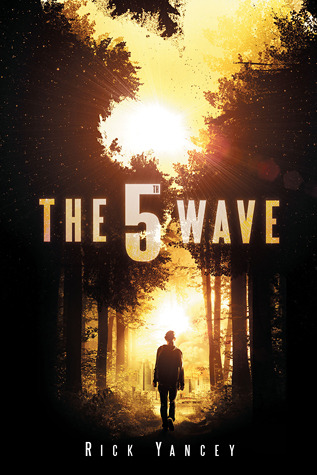 After the 1st wave, only darkness remains. After the 2nd, only the lucky escape. And after the 3rd, only the unlucky survive. After the 4th wave, only one rule applies: trust no one.

Now, it's the dawn of the 5th wave, and on a lonely stretch of highway, Cassie runs from Them. The beings who only look human, who roam the countryside killing anyone they see. Who have scattered Earth's last survivors. To stay alone is to stay alive, Cassie believes, until she meets Evan Walker.

Beguiling and mysterious, Evan Walker may be Cassie's only hope for rescuing her brother—or even saving herself. But Cassie must choose: between trust and despair, between defiance and surrender, between life and death. To give up or to get up.
The 5th Wave was highly one of my most anticipated hyped-books so I'm extremely sad to say that it ended up being a huge disappointment for me. My problems started when I found myself unable to get invested in the story. The first thing that bothered me was the way we got to know Cassie's family.
I usually love learning about a character's past through her memories but in this case getting to know Cassie's family strictly through her memories did not help me get interested in their story. Moreover, I felt emotionally detached from these characters because while I did see how painful their lives had become, I did not feel it. And the fact that I already knew what was going to happen to them did not help me enjoy it any more.
I couldn't relate to Cassie, the main character, one bit which is never a good thing. At first I kinda bought that she's this strong and smart girl but then she made stupid decisions - one after another - and failed to figure out the most obvious things.
Minor spoilers ahead.
Evan, for instance, is a perfect example of Cassie's stupidity. From the very first moment he appeared it was obvious that he was not exactly who he told himself to be. Cassie had this bad feeling about him but she buried these thoughts inside herself and acted as though the red flags that popped up around Evan from time to time were nothing. Do you think this is how a real survivor acts? Because I sure as hell don't.
"I thought I knew what loneliness was before he found me, but I had no clue. You don't know what real loneliness is until you've known the opposite."
I'm sure I'd die among the first people
in an apocalypse so the fact that even I figured out things before Cassie made me unable to believe that she'd survive all on her own.
I think
Yancey's purpose with Cassie was to show that a completely normal teenager can do absolutely anything if she is ready to fight for it. I love this idea but I couldn't believe wholeheartedly that Cassie would be one of the few who survived.
"Cruelty isn't a personality trait. Cruelty is a habit."
However much I'm complaining, of course, I didn't hate everything in The 5th Wave. Cassie's struggle to be strong and fierce while staying human and true to herself was written perfectly. Cassie's dedication towards her little brother was beautiful - she literally would have done anything in the whole wide world to get him back.
"When I cry - when I let myself cry - that's who I cry for. I don't cry for myself. I cry for the Cassie that's gone.
And I wonder what that Cassie would think of me.
The plot wasn't anything special. Frankly,
I expected an edge-of-your-seat story but I got a boring-ish one instead. There were two plotlines but I'm sad to say that I cared for Ben even less than for Cassie, which is to say something. Also, there were a bit too many coincidences for my taste. I'll still watch the movie, though, because I like Chloe Grace Moretz and I'm interested in seeing what they'll make of this story.
The 5th Wave was definitely not the exciting dystopian novel I was looking forward to, and it left me disappointed in more than one aspects. I couldn't connect to the characters and I don't have the desire to continue the series anytime soon (or ever).
The story idea: 4/5
The realization of the story: 2/5
The characters: 2/5
The cover: 4/5
Enjoy factor: 2/5