"These days, I think that love is not so dramatic as all that. Maybe loving somebody means simply they bring out the best in you, and you bring out the best in them - so that together, you are always the best possible versions of yourselves."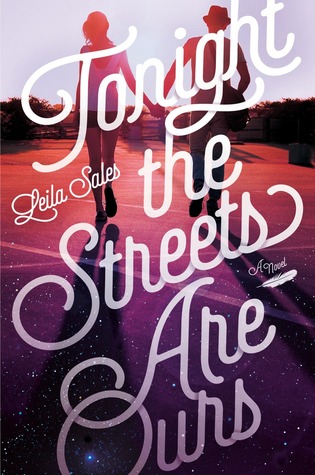 Recklessly loyal.

That's how seventeen-year-old Arden Huntley has always thought of herself. Caring for her loved ones is what gives Arden purpose in her life and makes her feel like she matters. But lately she's grown resentful of everyone—including her needy best friend and her absent mom—taking her loyalty for granted.

Then Arden stumbles upon a website called Tonight the Streets Are Ours, the musings of a young New York City writer named Peter, who gives voice to feelings that Arden has never known how to express. He seems to gether in a way that no one else does, and he hasn't even met her.

Until Arden sets out on a road trip to find him.

During one crazy night out in New York City filled with parties, dancing, and music—the type of night when anything can happen, and nearly everything does—Arden discovers that Peter isn't exactly who she thought he was. And maybe she isn't exactly who she thought she was, either.
Tonight the Streets Are Ours was a hard book to read, and it turns out that it's even harder to review it. Objectively, it is a gorgeous novel, one that should be a lot more popular than it currently is. It brings up very important topics and encourages the readers to think for themselves, instead of accepting others' opinion. It is also beautifully written and a masterpiece in its own category.
I'd like to add here that I'm very glad for authors like Leila Sales who are brave enough to write about unlikable characters and controversial subjects.
However, some parts were extremely hard to read - partly for personal reasons, but mainly because Tonight the Streets Are Ours shows a very dark side of our world. It does so in a very realistic way but by the second half of the novel I was pretty overwhelmed by all the terrible, terrible things and problems I saw wherever I looked.
The characters were well-made, interesting and painfully realistic.
Well, that wasn't what I first thought, but by and by they grew on me, until I really started to feel for them. They did stupid
and
crazy
and
hurtful things. They made mistakes, screwed up again and again, and then regretted their choices. At many times they were nearly impossible to understand, much less like, but that was precisely what made them stand out from most Contemporary characters.
Unfortunately, I full-heartedly hated some parts of this book.
See,
I've been brought up by my single mother, with very little help from my father. I'm not going to give you details or anything, but I trust you to believe me when I say that my mother's had a hard life. While reading
Tonight the Streets Are Ours
I could not help but compare her to Arden's mother - and I couldn't help coming out of this 'competition' hating the latter.
The pressure on women to have children and sacrifice everything for them if necessary is
crazy
, and I love that the author was brave enough to analyze this. I honestly do. However, I could not agree with the way Arden's mother treated this situation. I believe that when you choose to have children, choose to keep them, they become your responsibility. Leaving them behind with their father who is clearly not the best person to take care of them was not cool.
I understand that she was in a state in which she could not possibly stay under the same roof as her family who clearly didn't value her. BUT I felt like moving to New York without even saying goodbye was cruel to her children.
All in all, Tonight the Streets Are Ours took me on a crazily emotional journey.
It made me think about important issues and I couldn't not feel for the characters, no matter how terrible some of them seemed at times. However, some of the topics rubbed me the wrong way, thus made the novel very hard to enjoy.
Also, how come what they did with the dog was NEVER brought up again? I HAD NO IDEA
THIS WAS EVEN A POSSIBILITY!
What kind of word do we live in?
The realization of the story: 3.5/5