Top Ten Tuesday is a weekly meme hosted by the Broke and the Bookish and today's topic is a Halloween freebie! As you know, I like my books with gorgeous covers so not all of them can be called creepy but they definitely look intriguing. Keep in mind that I put them in order of how much I like them, NOT how creepy I find them.
Click on the covers for Goodreads page.
SOMEONE ELSE WILL DIE SOON she tells herself.
SOMEONE ELSE WILL DIE AND I WILL BE RESPONSIBLE.

A few days after the first time you
walk in your sleep, you kill someone.
That's how the end begins.

Emma Montgomery has been having gruesome nightmares. Even worse, when she wakes up, she isn't where she was when she fell asleep. And she's not the only one. One by one the students of Saint Opportuna High start having nightmares, and sleepwalking. And the next morning one of their classmates turns up dead. Something is making them kill in their sleep. Emma and her friends need to band together, to keep themselves awake until they can figure out what's behind the murders-before anyone else dies.
Notes: I've heard mixed things about Sleepless but I'm really intrigued, mainly because of this awesome cover but I'm interested in the story as well. It doesn't sound like any other horror I've ever read. I guess we'll see what I think when if ever I pick it up.
Merricat Blackwood lives on the family estate with her sister Constance and her uncle Julian. Not long ago there were seven Blackwoods—until a fatal dose of arsenic found its way into the sugar bowl one terrible night. Acquitted of the murders, Constance has returned home, where Merricat protects her from the curiosity and hostility of the villagers. Their days pass in happy isolation until cousin Charles appears. Only Merricat can see the danger, and she must act swiftly to keep Constance from his grasp.


Notes:
I think We Have Always Lived in the Castle sounds very intriguing and the fact that it's a classic horror makes me even more eager to get my hands on a copy of it. I absolutely love the dark and cold atmosphere of the cover, too.
Olivia Mead is a headstrong, independent girl—a suffragist—in an age that prefers its girls to be docile. It's 1900 in Oregon, and Olivia's father, concerned that she's headed for trouble, convinces a stage mesmerist to try to hypnotize the rebellion out of her. But the hypnotist, an intriguing young man named Henri Reverie, gives her a terrible gift instead: she's able to see people's true natures, manifesting as visions of darkness and goodness, while also unable to speak her true thoughts out loud. These supernatural challenges only make Olivia more determined to speak her mind, and so she's drawn into a dangerous relationship with the hypnotist and his mysterious motives, all while secretly fighting for the rights of women. Winters breathes new life into history once again with an atmospheric, vividly real story, including archival photos and art from the period throughout.
Notes:
I've been meaning to read a Cat Winters novel FOR AGES, but now, after reading her chilly novella in Slasher Girls & Monster Boys, I'm even more excited for her books. This has to be my favorite cover of hers, simply because I find it completely unique.
From acclaimed YA authors Maggie Stiefvater, Tessa Gratton, and Brenna Yovanoff comes The Curiosities: A Collection of Stories.

- A vampire locked in a cage in the basement, for good luck.
- Bad guys, clever girls, and the various reasons why the guys have to stop breathing.
- A world where fires never go out (with references to vanilla ice cream).

These are but a few of the curiosities collected in this volume of short stories by three acclaimed practitioners of paranormal fiction.

But The Curiosities is more than the stories. Since 2008, Maggie, Tessa, and Brenna have posted more than 250 works of short fiction to their website merryfates.com. Their goal was simple: create a space for experimentation and improvisation in their writing—all in public and without a backspace key. In that spirit, The Curiosities includes the stories and each author's comments, critiques, and kudos in the margins. Think of it as a guided tour of the creative processes of three acclaimed authors.

So, are you curious now?
Notes:
Heck yes, I'm definitely curious of this! Also, that cover is simple, gorgeous and suggests something creepy at the same time.
There are places in the world where darkness rules, where it's unwise to walk. Sunshine knew that. But there hadn't been any trouble out at the lake for years, and she needed a place to be alone for a while.

Unfortunately, she wasn't alone. She never heard them coming. Of course you don't, when they're vampires.

They took her clothes and sneakers. They dressed her in a long red gown. And they shackled her to the wall of an abandoned mansion - within easy reach of a figure stirring in the moonlight.

She knows that he is a vampire. She knows that she's to be his dinner, and that when he is finished with her, she will be dead. Yet, as dawn breaks, she finds that he has not attempted to harm her. And now it is he who needs her to help him survive the day...
Notes:
This has to be one of my favorite covers on the list. The only reason it wasn't given a better place is the font. I can't stand it, especially the huge ass, yellow font the author's name is written with. *shudders*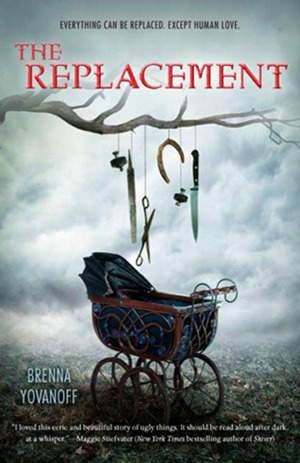 Mackie Doyle is not one of us. Though he lives in the small town of Gentry, he comes from a world of tunnels and black murky water, a world of living dead girls ruled by a little tattooed princess. He is a Replacement, left in the crib of a human baby sixteen years ago. Now, because of fatal allergies to iron, blood, and consecrated ground, Mackie is fighting to survive in the human world.

Mackie would give anything to live among us, to practice on his bass or spend time with his crush, Tate. But when Tate's baby sister goes missing, Mackie is drawn irrevocably into the underworld of Gentry, known as Mayhem. He must face the dark creatures of the Slag Heaps and find his rightful place, in our world, or theirs.
Notes:
I'm honestly not sure I'll ever read this novel, but the cover definitely gives me the chills. I absolutely love everything about it, and would love to have it on my shelf.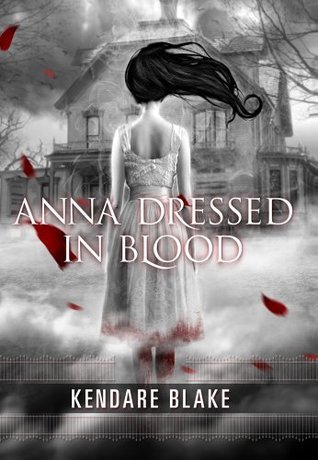 Cas Lowood has inherited an unusual vocation: He kills the dead.

So did his father before him, until he was gruesomely murdered by a ghost he sought to kill. Now, armed with his father's mysterious and deadly athame, Cas travels the country with his kitchen-witch mother and their spirit-sniffing cat. They follow legends and local lore, destroy the murderous dead, and keep pesky things like the future and friends at bay.

Searching for a ghost the locals call Anna Dressed in Blood, Cas expects the usual: track, hunt, kill. What he finds instead is a girl entangled in curses and rage, a ghost like he's never faced before. She still wears the dress she wore on the day of her brutal murder in 1958: once white, now stained red and dripping with blood. Since her death, Anna has killed any and every person who has dared to step into the deserted Victorian she used to call home.

Yet she spares Cas's life.
Notes:
God knows, I didn't find Anna Dressed in Blood the least bit scary, meanwhile its cover is one of those that pulls off being super-beautiful and scary at the same time. I adore it so much!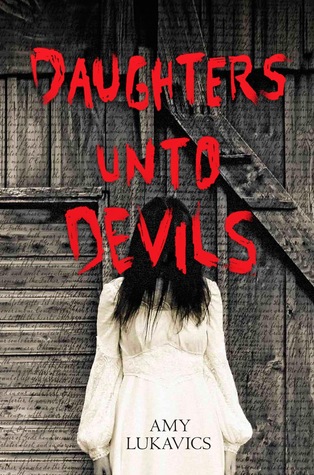 When sixteen-year-old Amanda Verner's family decides to move from their small mountain cabin to the vast prairie, she hopes it is her chance for a fresh start. She can leave behind the memory of the past winter; of her sickly Ma giving birth to a baby sister who cries endlessly; of the terrifying visions she saw as her sanity began to slip, the victim of cabin fever; and most of all, the memories of the boy she has been secretly meeting with as a distraction from her pain. The boy whose baby she now carries.

When the Verners arrive at their new home, a large cabin abandoned by its previous owners, they discover the inside covered in blood. And as the days pass, it is obvious to Amanda that something isn't right on the prairie. She's heard stories of lands being tainted by evil, of men losing their minds and killing their families, and there is something strange about the doctor and his son who live in the woods on the edge of the prairie. But with the guilt and shame of her sins weighing on her, Amanda can't be sure if the true evil lies in the land, or deep within her soul.
Notes:
I think most people prefer the other edition of this novel but I find this one a lot more creepier, even though the other doesn't exactly look like a contemporary novel either. Anyways, this book is THE BEST, and if you haven't read it yet, PICK IT UP RIGHT THIS SECOND. You won't regret it.
Dovey learns that demons lurk in places other than the dark corners of her mind in this southern gothic fantasy from the author of the Blud series.
A year ago, Hurricane Josephine swept through Savannah, Georgia, leaving behind nothing but death and destruction—and taking the life of Dovey's best friend, Carly. Since that night, Dovey has been in a medicated haze, numb to everything around her.
But recently she's started to believe she's seeing things that can't be real…including Carly at their favorite café. Determined to learn the truth, Dovey stops taking her pills. And the world that opens up to her is unlike anything she could have imagined.
As Dovey slips deeper into the shadowy corners of Savannah—where the dark and horrifying secrets lurk—she learns that the storm that destroyed her city and stole her friend was much more than a force of nature. And now the sinister beings truly responsible are out to finish what they started.
Notes:
From the first moment I've seen this cover I've been in love with it and with the synopsis as well. Imagine my disappointment when the story was so very underwhelming, well, besides that ending because that was MIND BLOWING. I'm still really anxious to know all the answers!
Madeline Usher is doomed.
She has spent her life fighting fate, and she thought she was succeeding. Until she woke up in a coffin.

Ushers die young. Ushers are cursed. Ushers can never leave their house, a house that haunts and is haunted, a house that almost seems to have a mind of its own. Madeline's life—revealed through short bursts of memory—has hinged around her desperate plan to escape, to save herself and her brother. Her only chance lies in destroying the house.

In the end, can Madeline keep her own sanity and bring the house down?The Fall is a literary psychological thriller, reimagining Edgar Allan Poe's classic The Fall of the House of Usher.
Notes:
The Fall is definitely one of the most unique novels I've ever read and thankfully it has an equally great cover, too. I put it onto the first place because it's gorgeous, creepy and the perfect fit for the story.
(And no, I do not think it strange that I listed 9 books as honorable mentions. At all.)
So what are YOUR favorite horror/thriller/mystery covers? Do you prefer the gorgeous ones or the scary ones that you'll have to hide behind other books on your shelf not to be creeped out by them all the time? Or maybe the combination of them? Don't forget to link in your TTT, can't wait to see your Halloween lists!