"There's people who do things and people who never do—who say they will someday, but they just don't. I want to go on a quest. I've always wanted to go on a quest. And now that I have one, I'm not backing down from it. I'm not going home until it's complete."
Zach, Poppy and Alice have been friends for ever. They love playing with their action figure toys, imagining a magical world of adventure and heroism. But disaster strikes when, without warning, Zach's father throws out all his toys, declaring he's too old for them. Zach is furious, confused and embarrassed, deciding that the only way to cope is to stop playing . . . and stop being friends with Poppy and Alice. But one night the girls pay Zach a visit, and tell him about a series of mysterious occurrences. Poppy swears that she is now being haunted by a china doll – who claims that it is made from the ground-up bones of a murdered girl. They must return the doll to where the girl lived, and bury it. Otherwise the three children will be cursed for eternity . . .
"Fairy tales are more than true: not because they tell us that dragons exist, but because they tell us that dragons can be beaten."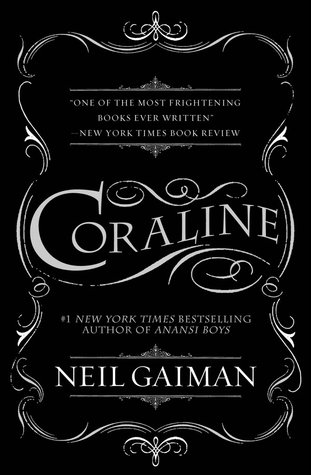 Coraline's often wondered what's behind the locked door in the drawing room. It reveals only a brick wall when she finally opens it, but when she tries again later, a passageway mysteriously appears. Coraline is surprised to find a flat decorated exactly like her own, but strangely different. And when she finds her "other" parents in this alternate world, they are much more interesting despite their creepy black button eyes. When they make it clear, however, that they want to make her theirs forever, Coraline begins a nightmarish game to rescue her real parents and three children imprisoned in a mirror. With only a bored-through stone and an aloof cat to help, Coraline confronts this harrowing task of escaping these monstrous creatures.
From all the books I wanted to read for Halloween, Doll Bones was one that I was the most excited about. First of all,
Holly Black wrote it, plus that blurb sounds freaking awesome. So here I was, desperately wanting to love this novel, but finished it with an unsatisfied and underwhelmed feeling. Why is that?
My first and foremost problem with Doll Bones is that it didn't feel like a ghost story, much less a horror or mystery.
There were approx. two scenes that could be called creepy and even those weren't original. At all.
I get that we're talking middle grade here, but other MG horrors proved it to me that books in this genre can give the reader the chills if they're done right.
This novel, however, felt more like a contemporary, and not even a good one. Even the illustrations were ridiculously NOT scary. I was so bored and neutral toward the book that I wanted to DNF it, which is CRAZY because I adore Holly Black's writing style.
Everything that usually makes her books the best was missing from Doll Bones, including realistic characters. I wasn't able to relate to them and frankly, I didn't even like them most of the time. Because of this, I couldn't care less about what happened to them, so the 'contemporary part' of the novel didn't work out for me either.
I didn't understand why the main characters were such great friends - they played together, alright, but at school they all hang out with other people and were vastly different.
While not a totally unpleasant experience, overall Doll Bones was a huge disappointment for me. It simply lacked the magic every single Holly Black book had I've read so far. The characters were plain and hard to relate to, and I doubt the story would frighten anyone.
The story idea: 3/5
The realization of the story: 2/5
The characters: 2/5
The cover: 3/5 - because it misleads me into thinking that this novel is actually scary.
Enjoy factor: 2/5
I picked up Coraline in the hopes of finding a middle grade horror that will finally creep me out, but boy, I found so much more than that. In a little more than 150 pages Neil Gaiman managed to create a story that will stay with me for a long time, a story that makes me more than a little excited for other novels of his.
Here are the reasons why you should read Coraline too:
The novel was just creepy enough to give me the shivers, but it's not crazily creepy, meaning it's a great Middle Grade novel. It also has a wonderfully dark and gloomy atmosphere that made me able to really get into the story and relate to Coraline's problems.
"I swear it," said the other mother. "I swear it on my own mother's grave."
"Does she have a grave?" asked Coraline.
"Oh yes," said the other mother. "I put her in there myself. And when I found her trying to crawl out, I put her back."
The writing is gorgeous and full of wise thoughts. As Heather Demetrios wrote in her Goodreads review: " it begs to be read aloud".
"Because,' she said, 'when you're scared but you still do it anyway, that's brave."

Coraline has the same problems as any ordinary child - she feels lonely and as though her parents don't care about her. She's also really, really bored, so she goes after adventures and convinces herself that she's right to do so, even when she was warned not to do something.

"On the first day Coraline's family moved in, Miss Spink and Miss Forcible made a point of telling Coraline how dangerous the well was, and they warned her to be sure she kept away from it. So Coraline set off to explore for it, so that she knew where it was, to keep away from it properly."


I was a bit afraid of the illustrations ruining the way I imagined the story but they are better than perfect for the book.




As you could see in my movie recommendations post, the adaptations turned out awesomely, as well, so it's worth checking out too.
All considered, I'd recommend Coraline for anyone and everyone who wants to read something unusual for Halloween. It is the kind of book that will make you desperately wish you were a child again just to devour the novel at the age the book was aimed at.
The story idea: 5/5
The realization of the story: 5/5
The characters: 4/5
The cover: 5/5
Enjoy factor: 5/5
Check our Spooky October Giveaway and earn your +2 entries for commenting on this review or any other October post.