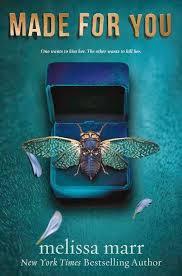 A killer is obsessed with Eva Tilling. Can she stop him, or will he claim her?

When Eva Tilling wakes up in the hospital, she's confused—who in her sleepy little North Carolina town could have hit her with their car? And why? But before she can consider the question, she finds that she's awoken with a strange new skill: the ability to foresee people's deaths when they touch her. While she is recovering from the hit-and-run, Nate, an old flame, reappears, and the two must traverse their rocky past as they figure out how to use Eva's power to keep her friends—and themselves—alive. But while Eva and Nate grow closer, the killer grows increasingly frantic in his attempt to get to Eva.

For the first time, New York Times bestselling author Melissa Marr has applied her extraordinary talent to contemporary realism. Chilling twists, unrequited obsession, and high-stakes romance drive this Gothic, racy thriller—a story of small-town oppression and salvation. Melissa's fans, and every YA reader, will find its wild ride enthralling.
Upon finishing Made For You I desperately wanted to review it but found myself completely unable to form my racing thoughts into coherent sentences. I nearly decided not to review it but this book is so wonderful that I can't NOT try to convince as many people as I possibly to give it a chance. Don't expect too much from this review, though, because I'm still stunned by how much I enjoyed this book.
Made For You is a very unique Young Adult novel for more than one reasons, but the most important one has to be that w
e got the chance to read the killer's point of view. This is rare enough in Adult novels but is nearly unheard of in YA. The fact that Melissa Marr still went for it - and pulled it off perfectly - makes me want to give another chance to her Wicked Lovely series, which I found very underwhelming when I picked it up a few years back.
The murderer was a 100% sure he had the right to judge and then kill people if he found them guilty, and he didn't exactly know what the world consciousness means either.
The way he saw the world and justified his actions sickened and amazed me at the same time.
"It hurt to sacrifice the one person I thought was meant to be mine... I had to kill her."
The fact that we had no idea who the killer was, only that he was one of Eva's friends, created a lot of suspense and tension. One problem I had was that there weren't that many suspects - given that we knew he was a male and a friend - so it's not like it was impossible to guess who he was. Though, the author gave very few clues so it wasn't totally easy to guess who he was, but I think that can be rather thanked to the fact that most of the secondary characters weren't that involved in the story.
What bothered me in the novel was how out of the blue we learnt who the murderer was. We were given the chance to figure it out before Eva and then we were instantly thrown back into his head, now knowing who he really was. I don't know about you, but this was a bit too fast and too much for me.
Another minor problem I had was that many of the characters could have been better-made, in my opinion. Mainly I'm talking about Nate, who simply functioned as the love interest, but Eva's parents were kind of plain as well, and it was hard to see their side of the story. The paranormal aspect of the novel is something that I have mixed feelings about because it was well-executed, but it took my attention away from the main mystery, which I did not like.
All considered, Made For You is a novel you have to pick up if you enjoy Mysteries and/or Thrillers, especially if you like a little paranormality added to these.
The story idea: 4/5
The realization of the story: 4/5
The characters: 4/5
The cover: 4/5
Enjoy factor: 5/5
I couldn't help but make a Bookstopper Outfit for Made For You because that cover begs for one - those colors! I chose to go with an everyday looking outfit, and added a white blazer and gold and whit accessories to make it more elegant and outstanding. I'm also proud of myself for being able to (kind of) include ever color from the cover. Share with me your thoughts on this outfit!