"Sometimes day and night reverse. Sometimes up goes down and down goes up, and love turns into hate, and the things you counted on get washed out from under your feet, leaving you pedaling in the air."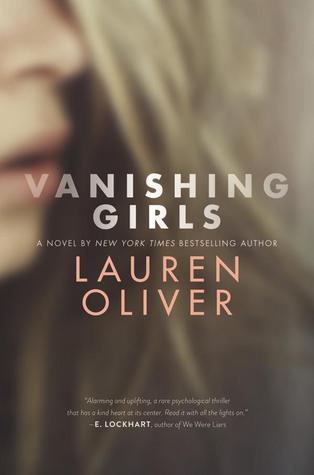 New York Times bestselling author Lauren Oliver delivers a gripping story about two sisters inexorably altered by a terrible accident.

Dara and Nick used to be inseparable, but that was before the accident that left Dara's beautiful face scarred and the two sisters totally estranged. When Dara vanishes on her birthday, Nick thinks Dara is just playing around. But another girl, nine-year-old Madeline Snow, has vanished, too, and Nick becomes increasingly convinced that the two disappearances are linked. Now Nick has to find her sister, before it's too late.

In this edgy and compelling novel, Lauren Oliver creates a world of intrigue, loss, and suspicion as two sisters search to find themselves, and each other.
Ever since reading
Before I Fall
and
Delirium
I've known that Lauren Oliver is capable of delivering the feels. Yet, I never expected Vanishing Girls to make me as emotional as it did.
I sat down to read this novel
expecting an exciting mystery but I got so SO much more than that. The characters, the plot, the writing, basically everything was so well-done that Lauren Oliver scored a place on my auto-buy list.
The most important and amazing part of Vanishing Girls was definitely the relationship of the two sisters. Being an only child usually makes it somewhat hard for me to relate to sisters/brothers but I had absolutely no reason to fear this novel.
Dara and Nick's relationship
was so complex and beautifully written that I'm sure everyone will easily be able to get invested in their story and understand them.
"I love you. Mom loves you. Dad loves you."
"That doesn't count. You guys have to love me. It's practically illegal not to. You probably just love me so you won't go to jail."
Nick, the older sister, is the smart one. The one who brings home great grades and makes her parents proud. Dara is her exact opposite. She's the outgoing one. The confident one who has lots of friends and uses school as a place to interact with them, rather than for learning. However different
they sound, they have one huge thing in common: both of them think that the other is better.
Despite this, they managed to stay best friends until the rivalry between them gotten to the point where Dara did something unforgivable and everything fell apart.
"That's what life is, pretty much: full of holes and tangles and ways to get stuck. Uncomfortable and itchy. A present you never asked for, never wanted, never chose. A present you're supposed to be excited to wear, day after day, even when you'd rather stay in bed and do nothing."
Usually, when the the main characters are so drastically different in a novel I have a hard time understanding both of them, but thanks to the alternating point of views I was able to relate to both sisters. Yes, they both did things that weren't fair or nice - especially Dara - but they felt so real, so relatable that I couldn't not like them.
"I guess that's the really nice thing about disappearing: the part where people look for you and beg you to come home."
The mystery was - let's just say - not what I expected. Vanishing Girls starts off with the reader being confused about where exactly the plot is heading - and it remains that way for a while. However, I wasn't bored, at all. Actually, I found the slow-build suspense refreshing, and the series of surprising things happening along the way made me love the book even more.
I did not guess the ending, I was super-far from guessing the ending, to be honest. I'm not saying it can't be guessed because it definitely can, it's not that original, yet I think it was a perfect fit for this story. I found myself nodding in agreement because looking back everything fell into place and just made so much sense. I'm really looking forward to rereading this novel because I don't think I remember every single sign that pointed into this direction. Upon finishing the book I had mixed feelings. On one hand, that ending was super-satisfying but... it broke my heart into a million pieces.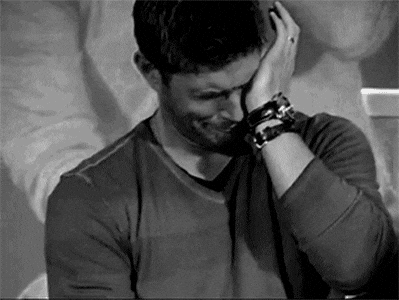 Taken from giphy.com
This book was everything I wanted and even more. The only 'problem' I had was that the mystery started a bit later than I would have preferred, but then it kicked in with such a force and with so many questions that I simply couldn't be bothered. The characters were relatable and so very real and I loved each and every one of them. The writing was exceptional, with perfect descriptions. Basically, Vanishing Girls was pure perfection.
Recommended for anyone who feels up to an emotional mystery novel with realistic portrayal of two sister's relationship and with an ending that'll leave you wanting to go back and study every turning point of the novel carefully.
The story idea: 4/5
The realization of the story: 5/5
The characters: 5/5
The cover: 5/5
Enjoy factor: 5/5