"Oh, Evie, you're too much," people said, and it wasn't complimentary. Yes, she was too much. She felt like too much inside all the time. So why wasn't she ever enough?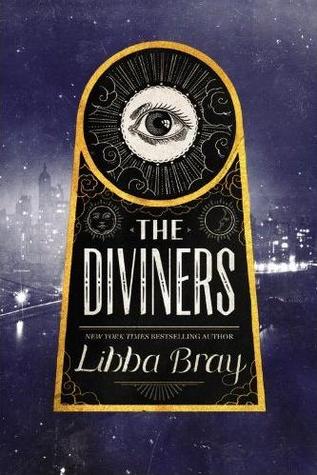 Evie O'Neill has been exiled from her boring old hometown and shipped off to the bustling streets of New York City—and she is pos-i-tute-ly ecstatic. It's 1926, and New York is filled with speakeasies, Ziegfeld girls, and rakish pickpockets. The only catch is that she has to live with her uncle Will and his unhealthy obsession with the occult.

Evie worries he'll discover her darkest secret: a supernatural power that has only brought her trouble so far. But when the police find a murdered girl branded with a cryptic symbol and Will is called to the scene, Evie realizes her gift could help catch a serial killer.

As Evie jumps headlong into a dance with a murderer, other stories unfold in the city that never sleeps. A young man named Memphis is caught between two worlds. A chorus girl named Theta is running from her past. A student named Jericho hides a shocking secret. And unknown to all, something dark and evil has awakened.
I started The Diviners with rather low expectations but I soon forgot all about them because I was swept off my feet and taken to 1929's America.
Libba Bray is a master of writing about a historical era realistically.
I'm not a history genius that's for sure but even I can tell (okay, I can tell with the help of a little research) that she made a better than awesome job of capturing the 20's.
She explored history from the Civil War to the hardnesses African Americans had to endure, and did so without missing a beat in any of these topics.
"Naughty John, Naughty John, does his work with his apron on. Cuts your throat and takes your bones, sells 'em off for a coupla stones."
This is no way a mystery novel, even though the characters spend a good amount of the book tracing the killer's path and searching for clues. It's one of those stories where we know exactly who the killer is and are waiting for the characters to figure it out. However, there are some unexpected revelations throughout the story that made it all the more interesting.
The novel is written in third person and has many sub-plots. That is not necessarily a bad thing but whenever the main plot got really exciting and I became fascinated with the story Bray switched to another side-plot, usually one I didn't really care about. Some of these plotlines, like Memphis' backstory and problems with his special powers, turned out not at all relevant to the actual plot. For someone who loves when every subplot connects in the end (and not in a small way, like in The Diviners), this was a huge disappointment.
However, it's a positivum that the author purposefully built up the story this way to leave many things as a secret, for instance some of the characters' backgrounds, thus be able to create the perfect sequel in the future.
Speaking of the characters, to my surprise I ended up caring for each and every one of them by the end of the book. From the supporting characters my absolutely favorites have to be Theta and Henry - their friendship left my emotions all over the place. I liked all the friendships that were portrayed in the novel and most of the family relations, as well. I have to highlight Evie and Will's relationship. It was quite touching to see Will letting Evie close to himself, despite how hard he was trying not to form any kind of attachment to anyone.
Uncle Will frowned. "Didn't they teach you how to go about research in that school of yours?"
"No. But I can recite 'The Battle Hymn of the Republic' while making martinis."
"There's where the martinis come in."
I can see that some might hate Evie because the rather selfish and egocentric way she lives her life but her faults were the very things that made her character relatable. Well, that and
the little things we learnt about her throughout the story, like how kind-hearted she really is and what a fighter she becomes when she needs to. She's such a refreshing characters and definitely not a Mary Sue!
Jericho
and
Sam
were a bit harder for me to figure out. As hinted in the summary, we learnt quite a few things about the former but Sam's character still hides many-many secrets. I have the feeling that he'll become more important than Jericho in Lair of Dreams in more than one aspects, if you know what I mean. However much I liked both guys I wasn't a 100% comfortable with their affection towards Evie. While both of them had been interested in her before she told them about her special ability, that was the thing that sealed the deal, in this case their interest for them. I think time will tell which guy is a better fit for Evie, until then I'm just going to love both of them.
"You can't blame a fella for kissing the prettiest girl in New York, can you, sister?" Sam's grin was anything but apologetic.
Evie brought up her knee quickly and decisively, and he dropped to the floor like a grain sack. "You can't blame a girl for her quick reflexes now, can you, pal?"
Something that caught my attention and made me adore the writing even more than I had been before was how Bray told us why the characters acted the way they did, without it feeling like she was making up excuses for them.
On a final note, I'm so glad I've only read this novel recently because I highly doubt I could have waited
years
for the sequel. Kudos to those of you who's been waiting for the sequel since the beginning. Seriously, guys, you're my heroes.
The story idea: 5/5
The realization of the story: 4/5
The characters: 4/5
The cover: 5/5
Enjoy factor: 5/5