"I was trying so hard to find the single pivotal moment that set my life on its path. The moment that answered the question, 'How did I get here?'
But it's never just one moment. It's a series of them. And your life can branch out from each one in a thousand different ways. Maybe there's a version of your life for all the choices you make and all the choices you don't."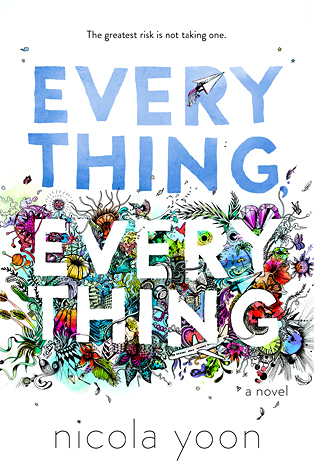 My disease is as rare as it is famous. Basically, I'm allergic to the world. I don't leave my house, have not left my house in seventeen years. The only people I ever see are my mom and my nurse, Carla.

But then one day, a moving truck arrives next door. I look out my window, and I see him. He's tall, lean and wearing all black—black T-shirt, black jeans, black sneakers, and a black knit cap that covers his hair completely. He catches me looking and stares at me. I stare right back. His name is Olly.

Maybe we can't predict the future, but we can predict some things. For example, I am certainly going to fall in love with Olly. It's almost certainly going to be a disaster.
I was given a free galley in exchange of an honest review.
I was so so SO afraid before I started Everything, Everything. The blurb suggest lots and lots of heartbreak and tears - I can't really stand either of those
if there's no happy ending to compensate for that.
And that synopsis does not suggest a happy ending. Now, add my super-high expectations to this and you'll have a pretty good idea
about how many times I said
"I'm so scared of this"
while reading.
Ruzaika could tell you about that.
My favorite thing in the novel has to be Madeline and Olly's relationship. It was also the most adorable and beautiful thing EVER. You know, it's one of those that gives YOU butterflies while reading.
However cute some parts were it was hard not to wonder about how this will all end. I was constantly creating worst case scenarios in my head because I wanted to be prepared for whatever had to come. Everything, Everything
pulled off being super cute and fluffy while being very serious and heartbreaking at the same time. Nicola Yoon should get an award for making me feel all these emotions in a rather short novel.
"The only thing I know for sure is that this, being here with Olly, being able to love him and be loved by him, is everything."
Despite my love for the novel, I did find a couple of things that I wasn't satisfied with. My very first problem is that I do not understand what is SCID. We got some information about it here and there but basically we were left in the dark. When I googled this illness I found this on the webpage of Boston Children's Hospital:
"Most children with SCID receive a stem cell transplant (also known as a bone marrow transplant), so that they can develop new white blood cells, replenishing their immune systems."
Now I'm more confused than ever before. So most SCID patients can be cured but not all of them? Better question: why wasn't any of this properly explained in the novel????
"In my white room, against my white walls, on my glistening white bookshelves, book spines provide the only color."
Sounds depressing, right? I thought so too.
Maddy wants to travel the world and she seems to have a great imagination thanks to all the reading she does. So how come everything around her is white besides her books?
Is she allergic to colors as well?
Okay, bad joke.
But still, how she pictures the Outside in so many different ways suggests that she'd want to decorate her room with all kinds of pictures, postcards, quotes and whatever else she can gather. Finally, tell me what kind of parent creates a worse than hospital looking atmosphere for her daughter?
Do not open the spoiler if you haven't read the book - it can pretty much ruin the whole reading experience for you.
On a final note, I'd like to say that despite its flaws I thoroughly enjoyed reading Everything, Everything. The short chapters, the illustrations and the updates on the books Maddy was reading made this novel an easy, fun and colorful read. The fact that it celebrates diversity (Maddy is half Japanese, half African-American) makes me even more glad to have had the chance to read it. A must read for everyone who enjoys a beautifully and creatively written, cutesy contemporary romance.
The story idea: 5/5
The realization of the story: 3/5
The characters: 4/5
The cover: 5/5
Enjoy factor: 4/5