"It does not do well to dwell on things that upset us. Dwelling can make things fester. It is better to bury dark thoughts."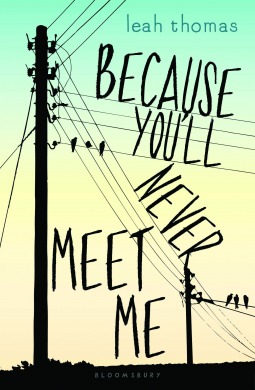 In a stunning literary debut, two boys on opposite ends of the world begin an unlikely friendship that will change their lives forever.

Ollie and Moritz are best friends, but they can never meet. Ollie is allergic to electricity. Contact with it causes debilitating seizures. Moritz's weak heart is kept pumping by an electronic pacemaker. If they ever did meet, Ollie would seize. But Moritz would die without his pacemaker. Both hermits from society, the boys develop a fierce bond through letters that become a lifeline during dark times—as Ollie loses his only friend, Liz, to the normalcy of high school and Moritz deals with a bully set on destroying him.

A story of impossible friendship and hope under strange circumstances, this debut is powerful, dark and humorous in equal measure. These extraordinary voices bring readers into the hearts and minds of two special boys who, like many teens, are just waiting for their moment to shine.
I was given an ARC through Netgalley.
Because You'll Never Meet Me is one of those books that left me completely speechless. I finished reading it yesterday but I'm still struggling with coming up with a coherent sentence about it - much less a review. Because of this, I decided to write down my thoughts in a list, instead of my usual review format.
The letter format. The whole story is told to us through letters, in alternating point of view. The letters not only show what's happening with the boys at that moment, but give an insight to their pasts as well. It has always impressed me when an author could jump between past and present effortlessly, without confusing the reader, and Leah Thomas definitely can. I'll be on the lookout for any future works of her.
The distinct voices of the two narrators. I find that in many books with dual point of view the characters sound very similar, more so if they are of the same gender. However, in Because You'll Never Meet Me Ollie and Moritz sounded completely different from each other.
The friendship. It was so beautiful and left me as an emotional mess. These two boys started off without any knowledge of the other but by the end they were closer than they've ever been to anyone else, even though they've never met in person. They didn't make a competition out of whose life was harder, instead they felt for each other and tried to cheer one another up when it was needed. I got all teary eyed when I felt just how much they cared for each other and how badly they wanted to help the other and meet in real life. I'm getting all emotional just thinking about it.
"I think this is the first time you did not needle me about the lab. This, more than anything, tells me how unhappy you must be."
The touch of romance. I loved that the romance was barely there, it was just enough to spice up the story but the focus strictly remained on the friendship.
Ollie and Moritz. Both of these boys were complex characters and just so lovable. Their voices were real and their stories were touching. I wanted to reach into the book and give them both a huge hug. They really deserved it.
The character development. I think Ollie was the one who learnt the most about himself. Partly, he could be thankful for that to Moritz, but Liz helped him as well. As soon as he realized his mistakes he immediately started to work on changing. Instead of moping and pretending, he opened up his eyes, and saw what was right in front of him all this time. Moritz, on the other hand, learnt that by shutting out everyone, including his father, he was only hurting himself. He learnt to be more open towards people and realized that not everyone's as horrible as he thought.
The supporting characters. It's rare when I feel like all characters get the spotlight they deserve but in Because You'll Never Meet Me, that's exactly what happened. We had the chance to read just as much information about them as we needed for the sake of the story, yet they didn't take away the spotlight from Ollie and Moritz.
The ending. I think nearly all characters got a rather hopeful ending, instead of a cheesy one.
One last thing I'd like to add is a problem I had with the ending.
From one moment to the other the story went a bit sci-fi(ish) close to the end, which not only confused me but also took away a bit from the realisticness of the book. I really didn't understand how what happened was possible, and if it was possible then I have no idea why no one has ever thought of it before. The ending felt a bit rushed compared to the other parts of the story but this might have only been me wishing the would never end.
The story idea: 5/5
The realization of the story: 4/5
The characters: 5/5
The cover: 4.5/5
Enjoy factor: 5/5