"There are some dreams you can't wake up from.
Ever.
These are called nightmares."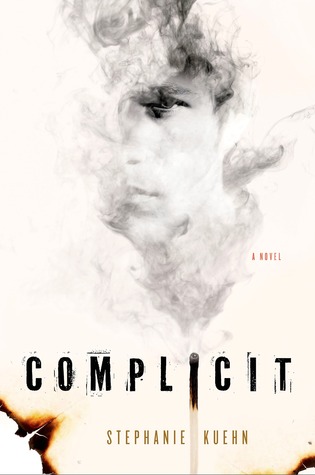 Two years ago, sixteen-year-old Jamie Henry breathed a sigh of relief when a judge sentenced his older sister to juvenile detention for burning down their neighbor's fancy horse barn. The whole town did. Because Crazy Cate Henry used to be a nice girl. Until she did a lot of bad things. Like drinking. And stealing. And lying. Like playing weird mind games in the woods with other children. Like making sure she always got her way. Or else.

But today Cate got out. And now she's coming back for Jamie.

Because more than anything, Cate Henry needs her little brother to know the truth about their past. A truth she's kept hidden for years. A truth she's not supposed to tell.

Trust nothing and no one as you race toward the explosive conclusion of this gripping psychological thriller from the William C. Morris Award-winning author of Charm & Strange.
Highlight for spoiler. It's a major one so do not highlight if you haven't read the novel!!
Buddy read with Ruzaika
Complicit is one of those books that failed to impress me on every single level, starting with the characters to the plot I hated everything. The biggest problem was that no matter how hard I tried I couldn't get invested in the story. Partly, this can be thanked to the fact that I really didn't care for the characters, who remained a bunch of strangers to me no matter how badly I wanted to relate to them.
The mystery wasn't quite what I was hoping for either. As the result of not being invested in the story I wasn't that excited for the answers either. I thought it would be good to figure out the truth but I wasn't dying to know everything. I suspected many outcomes while reading Complicit and some of them came true, some of them not so much, but I still sort of guessed the ending way before it was time to uncover it. I think if I hadn't figured it out, I'd have rated the book three stars, but who knows?
The chapters were shorter than expected and they quickly jumped from the present to the past and then back without so much as a warning. I didn't lose track of the story but how quickly the present and past scenes changed made me feel even more disconnected to the story.
I have not read any other book by Kuehn so I don't know about her usual character portrayal but in Complicit all the characters lacked of something that would make them feel real.
Our main characters were definitely Cate and Jamie. Jamie sounded like a middle grade character, rather than a young adult. He was immature for his age and to be honest quite boring.
Cate was a terribly made character. She was a supposed villain
and was apparently crazy but by the end the lines blurred and now I'm left with no clue what she was really like. Yes, you read me right, I've read the whole novel and I wasn't able to get to know one of the main characters.
What was worse then them was definitely the supporting characters, like Jamie's adoptive parents who I only got to know a few things about: they are rich, crazy and stuck up as fuck. I'd list here Jamie's psychologist too, she was only there just to show us that Jamie is, indeed under treatment for his mental problems.

Plus, I think she was also there to make us not suspect Jamie, I mean why would you suspect someone who regularly visits a shrink?

And this wasn't even the worst because then came all the filler characters. I call them this because they had absolutely no role nor importance in the story, they were just... there. Jenny, is an excellent example, she was the love interest and nothing else. We knew nothing about her, nor did she have any meaningful scenes with Jamie. Scooter was even less important than Jenny but surprisingly I still got to see more of him than of Jenny which is kind of sad.
Mainly, because of all the horrible characters who I could not connect to if I died, I've not once felt anything strong while reading the novel. I should have been disgusted by Cate, should have felt sorry for Jamie, should have hated fiercely their adoptive parents but I couldn't because the author failed to make me
feel
. That, I consider one of the worst things in a novel.
Overall, Complicit is definitely one of the biggest disappointments this year but don't let me change your mind if you want to read it, go ahead.
The story idea: 3/5
The realization of the story: 2/5
The characters: 1/5
The cover: 3/5
Enjoy factor: 2/5