"You can be brave and still be feminine. You can lead and still love flo
wers. Most importantly, you can be queen and still be a bride."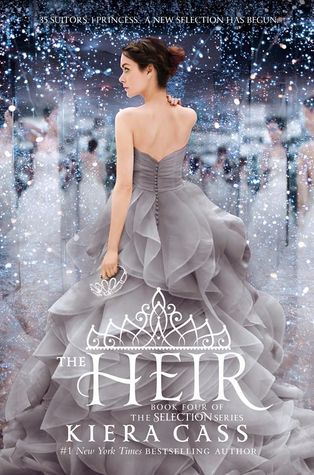 Princess Eadlyn has grown up hearing endless stories about how her mother and father met. Twenty years ago, America Singer entered the Selection and won the heart of Prince Maxon—and they lived happily ever after. Eadlyn has always found their fairy-tale story romantic, but she has no interest in trying to repeat it. If it were up to her, she'd put off marriage for as long as possible.

But a princess's life is never entirely her own, and Eadlyn can't escape her very own Selection—no matter how fervently she protests.

Eadlyn doesn't expect her story to end in romance. But as the competition begins, one entry may just capture Eadlyn's heart, showing her all the possibilities that lie in front of her . . . and proving that finding her own happily ever after isn't as impossible as she's always thought.
Highlight for spoilers
If I had to say one word about The Heir, I'd go with underwhelming. It was not a bad book but I just couldn't like it as much as I did The Selection. Even at the best parts it couldn't live up to the previous books and I mainly blame the narrator for that.
Eadlyn had a lot of potential but unfortunately she failed my expectations. From the first moment I thought she was selfish, whiny and quite heartless. Meanwhile I thought she'll redeem herself later on. No such luck.
Eadlyn continued to complain about having way too much work to do and having the weight of the world on her shoulder. At the same time she left all decisions to Maxon, which was fine because he was the king after all, but then why wouldn't she stop bitching
about the amount of pressure she was under? Allegedly she had to learn a lot and she didn't understand maths... woah I feel so sorry for her.
Next to this, she was egocentric to the level that she tried to manipulate her own brother to get what she wanted.

I'm sorry but I just couldn't relate to her.
"No one was more powerful than me."
- she says this soo many times that I can't even count.
I was still hoping for great character development but I never got it. Eadlyn did change throughout the novel but the biggest change happened at the very end. It wasn't only unrealistic but rushed too. It felt wrong to me that something so drastic

like her mother having a heart attack

had to happen to make Eadlyn realise how wrong she was.
The romance was predictable and bored me to no end. From the very first moment we met the guys it was obvious who'll have a chance with Eadlyn. What I hated the most about this was how patronizing she was to all of them, besides the one guy who'd have really deserved it.

She did her first elimination in front of the cameras and wasn't a tad bit nice about it, you can say she ashamed those guys in front of the whole country.

I was surprised to see that she had no idea why people dislike her. Jeez, I don't understand either, can you help me out here?
I never thought it's possible to have 35 guys and not be interested in any of them, but that's how I felt while reading The Heir. I'd go as far that I don't think I like any of these guys. I feel like I don't know anything about them besides their names and a few non-important things.
I get that it must be hard on the author to introduce us to so many new characters but at least one or two guys could have got more attention.
While it is obvious which guys Eadlyn prefers at the moment I don't see myself shipping them in the next book. What I liked in America and Maxon was always their banter and cute scenes, so far none of these happened here. I feel like these guys are either batshit afraid of Eadlyn or don't care about her at all. I wanted a guy to tell Eadlyn when she's wrong and tell her to go screw herself when she put him in an awkward situation. Did this happen? NO. Also, don't look for chemistry between the characters, there's none.
There were so many supporting characters besides the guys, and I felt like even Cass forgot about them once in a while. Josie was made to look sort of important in the beginning but then she was completely forgotten, as I'm sure she is in there.
Ahren and Eadlyn's younger brothers were casually mentioned here and there and appeared to eat but not much than that.
I was surprised to see that I didn't like Marlee at all.

I was mortified when I realised that she wants to force her son, Kile to stay at a place he doesn't feel at home.

It was wrong on so many levels that I just can't deal with it. Eadlyn's maid appeared at the right times for Eadlyn to hurt her feelings but at least she did told her what a little bitch she was. Have I mentioned before that Eadlyn can't take critic to crazy levels. Whenever someone said something to her that she didn't like she became mad as hell and hated on the said person.
Eadlyn's lovely words to her maid:
"That's not what I mean. It's simply intriguing to me the dynamic you must have. You have my laundry in your arms, and he might cure a disease. Those are two incredibly different roles in the world."
Obviously, this novel wasn't all bad. I pretty much loved Ahren and thought he was unbelievably cute with Camille (his girlfriend). Also, he was a great brother, who Eadlyn should have appreciated more. She never once asked Ahren what was up with him, meanwhile she expected him to not only listen to her whining but agree with her all the time.
There really were many amazing and emotional parts. Unfortunately, none of them could been thanked to Eadlyn. Maxon was as sweet as ever and America seems like a nice queen. This part:
"My father has never so much as swatted my hand, and he's always taught us to seek peaceful resolutions. Ahren and I gave up trying to fight each other before we could really talk."
Despite my review I don't think fans will dislike the book, actually I heard that some enjoyed it more than the previous books. As for me, my hatred toward Eadlyn was the thing that ruined the book for me, thus I can't give it more than three stars, even though that breaks my heart because, as you could have seen in my review of the original trilogy, I love The Selection.
PS: I know The Selection got a lot of attack for being anti-feminist but I wouldn't call this book completely feminist either. While Eadlyn was right in that no woman needs a man to be a queen, both literally and rhetorically speaking, no woman should make a man feel like shit and less than her somehow. Feminists, as far as I know, are fighting for equality. I believe forcefully that a woman is nowhere less than a man BUT men are no less than women either and should never be treated as such. What Eadlyn did was disgusting and horrible and I can not like her for standing up for women this way. That said I think her characters is long way from the development the author might be planning for her.
The story idea: 3/5
The realisation of the story: 3/5
The characters: 2/5
The cover: 5/5
Enjoy factor: 4/5