"I don't have the luxury of dealing with his hormones- or mine, for that matter. What, did he think I was just going to melt into his arms? Start a tragic and dramatic tale of star-crossed lovers on a war-torn planet?"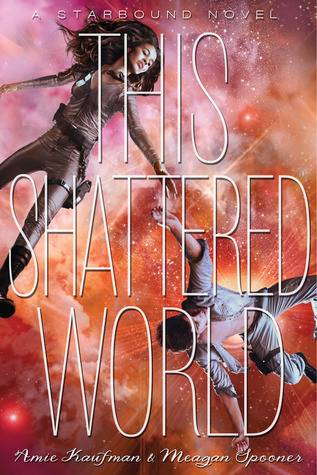 Jubilee Chase and Flynn Cormac should never have met.

Lee is captain of the forces sent to Avon to crush the terraformed planet's rebellious colonists, but she has her own reasons for hating the insurgents.

Rebellion is in Flynn's blood. Terraforming corporations make their fortune by recruiting colonists to make the inhospitable planets livable, with the promise of a better life for their children. But they never fulfilled their promise on Avon, and decades later, Flynn is leading the rebellion.

Desperate for any advantage in a bloody and unrelentingly war, Flynn does the only thing that makes sense when he and Lee cross paths: he returns to base with her as prisoner. But as his fellow rebels prepare to execute this tough-talking girl with nerves of steel, Flynn makes another choice that will change him forever. He and Lee escape the rebel base together, caught between two sides of a senseless war.
I'm always afraid of sequels, more so if the sequel is about different characters. Don't get me wrong, I love when every book features different main characters, like the Psy-Changeling series, but I feel like these type of books can go wrong in so many ways. For example there's always that you fell in love with this world through other characters' eyes, and you might not feel the same way without them. Or if they had an epic romance, the next couple(s) might not be able to live up to it. In one word, it's hard to live up to the awesomeness the first novel was. Fortunately This Shattered World did just that. While in some levels it wasn't as good as These Broken Stars, on some it was even better.
These Broken Stars did the majority of the world-building, we learnt all the basics there: how the planets work, what people are like and most of all we learnt a lot about LaRoux Industries. Meanwhile the real action only started in This Shattered World. The second novel didn't only opened our eyes to how different each and every planet is but introduced us to the military and to the rebels point of view too.
I think you can say that this book touched a lot more subjects than the first one. Just to mention one: it showed us the relationship of the main characters with other people, like Flynn with his cousin. My favorite thing was how the authors portrayed Jubilee and Flynn's struggle to stay true to their people while trying to make peace. It was a hard choice, deciding what is right and what would be a betrayal of their people.
My only problem was the romance. Don't get me wrong it was pretty great, but it wasn't as epic as Lilac and Tarver's love story. I'd choose them any day over Jubilee and Flynn.
Flynn was an amazing hero who deeply cared about his loved ones and wanted the best for his people. Unlike most rebels he wasn't fooled by their 'leader' and wanted to gain their freedom without killing anyone.
Jubilee was someone who believed in what she fought for, and wasn't only doing it for money. She stayed strong through everything and was open-minded enough to recognize that the rebels weren't the problem, even though that was what she was taught.
"You've ruined me," she repeats, her voice quieting a little as it catches. "You've ruined me—you made me wake up. And now I can't get rid of you." Her voice surges again as I reach out, curling my hand around her arm, her skin flushed hot under my fingers. "You won't leave me alone."
Tarver and Lilac appeared in an entirely surprising way. I mean thinking back it was pretty obvious but at that time I was utterly surprised. I liked seeing them from someone else's point of view. I was a bit sad because Lilac didn't appear in person, but at least she was there and that's something. By the way, they look truly happy together.
Lilac's father was as terrible as ever. He seemed even more evil than in the first book and now I can't wait to finally see his 'kingdom' ruined.
All considered This Shattered World was just as enjoyable as These Broken Stars but with a little more action. After this amazing sequel I truly believe that the third book can live up to my expectations as well.
Favorite character: Flynn
Least favorite character: Roderick LaRoux
The realization of the story: 5/5