"I wish friends held hands more often, like the children I see on the streets sometimes. I'm not sure why we have to grow up and get embarrassed about it."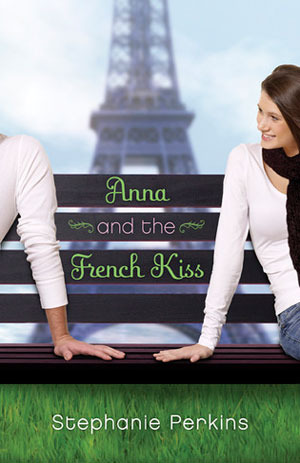 Anna is looking forward to her senior year in Atlanta, where she has a great job, a loyal best friend, and a crush on the verge of becoming more. Which is why she is less than thrilled about being shipped off to boarding school in Paris--until she meets Étienne St. Clair. Smart, charming, beautiful, Étienne has it all...including a serious girlfriend.

But in the City of Light, wishes have a way of coming true. Will a year of romantic near-misses end with their long-awaited French kiss?
In 2012 but I've reread it a few times since then.
I'd read contemporaries before Anna and the French Kiss (mostly Meg Cabot) but when I read Twilight I kinda abandoned everything but the fantasy genre. I guess you can say that Stephanie Perkins is the author who got me hooked on the contemporary genre (again). I loved everything in this book, the story, the characters, the romance and oh my gosh that setting! In one word: I adored it.
Cheating is one of my biggest pet peeves meanwhile when I first read Anna it didn't bother me at all. I think, partly this can be thanked to the fact that I wasn't as critical then as I am now, nor did I know anyone who had been cheated on. Anyhow,
since then my opinion changed and on many levels I started to agree with those who hate on Étienne. I didn't want to think of him as a bad guy because he's so cute and awesome and who cares about Ellie (his gf) anyway? I didn't know what to think, and that's why I decided to pick up Anna and the French Kiss for real re-read this time.
How I felt after re-reading
I have to admit, when I first read the book I didn't even stop to consider Ellie's (St. Clair's girlfriend) feelings, after all she was nothing but a mean bitch who was standing in the way of my ship. Now I'm ashamed I ever thought that. She was a normal girl just like Anna, and even though she abandoned her friends because she was 'too cool' for them as a college girl she deserved to be respected. Constantly thinking about another girl and trying to woo that girl is not right, even if your gf is the biggest bitch in the world and I doubt Ellie was that, however bad the author tried to portray her to justify St. Clair's actions. Even if we look over the fact that Étienne treated Ellie terribly, we still have Mer who was madly in love with him but he never straight up told her that he isn't interested. And he lead on Anna.
Don't get me wrong, I still think that he is a great character, not as swoon-worthy as I thought before but still not the worst. I'd punch him in real life, though.
I loved the story just as much as I did before, and unlike most people I have no problems with Anna. She wasn't perfect but the good thing about her was that she was able to admit when she made a mistake. I was happy to see Josh and Rashmi. I always liked Rashmi and I wasn't glad when her name only came up in Isla and the Happily Ever After to cause some jealousy drama. That book was just meh for me.
Overall, while this is not my favorite contemporary romance it's definitely a cute read, recommended for everyone who enjoys contemporary and is not bothered by cheating.
Yes. There are so many adorable parts in it that I'm sure I'll be all over this book again in no time haha.
Rating changed to 4 stars from 5.