"Sometimes we expect more than people are capable of giving at the moment."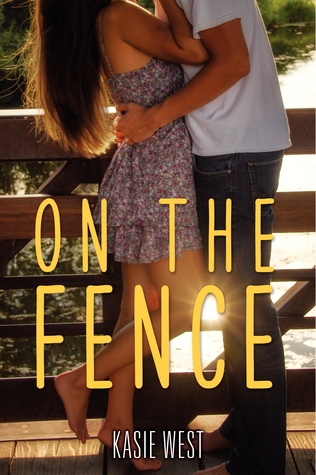 For sixteen-year-old Charlotte Reynolds, aka Charlie, being raised by a single dad and three older brothers has its perks. She can outrun, outscore, and outwit every boy she knows—including her longtime neighbor and honorary fourth brother, Braden. But when it comes to being a girl, Charlie doesn't know the first thing about anything. So when she starts working at chichi boutique to pay off a speeding ticket, she finds herself in a strange new world of makeup, lacy skirts, and BeDazzlers. Even stranger, she's spending time with a boy who has never seen her tear it up in a pickup game.

To cope with the stress of faking her way through this new reality, Charlie seeks late-night refuge in her backyard, talking out her problems with Braden by the fence that separates them. But their Fence Chats can't solve Charlie's biggest problem: she's falling for Braden. Hard. She knows what it means to go for the win, but if spilling her secret means losing him for good, the stakes just got too high.
Kasie West is one of those authors who everyone seems to be in love with so when I gave a chance to The Distance Between Us I was sure I'd like it. It wasn't too terrible but I couldn't get into it which was awfully disappointing after seeing everyone love her novels. Because of this I was worried about On the Fence, thankfully it turned out much better than The Distance Between Us. On the Fence is a cute book about discovering yourself and finding love where you had never expected to.
My favorite part of the novel was the sibling love. Charlie's brothers were all well-crafted characters, who, despite their many similarities, had their own unique personalities. I loved reading their banter, and how they all accepted Braden as their 'honorary brother', including Charlie. And did I mention their dad? He was such an awesome father. While he didn't have all the time for his children he deeply cared about them and wanted the best for them.
"Hey guys,' I said. 'Don't be idiots. This is Evan. Evan, the angry-looking one is Jerom, the constipated-looking one is Nathan, and the goofball on the right is Gage.'
Gage laughed. 'Constipated, Nathan? We said to look fierce."
The romance started to develop way before the novel started, I think, but it was great to see Charlie and Braden trying to figure out their feelings toward each other. Charlie had a hard time accepting her feelings, and even a harder time admitting them, but by the end of the novel she went through an enormous character development that impressed me. I think if I had read this before
One of the Guys
, I'd have liked that one a lot less because Toni's development couldn't be compared to Charlie's.
Based on the synopsis I wasn't sure I'll like Charlie. She doesn't only sound like someone who hasn't discovered herself yet, but a pretender too, and I hate those kind of people. Thankfully she turned out to be a lot more awesome than I expected. She was a tomboy but not in a rude and, let's admit, disgusting way like Toni from One of the Guys, and she wasn't judgemental.
Braden was a really great guy, someone who truly liked Charlie but had a hard time admitting it. He was afraid of ruining their friendship and losing Charlie, possibly her brothers too, forever. He had some adorably awkward scenes with Charlie and I loved how they had no idea what the other was talking about.
The supporting characters were all amazing too. The people Charlie get to know at work all felt real and just simply amazing people.
On the Fence is recommended to those who want to read something funny, quirky and cute. Perfect summer read.
Favorite characters: ALL
Least favorite: -