"Over and over, I tell myself that I'm strong and clever and that everything's going to turn out okay. If I think it enough times, maybe I'll actually start believing it. Maybe I can make it true."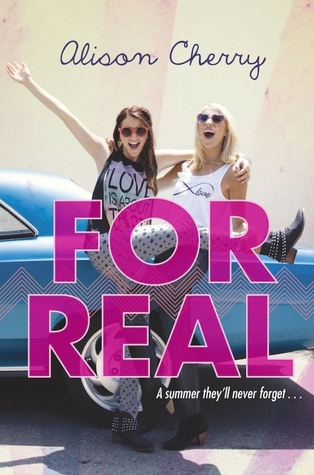 No parents. No limits. No clue what they're in for.

Shy, cautious Claire has always been in her confident older sister's shadow. While Miranda's life is jam-packed with exciting people and whirlwind adventures, Claire gets her thrills vicariously by watching people live large on reality TV.

When Miranda discovers her boyfriend, Samir, cheating on her just before her college graduation, it's Claire who comes up with the perfect plan. They'll outshine Miranda's fame-obsessed ex while having an amazing summer by competing on Around the World, a race around the globe for a million bucks. Revenge + sisterly bonding = awesome.

But the show has a twist, and Claire is stunned to find herself in the middle of a reality-show romance that may or may not be just for the cameras. This summer could end up being the highlight of her life... or an epic fail forever captured on film. In a world where drama is currency and manipulation is standard, how can you tell what's for real?
For Real is an emotional but quite funny read about two sisters who couldn't be more different if they tried. Miranda is confident and outgoing, someone who's always at ease. She's always felt like she had to protect her younger sister, Claire who was shy and incredibly awkward. Now Claire isn't the same person, she's still not a party animal but she has some close friends and a quiet confidence in her.
However, Miranda can't see this, she's been away a lot more than at home and to her Claire
the same girl,
who needs to be taken care of all the time. When they sign up for
Around the World
Claire doesn't only want to rebond with her sister and sabotage Samir but she plans on showing Miranda the person who she's become. Now it's only up to Miranda to see and accept Claire for who she is now.
I love books about brothers/sisters, I'm not sure I'd actually want one but it's nice to read from a character's POV who do have one. However, sometimes these relationships are awfully portrayed. In most sibling relationship book I've read the relationship is either perfect or terrible, I was so glad when finally found a book that shows us a much realer relationship. There was a lot of misunderstanding from Miranda's part, and a lot of frustration from Claire's but one thing was sure: they loved each other to the moon and back. The most important, and best part of the novel was the sister bond between Miranda and Claire. It was so awesome to see as they learnt how to support and love each other without it becoming overwhelming, and
by the end they completely understood one another.
I don't think I've ever read a book about a reality tv show but I've always wanted to. It's great to see everyday things from a view we normally can't. I loved how Alison Cherry made us see the fakeness of reality tv, while still made sure that we saw how the producers and the participants of the show were normal people. I liked the challenges, they were all funny and creative, I wonder if these traditions are actually true or not. Might look into it now.
The romance was a bit predictable but at least not the usual contemporary unconditional love. Do not open the spoiler tab if you haven't read the novel yet because it contains a major one.
Overall,
For Real is a perfect beach read that will surely pick up your mood, recommended for people after a guy screwed them over. ;)
Favorite character: Claire
Least favorite: Samir
The story idea: 5/5
The realisation of the story: 4/5
The characters: 4/5
The cover: 5/5
Enjoy factor: 4/5