"Now I know grief is a whetstone. It sharpens all your love, all your happiest memories, into blades that tear you apart from within. Something has been torn out from inside me that will never be filled up, not ever, no matter how long I live."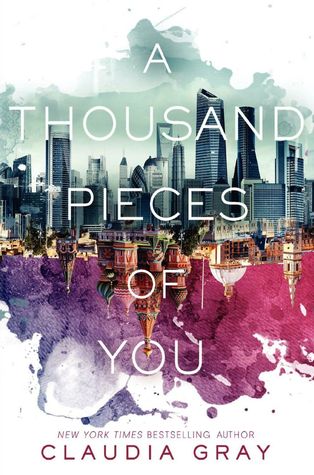 Marguerite Caine's physicist parents are known for their radical scientific achievements. Their most astonishing invention: the Firebird, which allows users to jump into parallel universes, some vastly altered from our own. But when Marguerite's father is murdered, the killer—her parent's handsome and enigmatic assistant Paul—escapes into another dimension before the law can touch him.

Marguerite can't let the man who destroyed her family go free, and she races after Paul through different universes, where their lives entangle in increasingly familiar ways. With each encounter she begins to question Paul's guilt—and her own heart. Soon she discovers the truth behind her father's death is more sinister than she ever could have imagined.

A Thousand Pieces of You explores a reality where we witness the countless other lives we might lead in an amazingly intricate multiverse, and ask whether, amid infinite possibilities, one love can endure.
I have no expectations for A Thousand Pieces of You because I have a love/hate relationship with Gray's works. Back when I started reading fantasies I was a huge fan of her Evernight series, even though it was one of those series that got more boring and predictable with every book. Anyhow, I was ready to give a chance to her new series Spellcaster in 2013 but unfortunately it ended up being one of the biggest disappointments of that year. I was nearly sure that I'd never give a chance to any other book of Gray's but then I read the synopsis of A Thousand Pieces of You and saw that cover. After that I didn't have a chance, I needed to have this book.
I have conflicted feelings toward A Thousand Pieces of You because while it was fairly enjoyable it wasn't exceptional. My biggest problem was that I didn't find the story as action-packed as it should have been based on the synopsis. I feel like Gray mostly concentrated on the romance, rather than on the actual plot. The mystery was interesting enough but nothing too complicated, close to the end everything became completely obvious.
Meanwhile, the description was pretty awesome. I didn't have a hard time imagining any of the lives Marguarite visited. I thoroughly enjoyed seeing all those different places through
her eyes. However, my biggest problem might be caused by the amazing description. When I look back at the novel I feel like everything felt more real when Marguarite was living those other girls' lives. This makes me be afraid of the next books because it's never good if the character's real life doesn't seem real enough. Another

problem of mine was that I

found it a bit strange that from all the places Marguarite's

visited she never was poor and I'd have liked for her to expr

ience poverty.
I hated that the author felt the need to create a love triangle that was only here for the sake of it. I'm so mad because there's no such thing as girl-boy friendship in YA books these days. Why couldn't Theo stay as a friend? The other romance was great, I loved that we had the chance to look back into the past and see Marguerite and Paul get close to each other. While I ship them to hell and back there were some parts that freaked me out completely. SPOILER

When Marguerite was the princess and she got together with the Paul of that time I felt uncomfortable. While we knew that the Marguarite of that time was in love with Paul too it was still gross that she lost her virginity without deciding to do so. I mean all these Marguerites are the same person but still, isn't using someone's body like that disgusting?

SPOILED ENDS HERE
The characters were well-made but yet again not that special. I felt no real connection towards them and most of the time I couldn't relate to them.
Marguerite was a bit childish and naive but that can be thanked to the fact that she never knew anything but a loving family. Despite this I think she managed well on her own and was a nice enough character. She was finally a main character who wasn't special for no reason, it was perfectly described why she was important, and where her special abilities came from. I completely felt for her when she was fighting to stay strong after her father's death, and was happy when she was reunited with him in a parallel universe.
Paul was a great male lead, but I was disappointed because they barely talked in the end with Marguarite. I was expecting more from him because he seemed like a straight-forward guy. I liked that the author tried to show us parts of his past relationship with Marguarite because this way we could really get to know him, even though he wasn't completely there in the story.
Theo's character felt a little forced sometimes. Looking back at the story we do have a good idea of what he's like but we can't really know it, can we? He was a terrible love interest that's for sure and I'm not sure I really like him, even though I did feel bad for him in the end. He was the typical bad boy love interest next Paul's good guy characters.
What I liked though, was the relationship between the two guys. I liked when Markov (Paul in a parallel universe) told Marguarite that he dreams of Theo and never knows if he's his brother or friend. This, and other little things, showed us how close these two guys really were to each other.
I'm sad to say that the relationship of the family left me a bit cold. The dad was an exception but only because we got to see him as the teacher of the princess, and for some reason in that world everything seemed real and strong to me, as I mentioned above.
One thing that really left me wanting more was the question of why did M's parents choose to devote their lives to the Firebirds. I feel like if a someone fights this much for something he has to have a motivation. No one suffers through so many inconveniences for no good reason. Another question that remains to be answered: Why would this be such an enormous discovery for the world? I honestly don't think there's anything special they could do with something that travels between parallel universes.
All considered this was a pretty enjoyable read but I want something bigger from the next book(s). Recommended for those who aren't only going into this for the sci-fi part because that's not that great.
The story idea: 4/5
The realization of the story: 3/5
The characters: 3/5
The cover: 5/5
Enjoy factor: 3/5
Do you have a favorite time travel or parallel universe book?