Happy New Year to all of you! With January come many-many new releases I'm excited about, 11 in total! I hope you'll find some on my list that you can't wait for either.
Tell me in the comments what books are you waiting for in January. I'm always waiting for recommendations, even though my TBR list will never ever end.
Just click on the covers for Goodreads page!
I rarely read Adult books so why is Before I Go one of my most waited books? Because it seems extremely touching. When I first read the blurb it broke my heart and I can particularly see myself crying my eyes out over Daisy's heart-wrenching story.
Save Me sounds like a great YA Fantasy but at the same time people don't really seem to enjoy it. Even though I heard only bad things about this one I plan on giving it a chance because it's just so intriguing.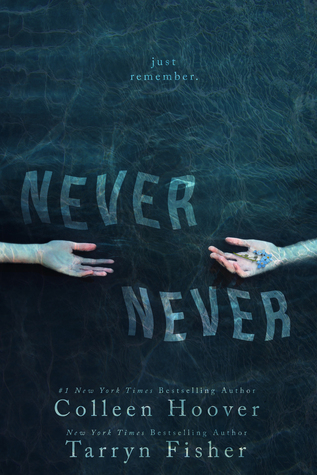 Even though I haven't read anything by these authors and the blurb doesn't tell us much about the story, Never Never is one of my most waited books at the moment. Nearly all Colleen Hoover books are on my TBR so I'm thinking about reading one of her earlier works before starting Never Never.
I've been waiting for The Darkest Part of the Forest for nearly a year and I'm dying to finally get my hands on it. Holly Black is one of my favorite authors, her books are extremely unique without being too strange.
The Girl on the Train is yet again a book I can't freaking wait for. Best thing is that I only read great stuff about it. This seems to be a fast-paced, edge of your seat psychological thriller. Doesn't that sound
amazing?
I'm not that huge fan of this series now as I was of the original 5 books but I'm still looking forward to Burned. When I heard that the series was continuing with Dani's POV I wasn't sure the author had anything else to add to this story. Dani wasn't my favorite character by far but I started to like her in first book, Iced and was looking forward to the continuations of her story. Then Moning said that instead of Dani, Mac will be the lead of the next books. I'm so disappointed. Mac's story is neatly closed and I do not need any more conflicts between her and Barrons. They fit, I love them together and just leave them the hell alone. ARGH no one disturbs my ships!
The blurb sounds wonderful. Have you read any books about teenagers who switch burdens with each other? Because I haven't and I'm really looking forward to it. The few things I read about it are good so I hope it's as amazing as I think.
I'm sure I'm not the only one who thinks that The Night Prince trilogy isn't as amazing as the original series. The thing is that even though some parts seem exaggerated in my eyes I still enjoy reading these books and am looking forward to finally closing down Vlad and Leila's story.
As I mentioned in my review of My True Love Gave To Me I really enjoyed the short-story Ally Carter wrote into that anthology. All Fall Down sounds so wonderful that I seriously can't wait to get my hands on it.
I love If I Stay and Where She Went so I'm glad Gayle Forman is publishing a book that I'm interested in. The blurb sounds different from the books I've recently read and is simply intriguing. Oh, and I love the cover.
It's no secret that unlike most Lunar Chronicles fans I'm not interested in Levana's story at all and would much rather read Winter than Fairest. Anyway, I'm still going to read it and there's a huge chance that I'll end up liking it because Marissa Meyer is a fantastic writer.