"There is not always a good guy. Nor is there always a bad one. Most people are somewhere in between."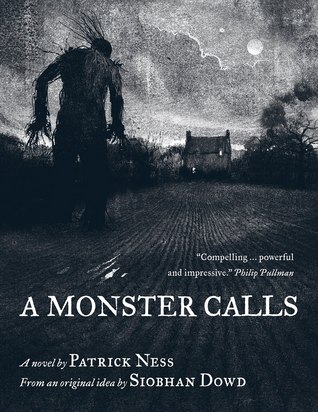 The monster showed up after midnight. As they do.
But it isn't the monster Conor's been expecting. He's been expecting the one from his nightmare, the one he's had nearly every night since his mother started her treatments, the one with the darkness and the wind and the screaming...
This monster is something different, though. Something ancient, something wild. And it wants the most dangerous thing of all from Conor.
To be honest Middle Grade books are not my usual cup of tea but I was bored out of my mind on Physics and my friend was kind enough to lend me her copy of A Monster Calls. I warn you all that this book can cause a major book hangover because Patrick Ness is one of those authors who can tell a story that won't let you go even after you've finished it.
A Monster Calls is about Connor whose mom has been suffering from cancer for a long time. One night a monster visits Connor and he only wants one thing: the truth. Connor thinks this can't be reality but at the same time there are evident things to prove that the monster is real.
If you're a regular reader of my blog I believe you know that I always say that anything can happen in a book as long as the author is able to make me believe what (s)he writes. Well Patrick Ness was able to do exactly that. For starters when they say 'monster' all of us think about something but I'm nearly sure no one expects to see a tree monster, right? Still I was able to picture it perfectly, right along with everything else.
Patrick Ness wrote this novel with the use of paranormal elements but in the end nothing mattered but the message of it. Do you usually cry on books? If your answer is yes then beware because A Monster Calls will definitely make you ugly cry. This book has all the feels: happy, sad, desperate and will touch even the coldest of hearts *cough cough* like mine.
The characters were wonderfully made. First we had Connor who despite his age was a very complex character. He was an amazing kid who loved his mother to the core and would have given anything to save her. His mom was an amazing parent I adored that there was always a little hope in her heart. The grandma seemed a bit distant and terrible at first sight but as we started to get to know her I thought if she and Connor tried to understand each other, they could have a wonderful relationship.
The relationship between the Connor and his mom was the sweetest thing ever. Their conversations were so wonderful, Connor's mom was one of those parents who was able to be patient even when she felt really sick.
The story idea: 5/5
The realization of the story: 5/5
The characters: 5/5
The cover: 5/5
Enjoy factor: 5/5
What is your favorite MG book?