"Sometimes you think you want something," Arin told him, "when in reality you need to let it go."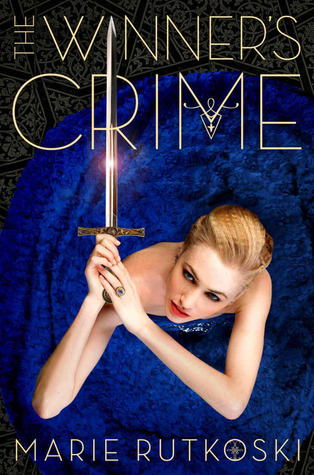 Book two of the dazzling Winner's Trilogy is a fight to the death as Kestrel risks betrayal of country for love.
The engagement of Lady Kestrel to Valoria's crown prince means one celebration after another. But to Kestrel it means living in a cage of her own making. As the wedding approaches, she aches to tell Arin the truth about her engagement…if she could only trust him. Yet can she even trust herself? For—unknown to Arin—Kestrel is becoming a skilled practitioner of deceit: an anonymous spy passing information to Herran, and close to uncovering a shocking secret.
As Arin enlists dangerous allies in the struggle to keep his country's freedom, he can't fight the suspicion that Kestrel knows more than she shows. In the end, it might not be a dagger in the dark that cuts him open, but the truth. And when that happens, Kestrel and Arin learn just how much their crimes will cost them.
I was provided with an eARC through Netgalley.
Guys, I'm speechless. Marie Rutkoski has done it again. She created a wonderfully crafted world with characters who are almost too real to be simply called characters. That said rating The Winner's Crime is hard. On one hand I love Rutkoski's writing style and I think she's one of those authors who deserve five-star-rating no matter what she writes. Meanwhile, I can't look over the fact that, while at first The Winner's Crime was equal parts exciting and frustrating, as time went by it simply became frustrating.
For those who don't remember - though, I doubt that anyone could forget that ending - the first book ended with Kestrel agreeing to marry the prince in exchange of the emperor's promise that the Herrani can keep their territory. After that, both Kestrel
and Arin are feeling miserable. Arin is sure that Kestrel has never loved him, and whenever he has a thought that proves this statement wrong he simply dismisses it. Kestrel, on the other hand, got the harder part as far as I see. She doesn't have anyone she can confide in and she has to live her life full of regrets. The only thing that makes her fight is that she wants to save the Herrani.

As usual the story was slow-paced but do not, for a minute, think that it was boring. The story wasn't as action-packed as The Winner's Curse but it definitely had edge-of-your-seat parts. Unlike in the first book, these were mostly caused by my anxiety over how the characters were going to decide rather than by actual happenings.
The romance remained the main part of the story, right next to the fight for the Herrani freedom. You have to know that every decision that Kestrel and Arin made was either for their love for each other or for wanting to help the Herrani survive. Surprisingly, Kestrel was the one who usually decided in favor of the Herrani, while Arin would have destroyed the whole world if he'd only known Kestrel's true feelings.
It was incredibly frustrating to read about Kestrel and Arin's conflicted feelings toward each other and toward their people. In one minute I wanted to hit them and yell at them to snap out of it, and in the other I just wanted to hug them and tell them they are not alone. My heart broke for them, and even though I do not agree with many of their decisions, I could understand their way of thinking.
I adored Arin in the first book. His conflicted feelings towards his people and Kestrel were so realistically portrayed that you couldn't help loving him, even though he betrayed Kestrel's trust. I felt like his character developed a lot in the first book, whilst in the second he developed backwards. He wasn't able to see the bigger picture, and he held onto his hurt feelings, instead of trying to let them go and think through everything that's happened.
While I still like Arin's character and could understand him on some levels, I felt like considered to Kestrel's problems he got it light and should not bath in self-pity.
"How ridiculous he must have looked next to those polished courtiers, with his ill-fitting clothes and unshaven face.
How rough, how thuggish.
How wrong."
Kestrel was such a greatly-written, strong heroine. She got to a point where most of the time there wasn't a right choice, there were wrong choices and worse choices and she had to decide which one to take. She had no hope for a happy ending, her only goal was to help the Herrani, to help Arin, to help everyone. Kestrel put her own desires aside just to save others, and even when she didn't want anything other than Arin, she still held onto her promise to herself to never tell him her real feelings. I think Kestrel is the character who developed the most since the beginning.
"She could hear music now. She hated to hear it. Her whole future was in that airless ballroom. She wondered if the ache inside her would ever go away and if she feel even worse when it did."
The new characters who were introduced to us were nearly all likable, especially the prince Verex who was nothing I'd feared. There were many times when Arin made me so mad that I wished Kestrel and Verex could fall in love. We didn't learn all that much about Risha but she's probably the most interesting character, I wish I could see into her head because I really don't know what she's thinking. I think she'll cause quite a surprise in the future. And then of course there are the easterners. Roshar was a great character, funny too but the queen... I really didn't like her.
"Brother, you are mad," said the queen.
"He loves me," Roshar protested. The cub was sleeping huddled against Rosher's leg.
"And when it has grown, and is large enough to eat a man?"
"Then I'll make Arin take care of him."
All considered The Winner's Crime is a frustrating, slow-paced book, with one of the most well-crafted universes I've ever read about. Recommended to people who don't require action-packed books, and who want to read about strong and determined characters.