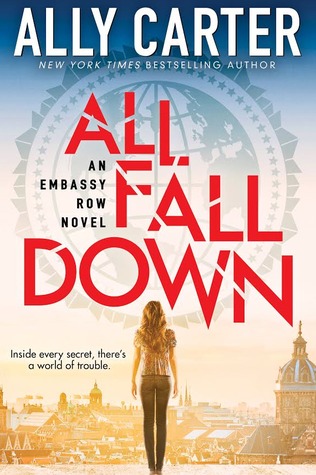 Grace can best be described as a daredevil, an Army brat, and a rebel. She is also the only granddaughter of perhaps the most powerful ambassador in the world, and Grace has spent every summer of her childhood running across the roofs of Embassy Row.

Now, at age sixteen, she's come back to stay--in order to solve the mystery of her mother's death. In the process, she uncovers an international conspiracy of unsettling proportions, and must choose her friends and watch her foes carefully if she and the world are to be saved.
I received an eARC from the publisher through Netgalley.
I've never read anything by Ally Carter before, spy novels are simply not my thing, but I did hear fantastic things about her novels. However, when I saw the synopsis of All Fall Down I was instantly sure that this book is for me. And I wasn't disappointed! I loved it so much that I might just go ahead and try some of her spy novels, and that is a big thing.
Three years after Grace witnessed her mother's death she's sent to live with her grandfather in Adria. With all the embassies so close to each other everything is about diplomacy. One bad move, and you've caused a war.
"Sometimes the walls that stand between us and our neighbours are all that stand between our country and war."
Saying that Grace's family isn't sure she's alright would be an understatement, and her hallucinations of her mother didn't make her look any more balanced. Throughout the story we have no idea who to believe, we only see what happens through Grace's eyes and, man, she is an unreliable narrator. I wanted to believe her so badly but a small part of me kept wondering: what if she's wrong?
I loved Grace's character, she was finally a heroine who wasn't shy and silent. She was extremely sassy and she wasn't afraid of sending people to hell, even if the said person was the most popular girl in Adria. Shy characters can be perfectly well-made but I feel like most YA heroines are incredibly shy and I don't think that's completely realistic. But back to Grace, she may have acted immature in some situations but that was kind of understandable and I just couldn't be mad at her, or at the author for that matter.
The romance was completely non-existent. I could see the chance of a future romance but given that ending I'm not sure it'll ever come true. Speaking about the ending, I have no idea what the next book will be about, but that's not a bad thing I guess.
I loved Grace's friends. While we didn't learn all that much about their background one thing was for sure: they deeply cared about Grace. I can't wait to see this friendship getting even stronger in the next books. I can't wait to learn more about Grace's family, mainly her brother who was mentioned many times but we never actually met with him.
All considered this book didn't only live up to my expectations but made me eager to read more books,
spy novels or not spy,
by Ally Carter.
Favorite character: Grace
Least favorite: -
The story idea: 5/5
The realization of the story: 5/5
The characters: 5/5
The cover: 3/5
Enjoy factor: 5/5
Have you ever felt like you can't bear to read about another shy and unsure heroine?