Hey guys. I'm wishing you a Merry Christmas with my review of this lovely short-story collection. Hope you'll have a wonderful Christmas!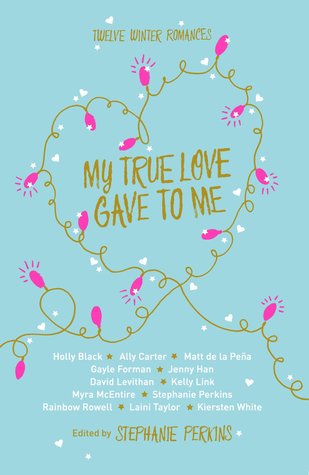 On the first day of Christmas, my true love gave to me ...This beautiful collection features twelve gorgeously romantic stories set during the festive period, by some of the most talented and exciting YA authors writing today. The stories are filled with the magic of first love and the magic of the holidays.
I had huge expectations for this book because that author list is pretty impressive. Unfortunately less of these stories lived up to my expectations than I would have liked it. Although I still think My True Love Gave To Me will be one of the books that I can pick up in the next years to get into the holiday spirit.
Rainbow Rowell - Midnights
5/5
Midnights was a freakishly great start to this short-story collection but after such an impressive start it was hard for the other stories to live up to my expectations.
This short-story had everything I desired for: amazing characters, a simple but developed conflict and of course a cute ending. Reading this I want to check out more books by Rainbow Rowell because she really is a talented writer even though Fangirl was not my cup of tea.
Kelly Link - The Lady and the Fox
4/5
This was a bit more complicated than I'd have prefered but still pretty enjoyable. The love triangle was a bit annoying because I felt it was unnecessary. In the end I liked this story and found it impressive that Kelly Link was able to write a story with a little more happenings than I expected.
Matt de la Peña - Angels in the Snow
2/5
This was probably one of the boringest stories in the book and while all the other were strongly Christmas or New Years Eve stories this could have happened any time of the year. The characters felt plain to me and the truth game they played didn't make them any less 2-dimensional.
Jenny Han - Polaris Is Where You'll Find Me
3/5
Remember that I told you I accept unclosed endings in novellas? I do, really. But when I start reading a story-book waiting for cute romance stories that warm my heart I do not want an unclosed ending that leaves me gasping for more. This could have been one of my favorite stories from this book easily, even though there were many contemporary romances clichés in it. I think this story would have worked perfectly as a normal long novel or just a longer novella.
Stephanie Perkins -
It's a Yuletide Miracle, Charlie Brown
4/5
This story was alright but it touched a little more topics than a short-story should. Stephanie Perkins didn't only wrote about Marigold's mom's problems but mixed it with North's familiar problems and did this in detail. All considered I enjoyed this novella but I think I would have enjoyed it more as a full novel.
David Levithan - Your Temporary Santa
4/5
I was so happy when I realised this anthology has an LGBT story. That said I didn't enjoy this story as much as I hoped I would. There was close to no interaction between the MC and his boyfriend and while the story was cute it wasn't that special. Anyways, I still enjoyed this and might check out other books by David Levithan.
Holly Black - Krampuslauf
4/5
The first thing that comes into my mind when I think of Holly Black is unusual. Krampuslauf is one of the stories that outshone the others because it was totally unique and interesting. I really really enjoy Black's writing style and I'm hoping that she'll be able to surprise me with even more wonderful stories in the future.
Gayle Forman - What the Hell Have You Done, Sophie Roth?
3/5
I don't know what to think of this story. On one hand it was super-cute but on the other I hate stereotypes and I can't freaking believe that everyone would be the same in that damn university besides the two main characters. No, just no.
Myra McEntire - Beer Buckets and Baby Jesus
2/5
This story left me a bit cold to be honest. The story was boring and I found the characters beside the male lead plain and cliché. Anyhow some good did this story for me because I checked out the author's other books and found Hourglass promising.
Kiersten White - Welcome to Christmas CA
5/5
I've been meaning to try out at least one book by this author so of course I was super-excited for her novella and she delivered! This was one of the cutest short-stories. I loved the characters, the story-line and simply how by the end of the novel the MC opened her eyes and realised that she was wrong in so many things. Will definitely give a chance to her other books, Illusions of Fate looks fantastic so I might start with that.
Ally Carter - Star of Bethlehem
5/5
Again an author who I've never read anything by but was excited to see why so many people love her novels. This is the third story that gets five stars from me because it was so darn amazingly written. The characters were impressive, I could relate to them and love them and aww the relationships were simply adorable and so strong.
I'm not a fan of spy novels but All Carty is the author whose spy novels I may read, All Fall Down is on my TBR list already.
Laini Taylor - The Girl Who Woke the Dreamer
3/5
Such a strange story but in a good way. One thing is for sure, Laini Taylor loves insta-love.
Favorite stories: Star of Bethlehem and Welcome to Christmas CA
Least favorites: Beer Buckets and Baby Jesus and Angels in the Snow
Which story was your favorite? Least favorite?
What is your favorite anthology?