"Fear can keep you alive. The trick is not to let it overwhelm you. Not to let it rule you. If you're afraid, that's the universe trying to tell you something. Get away. Don't run; don't panic. Just pick up and walk out, calm as you please. Panic makes you stupid."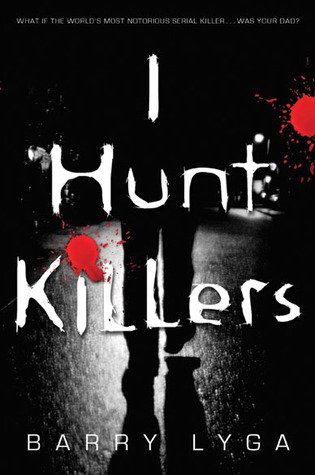 What if the world's worst serial killer...was your dad?
Jasper "Jazz" Dent is a likable teenager. A charmer, one might say.
But he's also the son of the world's most infamous serial killer, and for Dear Old Dad, Take Your Son to Work Day was year-round. Jazz has witnessed crime scenes the way cops wish they could—from the criminal's point of view.
And now bodies are piling up in Lobo's Nod.
In an effort to clear his name, Jazz joins the police in a hunt for a new serial killer. But Jazz has a secret—could he be more like his father than anyone knows?
I Hunt Killers was more and less than I expected. More, because I was convinced it won't be anything more than an action-packed crime novel but it ended up being a novel with such a depth that I never expected. Less, because I thought the mystery will be more exciting but unfortunately up until half of the book I was a bit bored.
The relationships were well-written. Who the hell did think that Jazz has a strong relationship with Connie which only developed throughout the novel? Or that he has a best friend who would become my favorite character? Or how conflicting was Jazz relationship with his dad. Not me, that's for sure.
"Who am I? I'll tell you. I'm the local psychopath, and if you don't save my best friend's life, I will hunt down everyone you've ever cared about in your life and make you watch while I do things to them that will have you begging me to kill them. That's who I am."
The mystery was greatly done but as I said it started a bit slowly for me. I didn't get who the killer was right but do consider that this is one of those novels where there aren't that many suspects to begin with. I suspected everyone while reading the novel, the real killer too but by the end I'd rejected every single one of them.
My only problem, besides the slow start, is that I'm not a huge fan of novels from the 3rd person because usually I can't connect to the main characters as strongly as I could in a 1rst person novel. I think maybe this was the problem that while I could see how Jazz felt I couldn't feel it.
The characters were so deep and well-made. Jazz is one of my favorite protagonists ever. He had such a deep personality and I was glad he had some people to talk to. Then there was Connie who happened to be a complex and strong character whilst I expected her to be neither one of those things. Howie was a true friend to the core and such a refreshing character. Thinking about it all the characters were remarkable,
I was shocked by the ending, even though I suspected something like this was going to happen. I'd recommend I Hunt Killers to those who like gory mysteries with fantastic characters.
Favorite character: Jazz, Connie, Howie
Least favorite: -
The story idea: 5/5
The realization of the story: 3.5/5
The characters: 5/5
The cover: 4/5
Enjoy factor: 4/5
Do you enjoy gory books? What is your favorite mystery thriller?