It's time for a new Waiting on Wednesday post. For those who don't know that WoW is, it's a weekly meme created by Breaking the Spine and it features upcoming releases that we're eagerly waiting for. I love this meme because I found so many great books on other bloggers' sites and I hope some do too on mine. Today I chose The Ruby Circle by Richelle Mead which is the sixth and last instalment in the Bloodlines series. Hope you'll like it.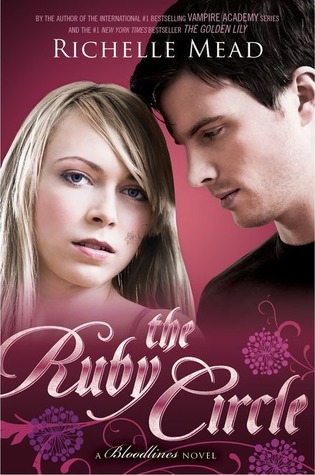 The epic conclusion to Richelle Mead's New York Times bestselling Bloodlines series is finally here...
Sydney Sage is an Alchemist, one of a group of humans who dabble in magic and serve to bridge the worlds of humans and vampires. They protect vampire secrets—and human lives.
After their secret romance is exposed, Sydney and Adrian find themselves facing the wrath of both the Alchemists and the Moroi in this electrifying conclusion to Richelle Mead's New York Times bestselling Bloodlines series. When the life of someone they both love is put on the line, Sydney risks everything to hunt down a deadly former nemesis. Meanwhile, Adrian becomes enmeshed in a puzzle that could hold the key to a shocking secret about spirit magic, a secret that could shake the entire Moroi world.
Expected publication: 2015 February 10th
Because I love this series. I know that I didn't write that greatly of Silver Shadows and that Adrian disappointed me but even after all these this series and Adrian himself still has a special place among my favorite book(boyfriend)s. Anyways I really can't wait to see how things will go for them. The book ended with a cliffhanger so that has to be solved in Riby Circle, and then there's the issue of Sydney and Adrian not being able to leave Court and I haven't even mentioned Adrian's old friends who want blood or Nita who might still cause some problems. Arrgghh how will they solve all these things in one book!? Can't wait to see.
PS: I hate hate hate the cover, all the covers are ugly but the ones of the first three books were at least decent however the last three... and this.... horrible.
What is your WoW pick this week? What do you think about the Bloodlines series? Favorite character? Thoughts upon the cover?