"A sense of unease fills my stomach as I stare up at what is to be my new home.
Dark and foreboding, it appears just as unwelcoming as the rest of Philadelphia."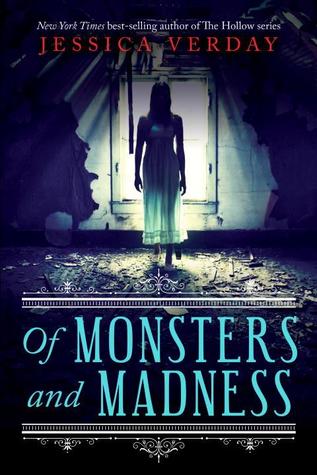 A romantic, historical retelling of classic Gothic horror featuring Edgar Allan Poe and his character Annabel Lee, from a New York Times best-selling author.
Summoned to her father's home in 1820's Philadelphia, a girl finds herself in the midst of a rash of gruesome murders in which he might be implicated. She is torn romantically between her father's assistants-one kind and proper, one mysterious and brooding-who share a dark secret and may have more to do with the violent events than they're letting on.
If you're looking for a great mystery or great romance you should not pick up Of Monsters and Madness because it is neither of those things. Don't get me wrong I enjoyed this book, a lot actually, but if I had been in a cranky mood I'd have cut it into pieces.
I absolutely loved the creepy(ish) atmosphere of the book. Nothing frightening happened but Of Monsters and Madness could definitely get people into the Halloween spirit, at least if you can forgive the mistakes.
The thing is that I wouldn't put this into the Mystery genre because nothing mysterious happened. Well, we didn't know what the father was doing down in the cellar but honestly I don't consider that as a mystery. I hope the Edgar/Allan thing wasn't supposed to be a mystery because it was freaking obvious.
I hate to say this but I think Verday only tried to use used the Edgar Allan Poe poem as the base of the story to make the book more popular. Besides the names of the characters the book had close to nothing to do with the original poem. A good thing is that the story was creatively written, it didn't use that many clich
és and I liked where it was going.
The relationships between the characters were horribly made. Annabel and her maid had an insta-friendship but that was acceptable, they were at the same age, alone and liked each other. The romance was an insta-love with no real connection between the characters. Annabel's grandfather get really close to her quickly and they acted like they know everything about each other but in reality they only talked a few times. The father's actions didn't make sense, one moment he was mean and cruel and shamed Annabel and the next he let her into his "secret place". I don't get it.
The ending was rushed. One moment Allan realised what was happening to him, did the only thing he could think of to stop it and then bamm something happened that was just so strange and I felt like it had no base. I still hope the Verday will write a second novel because the ending is screaming for a sequel.
All considered Of Monsters and Madness is a book that I enjoyed at first read but would not pick up again. It isn't anything special but it definitely has a wonderful atmosphere. I'll keep my eyes open for future works of this author.
Unfortunately they weren't that well made, like the rest of the story they were acceptable and likeable but not loveable and definitely not amazing.
Annabel was a sweet and nice girl by her nature who would have done anything to help the people she loved. She was a bit naive and a bit dumb in my opinion but all considered she was okay.
Allan was a hero that I couldn't like all that much because I didn't get the chance to get know him. Edgar was someone I was disgusted by and I hated that Annabel felt any attraction towards him at all. This was the shittiest and sickest love triangle I've ever read about.
"His attention returns to me. "Have you ever felt a story was inside you, but you could not do it justice? It's as if there were something standing in your way, blocking you from being able to write the story, and only this other piece of you could understand whatever it was?"
Annabel's mum had been supposedly kind but it's horrible that she told her own daughter never to take off her scarf. Shouldn't a mother tell you that you're pretty no matter what? Or even if at that time people would have been more horrified than they are now she could have still told her that one day she'll find people who'll accept her no matter what.
Least favorite: the father
The realization of the story: 2/5